If you are my blog followers, then you will know that I just traveled to Japan about a couple months ago. This trip was actually planned before that one (the December trip only take 1 month to plan) all the way to the middle of 2022 when THE IDOLM@STER M@STERS OF IDOL WORLD!!!!! 2023 was announced.
The main agenda for this trip is to go to the concert in the first 3 days, then I will begin a 7-day trip to Southern Japan but we will talk about that later.
Day 1: Preparation
It was an unlucky day because a week before departure I looked into the weather model ahead of time and see that the average temperature will be about 7-18°C but that day's temperature was -3-0°C with light rain and heavy wind and I was not prepared for this. Luckily it's only a one-time event otherwise I could be in huge trouble.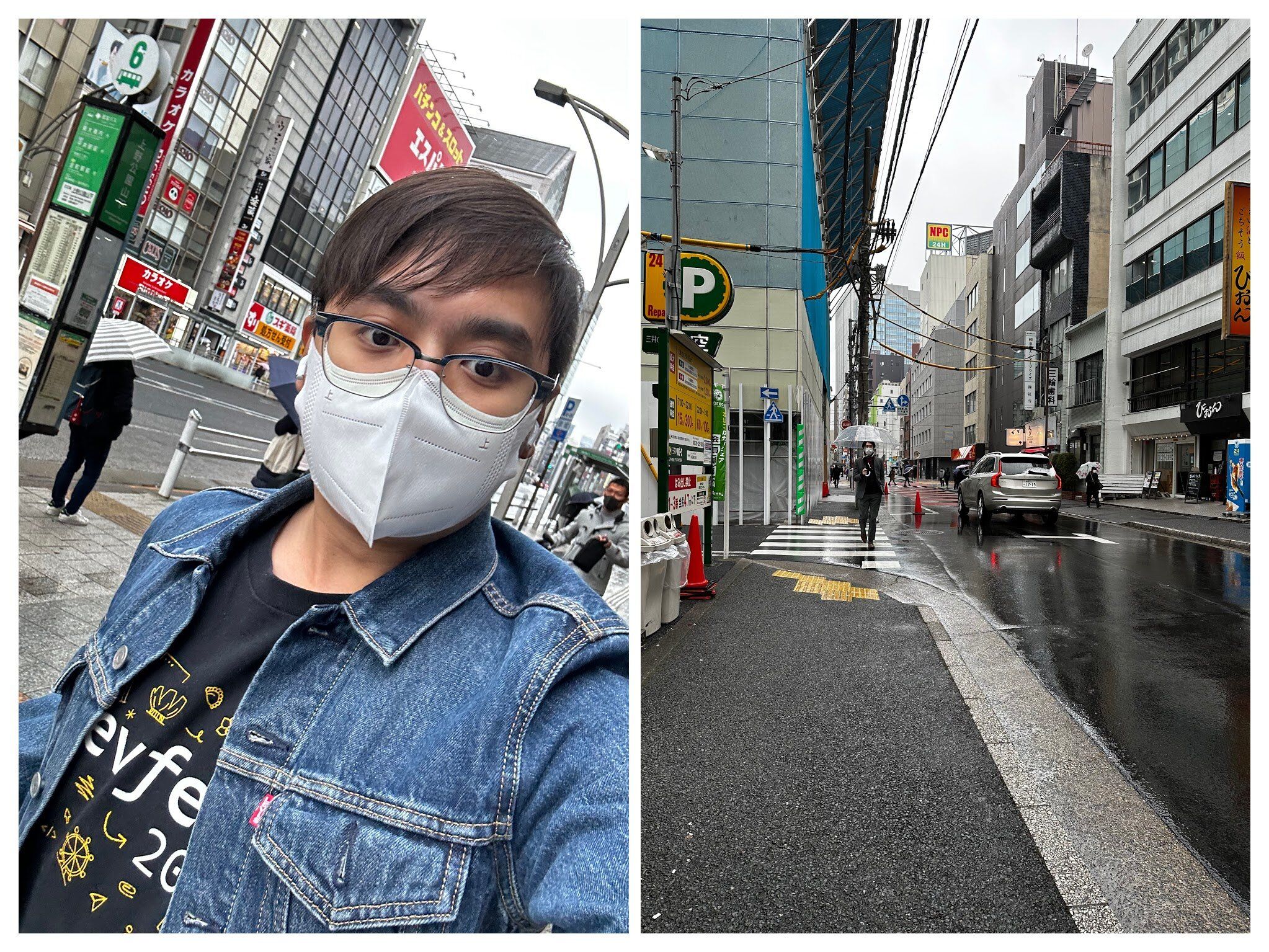 After landing in Japan in the morning, getting SIM cards for SMS and cellular data, and dropped my bags at the hotel. I immediately walk to Kanda Square right away to buy concert merchandise (i.e. towels, keychains, T-Shirt, Bags, Books, etc.). The queue to the venue itself is around 1 hour and the total damage is estimated to be around 40,000 JPY. You can follow this link from Bandai to see lists of merchandise that they sell there.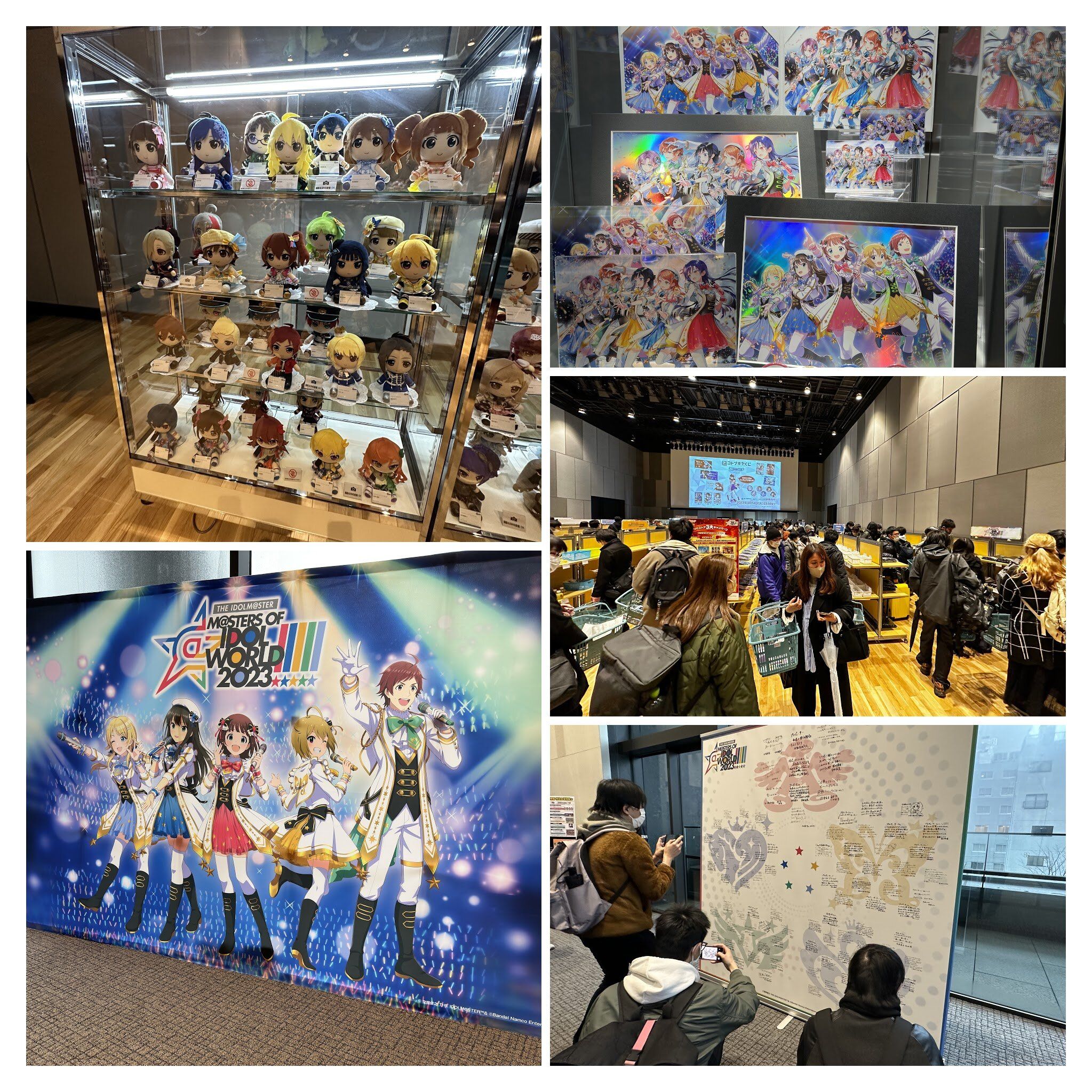 Day 2-3: M@STER OF IDOL WORLD!!!!!
This entire weekend is reserved for THE IDOLM@STER MOIW 2023 concert. And to be clear this is my first time ever experiencing a concert in person so I'm quite nervous at first that with the tickets that I brought (13,000 JPY per day), will I going to get the most out of it or not... and boi I did.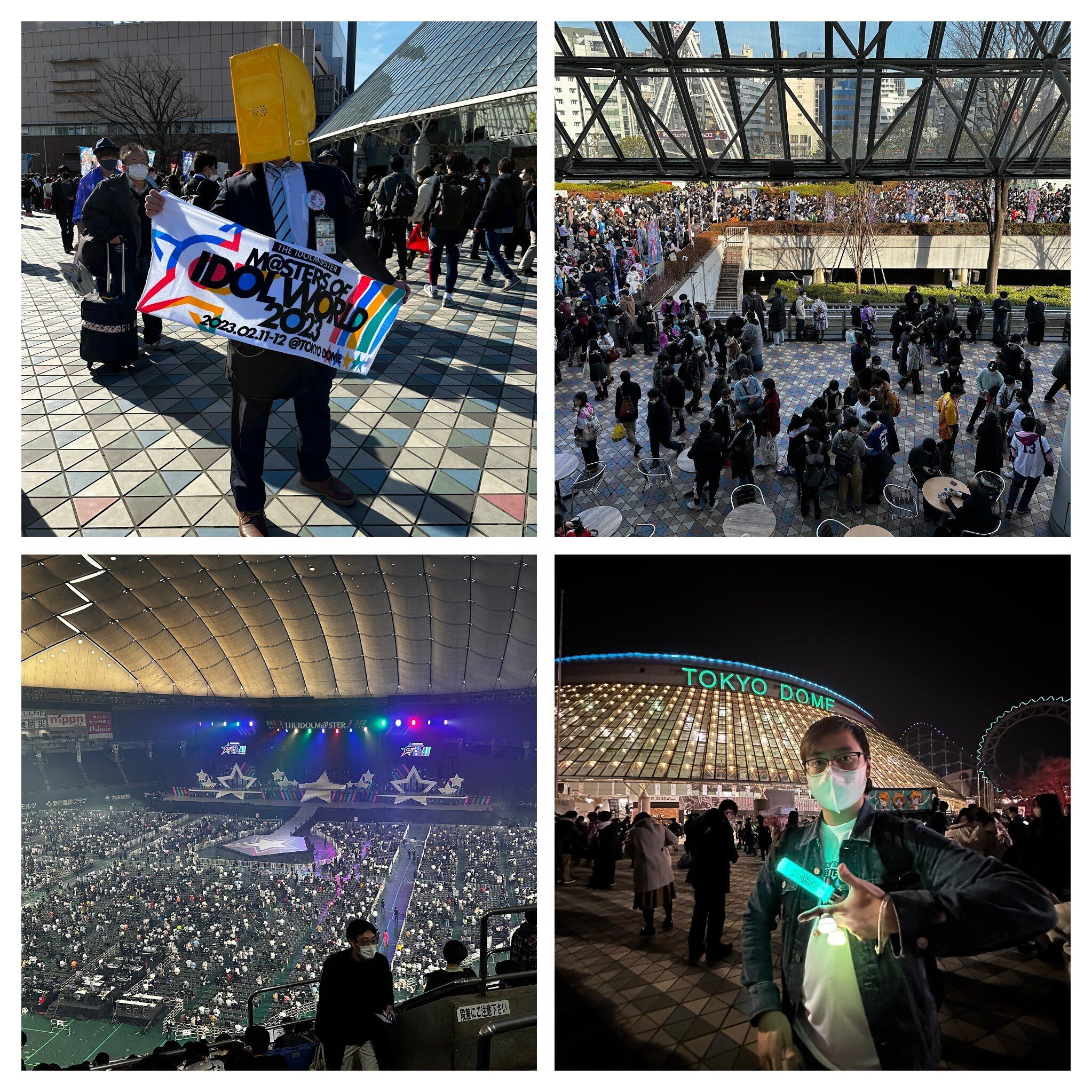 It's a large community of producers together in one place, having a lot of fun during the session with a lot of calls and surprises. Many unexpected events happened that actually surprised me. One of them is how the organizer managed to mix idols across multiple games into completely different songs from different games, which led to elements of surprise.
My favorite moments in a concert are when everyone activates their U.O. stick, a 2-minute ultra bright orange light that usually only cracks on their favorite song, together which transforms the entire Tokyo Dome into a sea of orange. I also wasn't expected to use so many U.O. sticks to the point that I ran out of sticks and missed the opportunity to use the sticks for another 3-5 songs at the end of the event.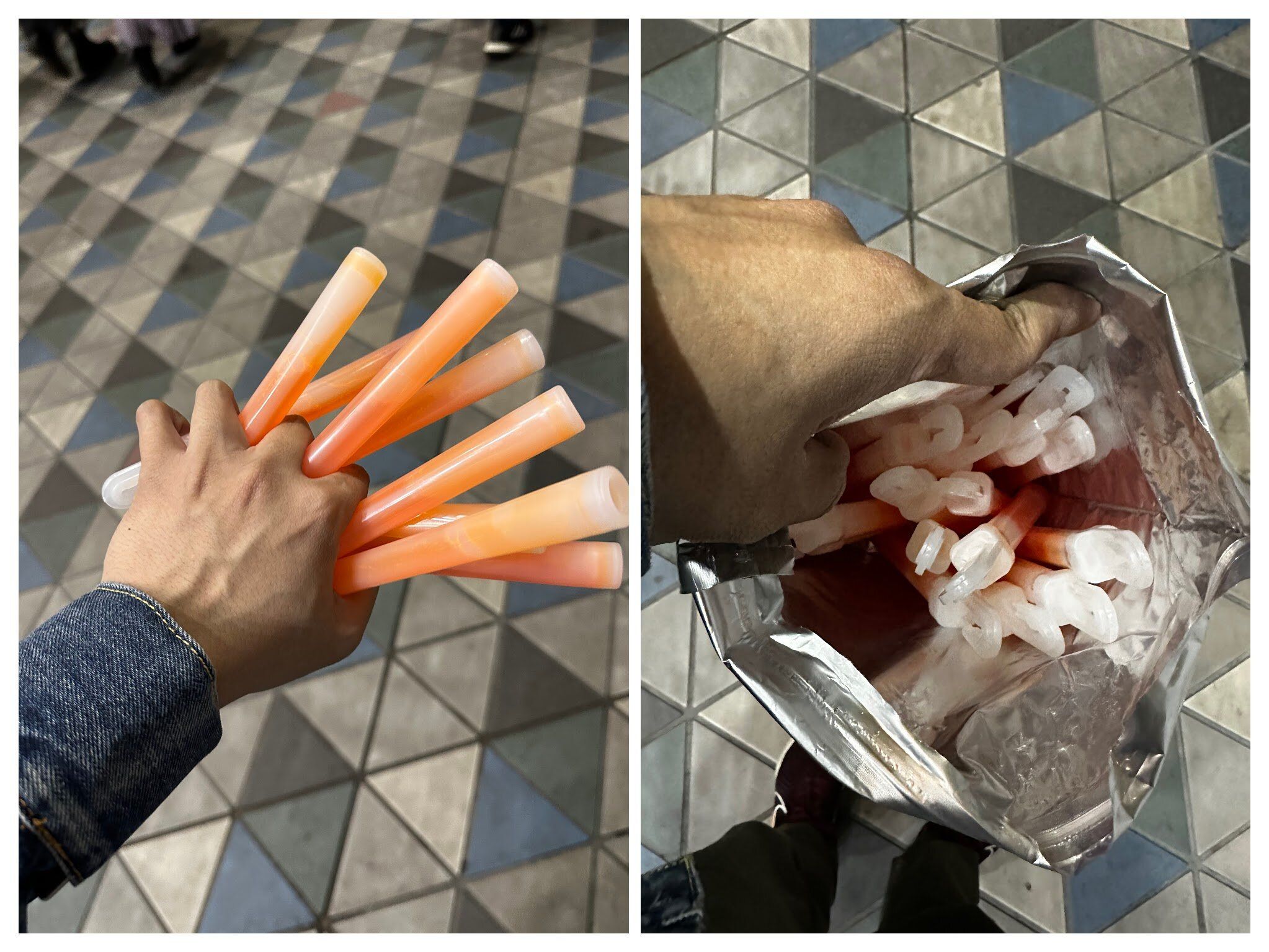 There're too many great moments in a 2-day concert to cover here in this blog. To get some idea of peak moments you can jump into Twitter tags for both day 1 and day 2.
I also compiled public playlists of songs that played in the concert for Apple Music users as well. Feel free to add to your library 😀
This day is very weird as well. While I walking back from coin laundry, I heard a sound of a bike coming in my direction from my back. So, I quickly rush to the side of the road to avoid the bike and I crashed with him. When I looked at who I crashed into, it was a policeman. And my mind goes
"Holy f***!! Did I just commit a crime on Japanese soil!?"
But luckily it was not that serious. I apologized to him, do some explaining on what am I doing this late, and quickly go back to the hotel to get some sleep.
Day 4: Get some rest
I'm tired. I need some rest before actually going for a full 7-days trip to the Southen region.
But that doesn't mean I'm not doing anything though. A quick visit at Akihabara, go shopping at Futako Tamagawa, and wash your sneakers before a long walk.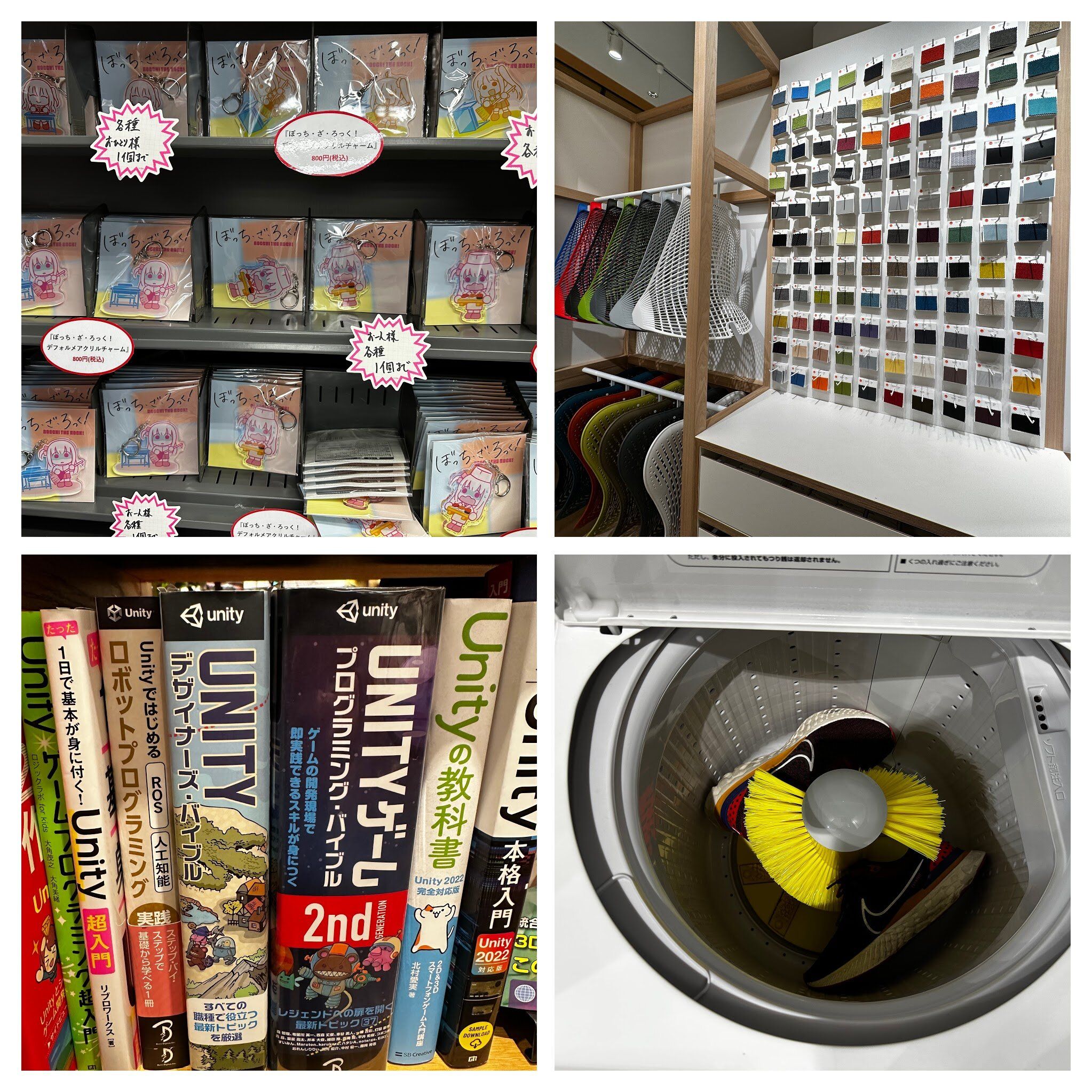 Nevertheless, let's talk about the plan.
Last time we covered all the regions above Tokyo, but this time it will be harder since there're more landmark cities and prefectures to cover than Tohoku and Hokkaido regions. So, I made a decision to skip the entire region of Chubu and start a trip at Osaka then go all the way down as far as possible. But I will actually start to travel to Okayama first and then save Osaka for the last day, otherwise, the last day will going to be just a 7-hour ride back to Tokyo which I learned from the last trip about booking Shinkanzen for a long haul.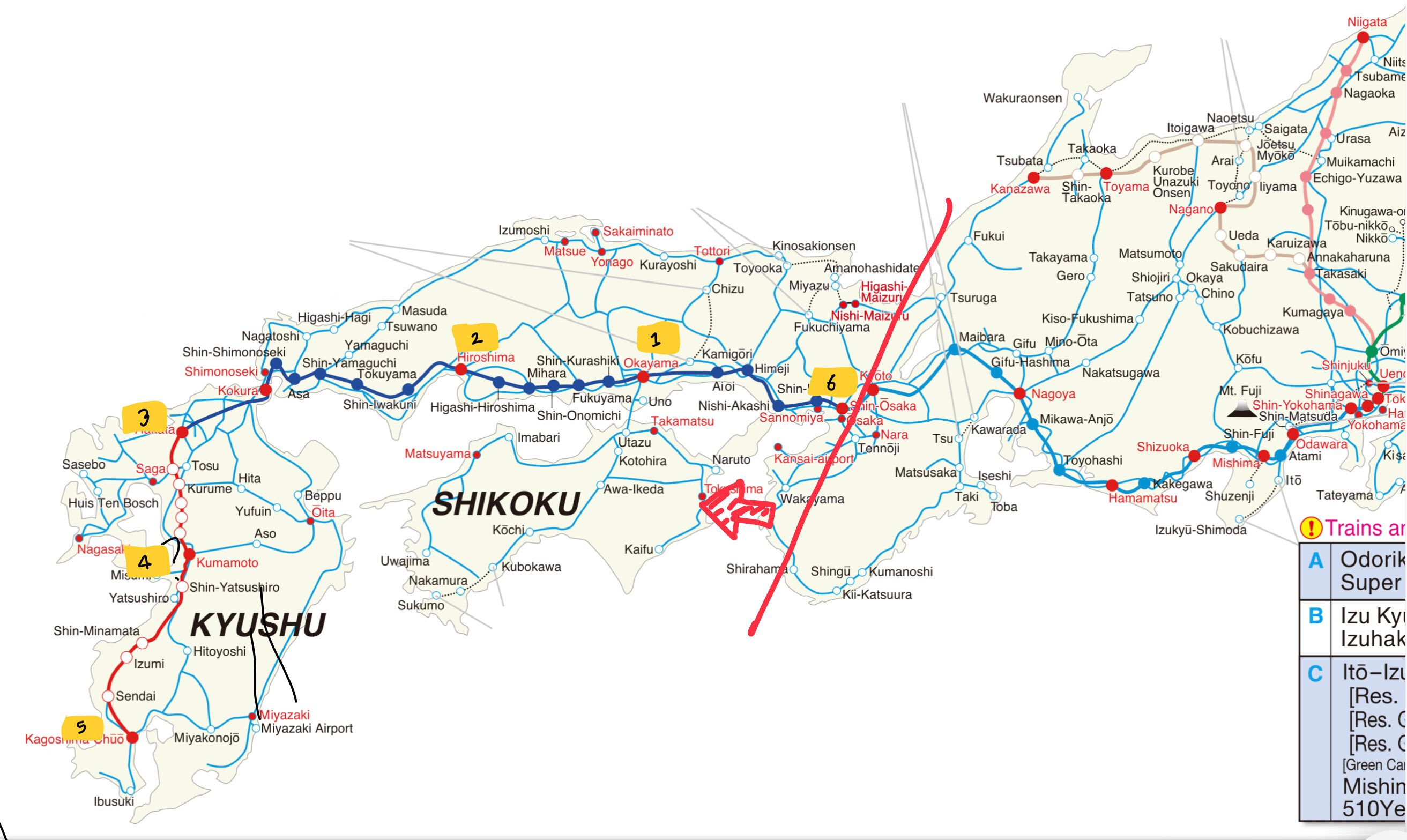 Day 5: First leg of a journey
The first leg of a 7-day trip is departing from Tokyo skipping Osaka entirely and bound to Okayama via a very suspicious Shinkansen route, Sakura 555, that looks alike a name of a gambling website. Nevertheless, a disaster almost happens to me during this first ride of a 7-day journey.
Well, when I travel outbound from Tokyo, I will not carry huge luggage with me otherwise it will be a wasteful weight that I have to drag along all the time, so I stored my luggage at Tokyo station and the staff gave me a return ticket to retrieve my luggage later. But you see, departing from Tokyo this early means that I didn't gain full consciousness yet, and I put this return ticket into the bento box and threw it away in the trash box. Luckily, I explained the situation to the train conductor and he gave permission for me to dig through the trash can to retrieve my ticket back....while the students group watching on the other side.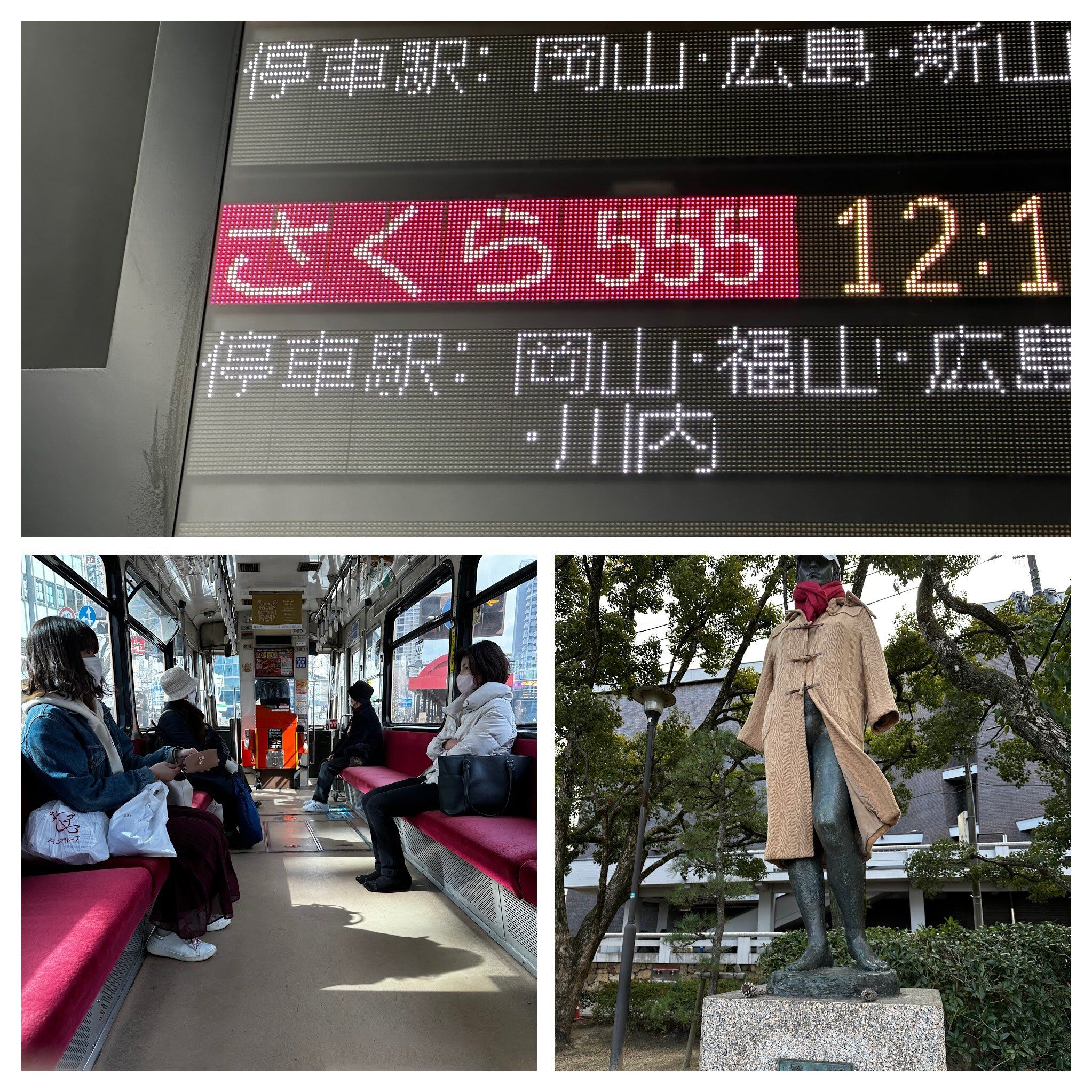 After arriving at Okayama station, I took another 20-minute tram ride and walked across the park to our first sightseeing destination, Okayama Castle. Nothing much I can say about the castle itself since there're hundreds of them in Japan, but you can buy a combo ticket to enter a park next to the castle as well. Inside the park itself, it's a good scenery to take a photo of. Also, you can rent a paddle boat to stray along the riverside as well.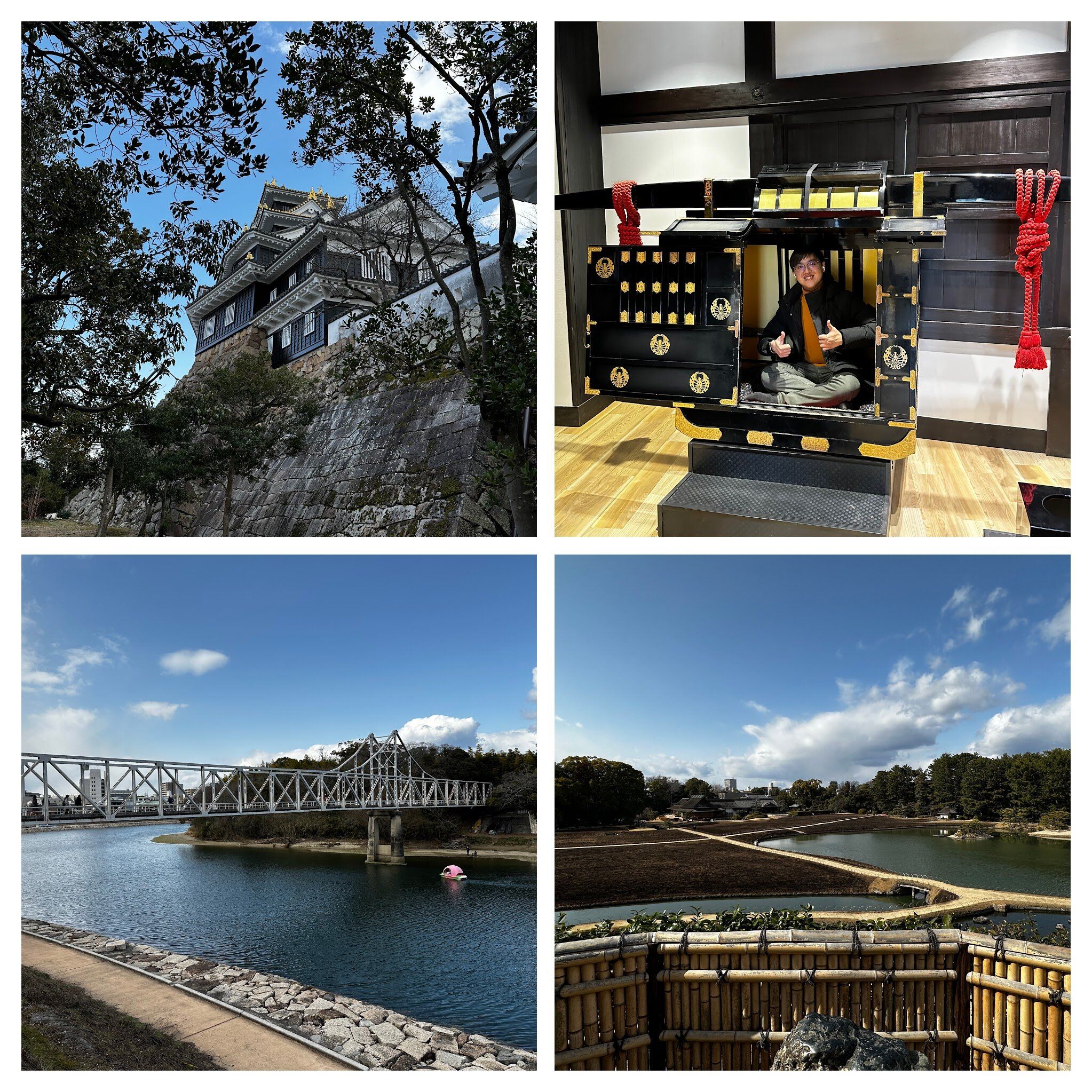 With that concluded in the morning, in the afternoon I did some detours to a small city near Okayama called Kurashiki, mainly famous for a traditional village district where you can find some food and souvenirs, but I go there at the wrong time peak tourist season for this city is around Spring to Summer since there are no beautiful trees to take a picture with during Winter season.
Nevertheless, most shops are still open including these interesting restaurants and shops as well.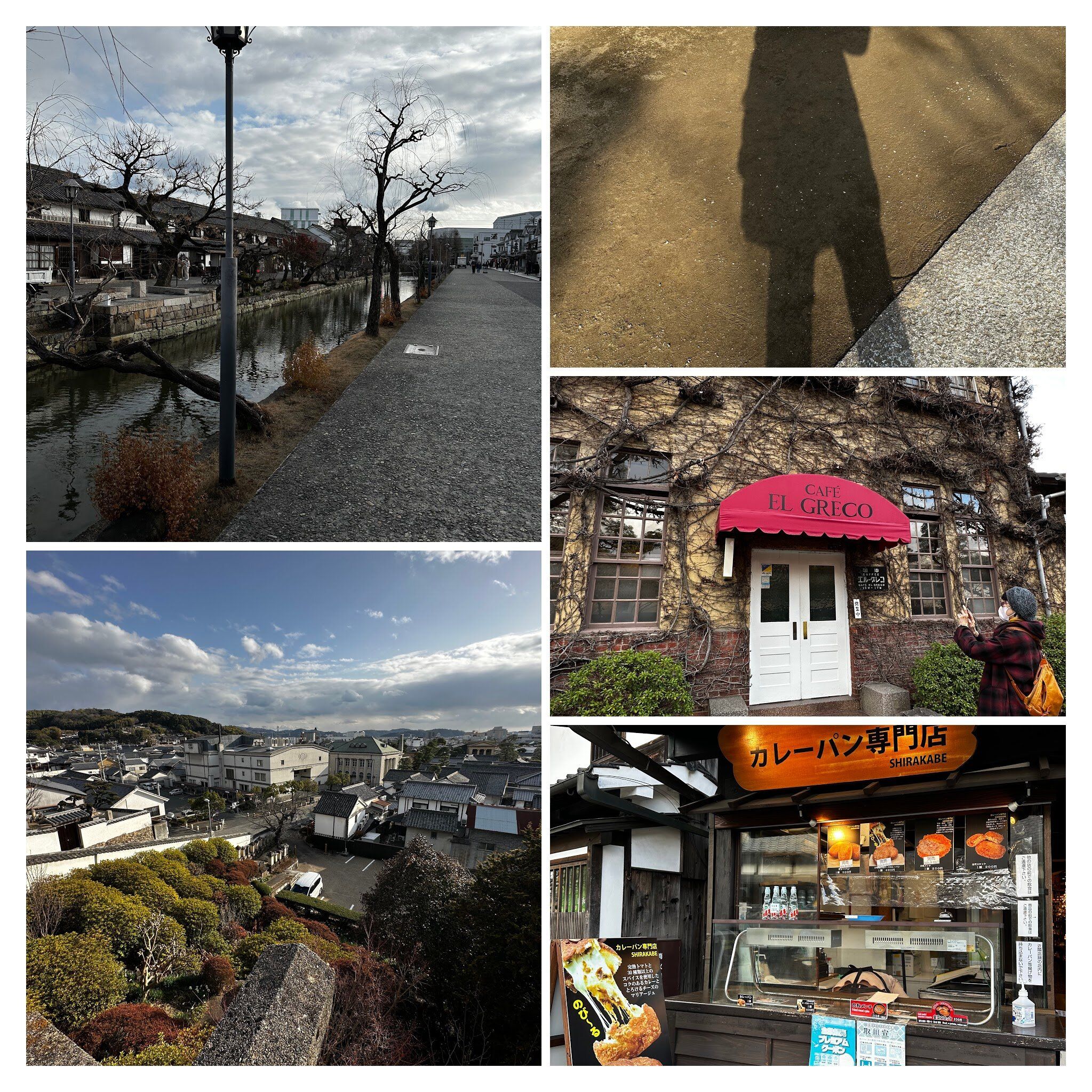 Then it's time to go to Hiroshima, where I will stay for tonight and continue my travels the next day. By the time I arrived it was already dark, so nothing much I can achieve for the rest of the day other than getting some food and drinks at Seizeria, exploring some shops that were still open, and ending today's trip at the capsule hotel.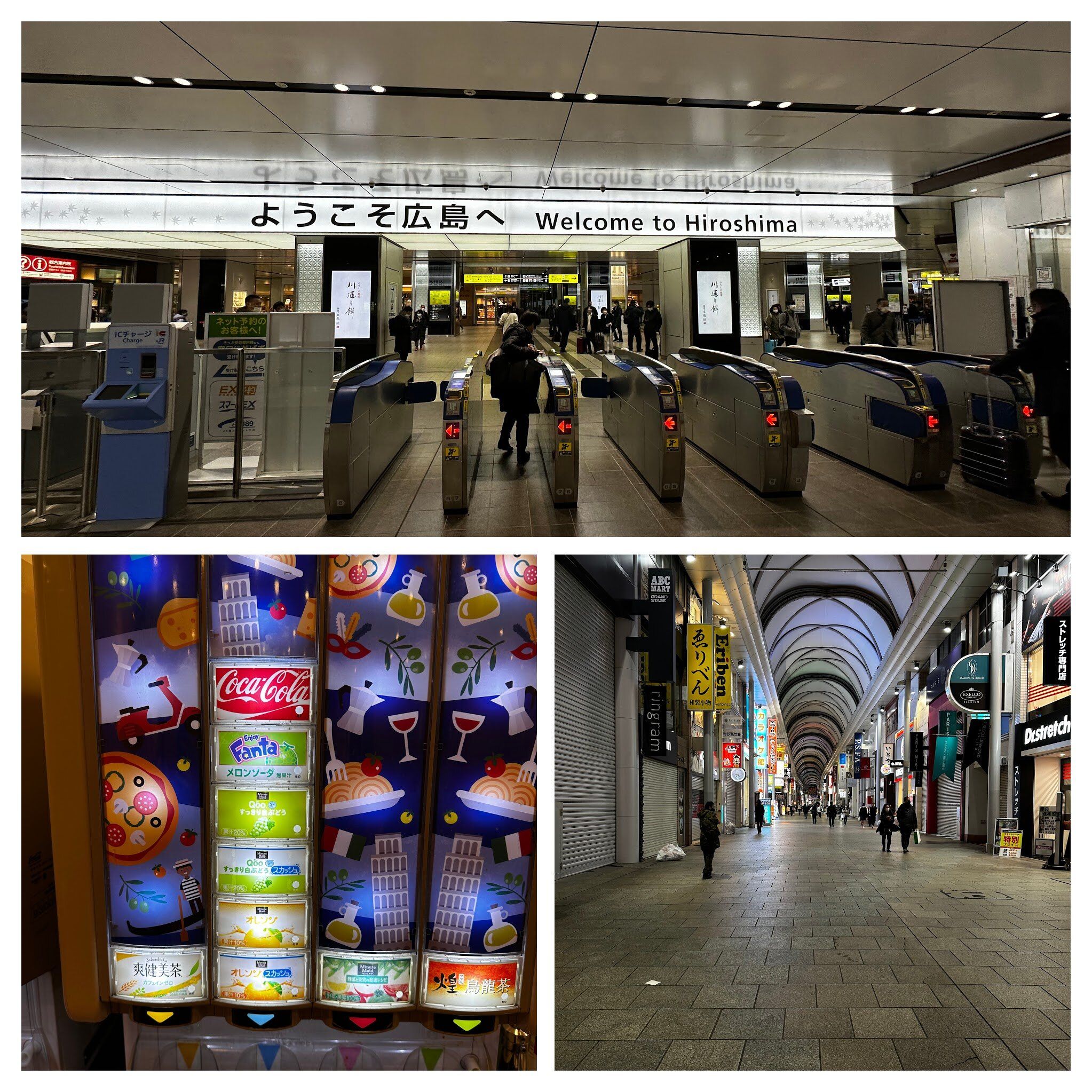 Day 6: Off-train to get stranded on the island
First, in the morning, I quickly go to the first attraction as fast as possible due to time constraints if I missed upcoming train rides. So, I quite unreal for me to see Ganbaku-dome, the ground zero of nuclear weapons to be used in human history. Nearby that area you can have a talk with the victim's family of this tragedy as well, in which they clearly explain all the details in the history of why the Japanese empire does not surrender, what happened to recuse operations after the fallout which I believe that you cannot see anywhere else in any documentary.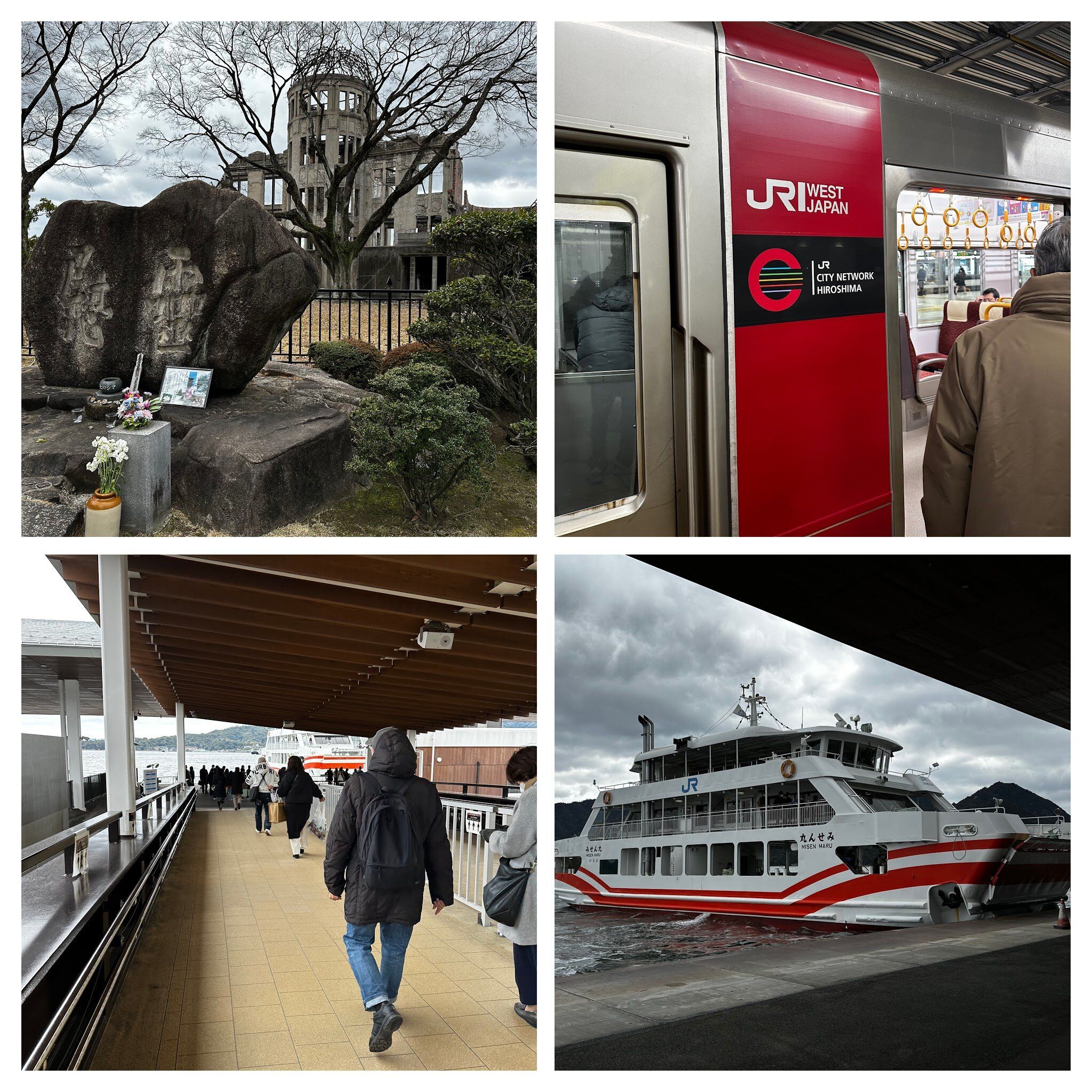 After that I quickly caught a local train to Miyajima station to get another ferry rides to Miyajima island all of these are covered with Japan Rail Pass, so you don't have to pay for anything. Within the island, there're many attractions that you can go to see as well, from the floating shrine in the sea to a temple where it will float over the water on high tide.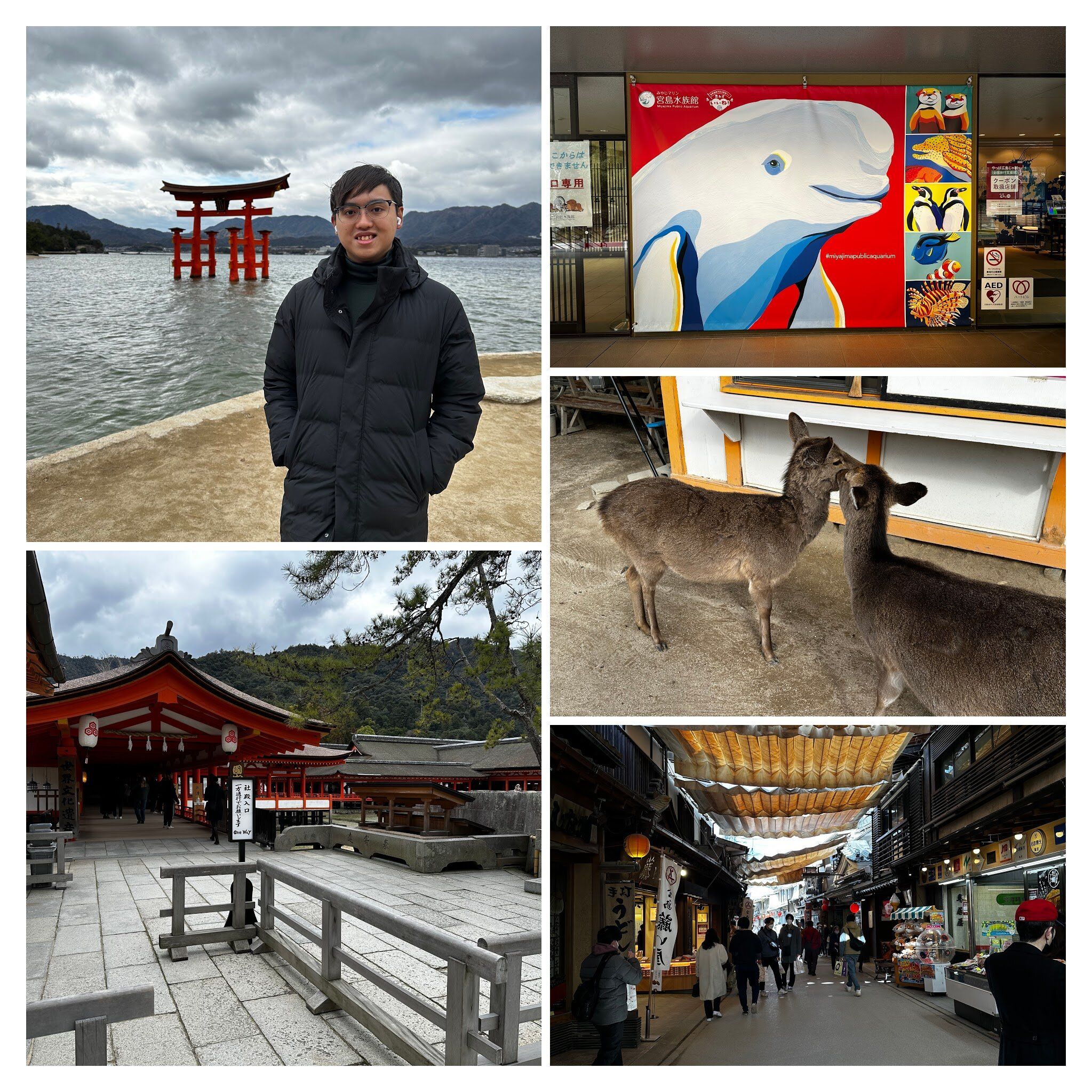 With all attractions and food fully explored, it's time to go to the next resting place in a capsule hotel at Hakata. I arrived just in time for sunset so there was some sunlight for taking photos for about an hour. By then, I was hungry so I decided to do some walking and found a restaurant at food stalls that serves local oden, ramen, and beer. It's quite a unique experience to walk into stalls sit together with locals and tourists, enjoy food, and have a chat together.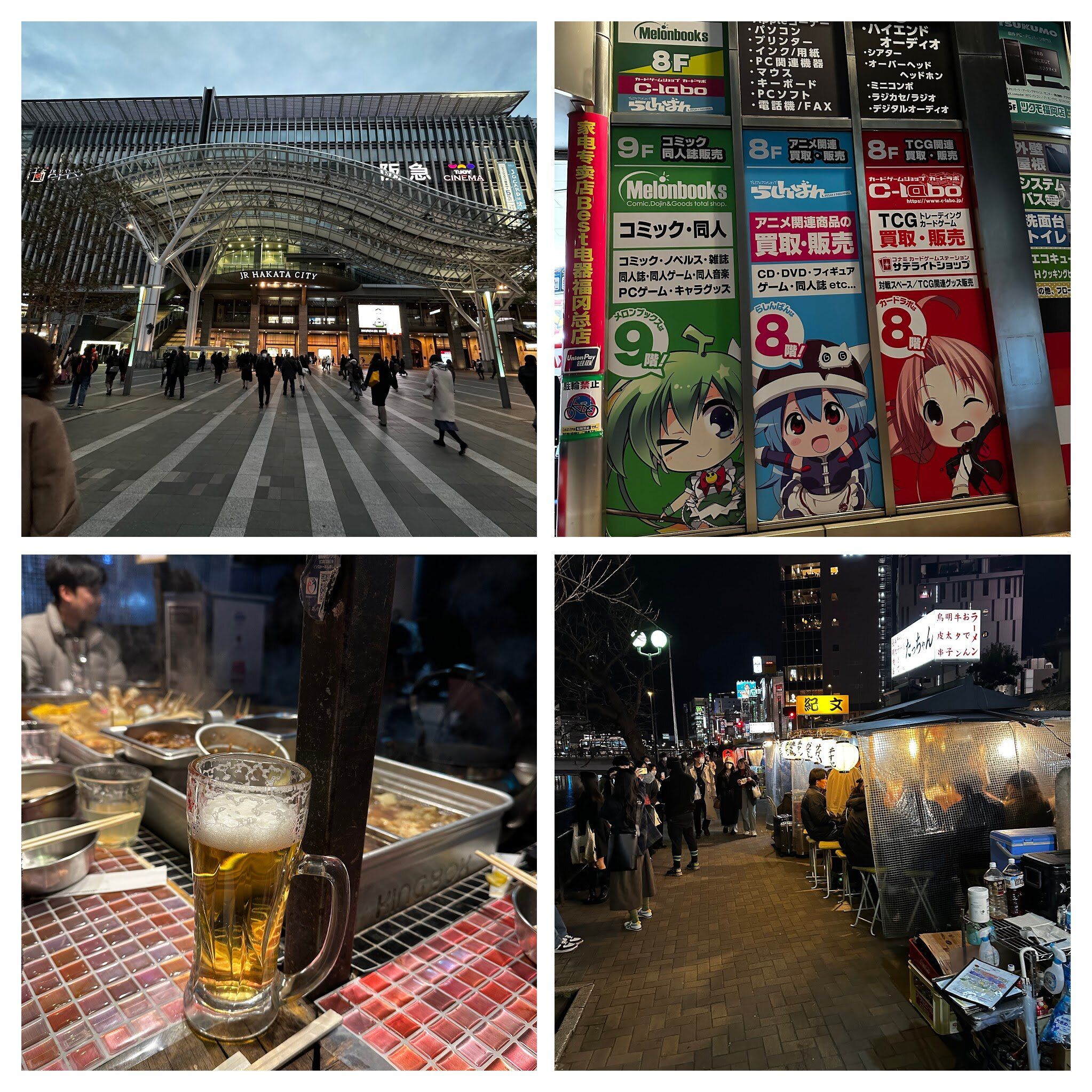 And that's a wrap for today, mainly because I also need to take an hour to do laundry as well. Otherwise, I will not have any clothes to wear for the next day.
Day 7: Hardest travel of the day (yet)
Today, I already have a rough plan for where to explore around Kitakyushu. First, riding a Shinkanzen to Kokura then taking a local train on the Kagoshima line to Mojiko, the terminal station of the line, to go to Kyushuu Railway History Museum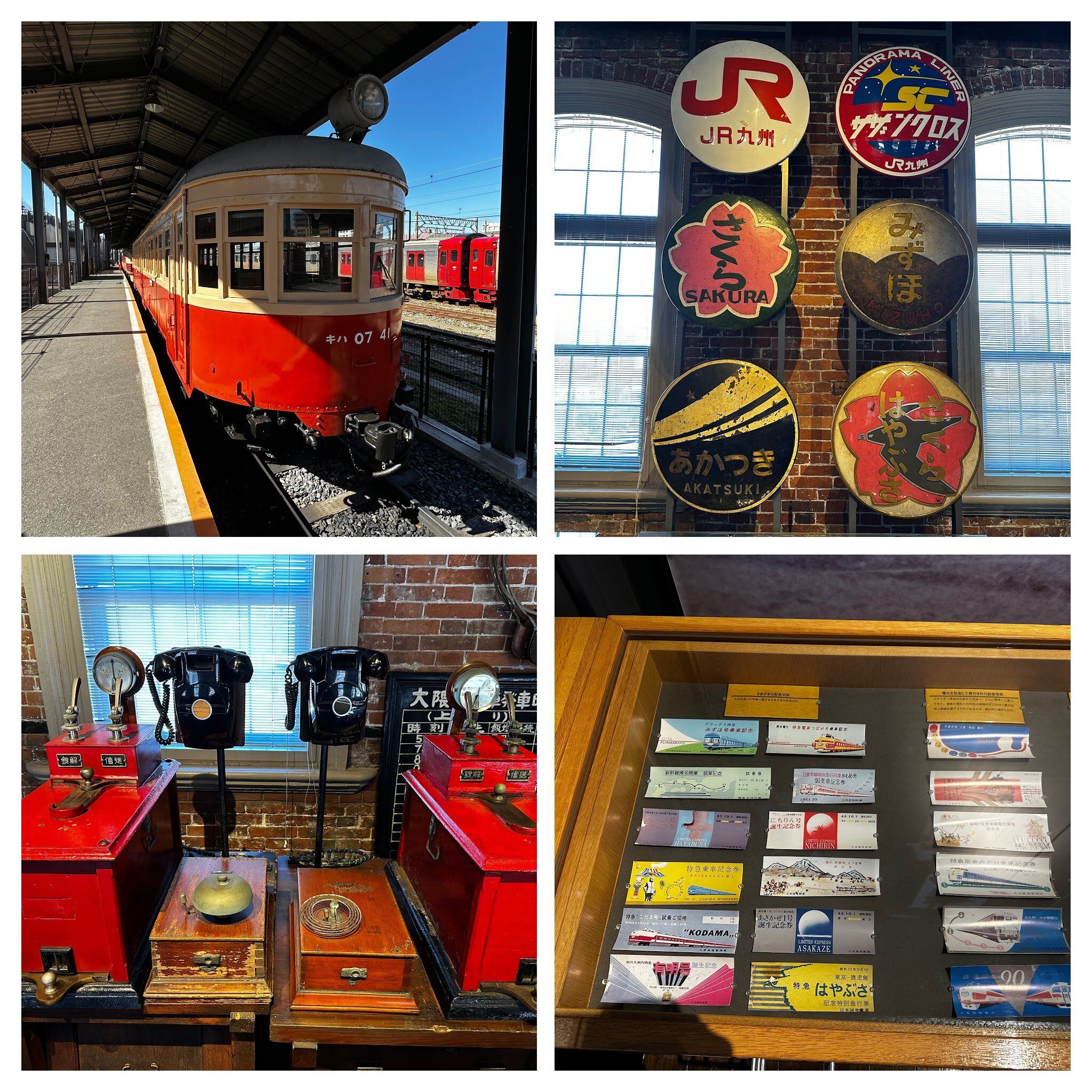 It's a historical museum of Japan's railway from the very beginning. From the very first train model being put into service, an express train dated before Shinkanzen being put into service with a nose being exhibited which used to indicate for routes that the train will be running, to all station pieces of equipment, and history of train tickets. If you're interested in Japan Railway, you will enjoy exploring these areas.
Note: There's a larger museum in Saitama, Tokyo. If you've planned to go to Tokyo anyway, I recommended going over there instead
I have about 30 minutes left to explore Mojiko until the next train departs. There is a shopping district near Mojiko station where you can take some cool pictures around the bay, surrounded by western-style buildings.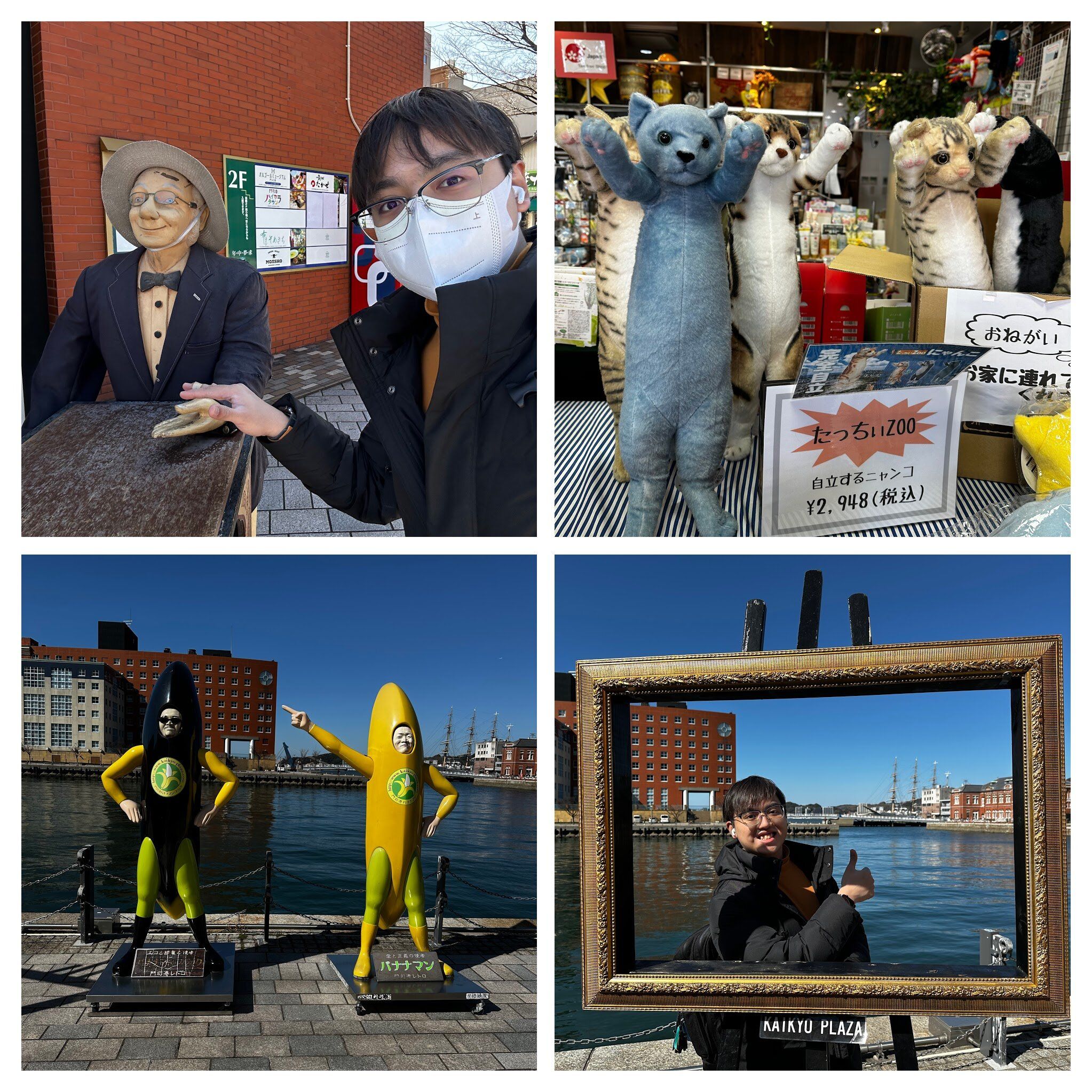 The next stop is to go back to Kokura once again, walking for 10 minutes to Tanga Market for some lunch.
I will not say that I'm choked once again but after bringing all take-home food for lunch, there's nowhere for me to eat near the market at all. I have to walk for another 10 minutes to Katsuyama Park to eat there, which gave me an experience that I expected from Japanese culture. But beware of the wind during winter, it can flip your food and spit all over your jacket.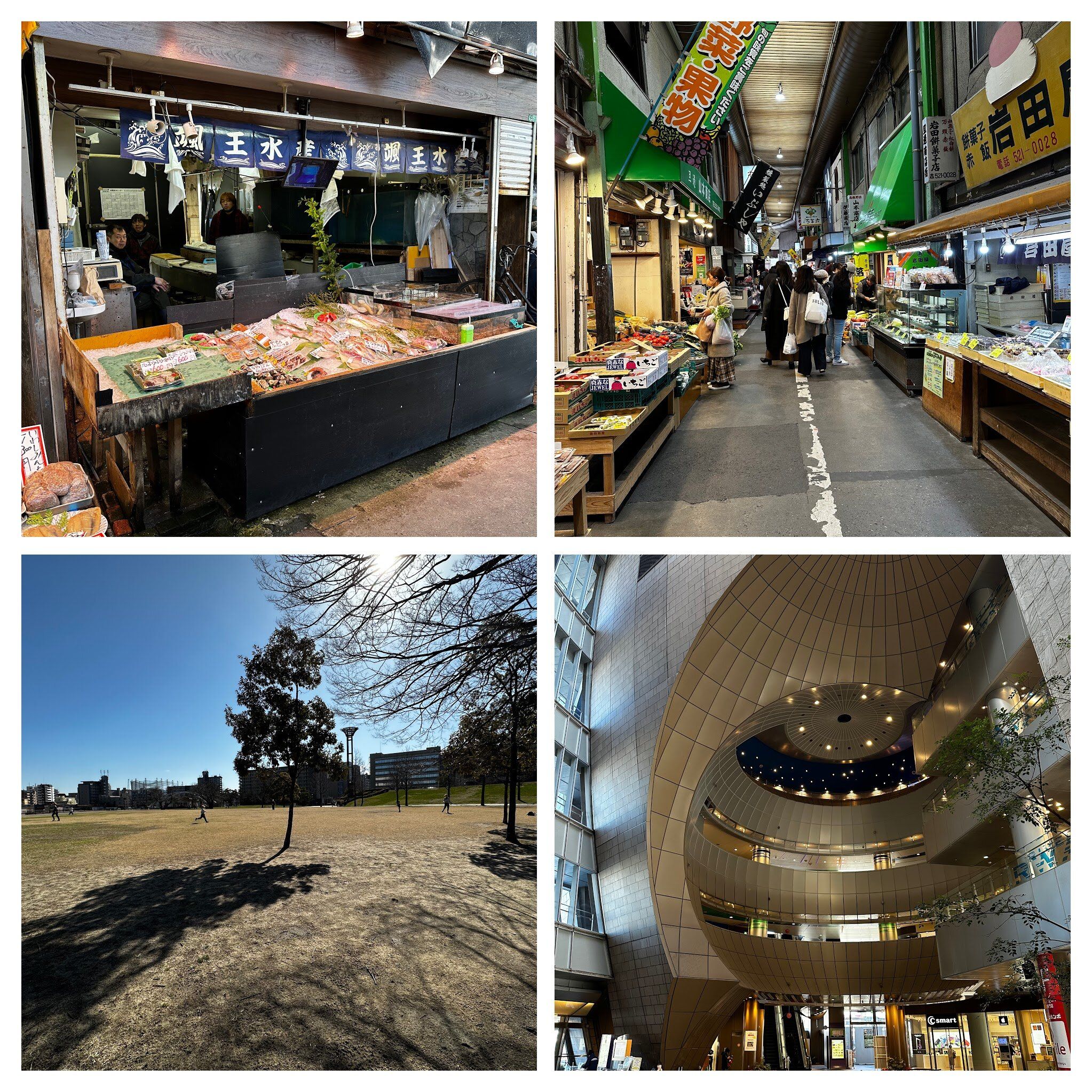 During my walk back to Kokura station to go to the next location, I also accidentally stumbled upon an unusual building structure which is a local NHK broadcast station, and Kokura castle as well.
The next station is Takatoyama Observatory which is the best observatory deck to view a beautiful city with Wakato bridge in the background. Getting there before sunset is also a challenge in itself. Starting from a local train ride from Kokura to Tobata station. Then, catch a bus to cross over Wakato bridge to Wakamatsu station.
Now from here, there's no public transport to take you closer to the observatory deck at this point. So, there're 2 options between paying 2,000 for a one-way 5 minutes taxi ride or 23 minutes of walking. Well..... guess which choice I choose.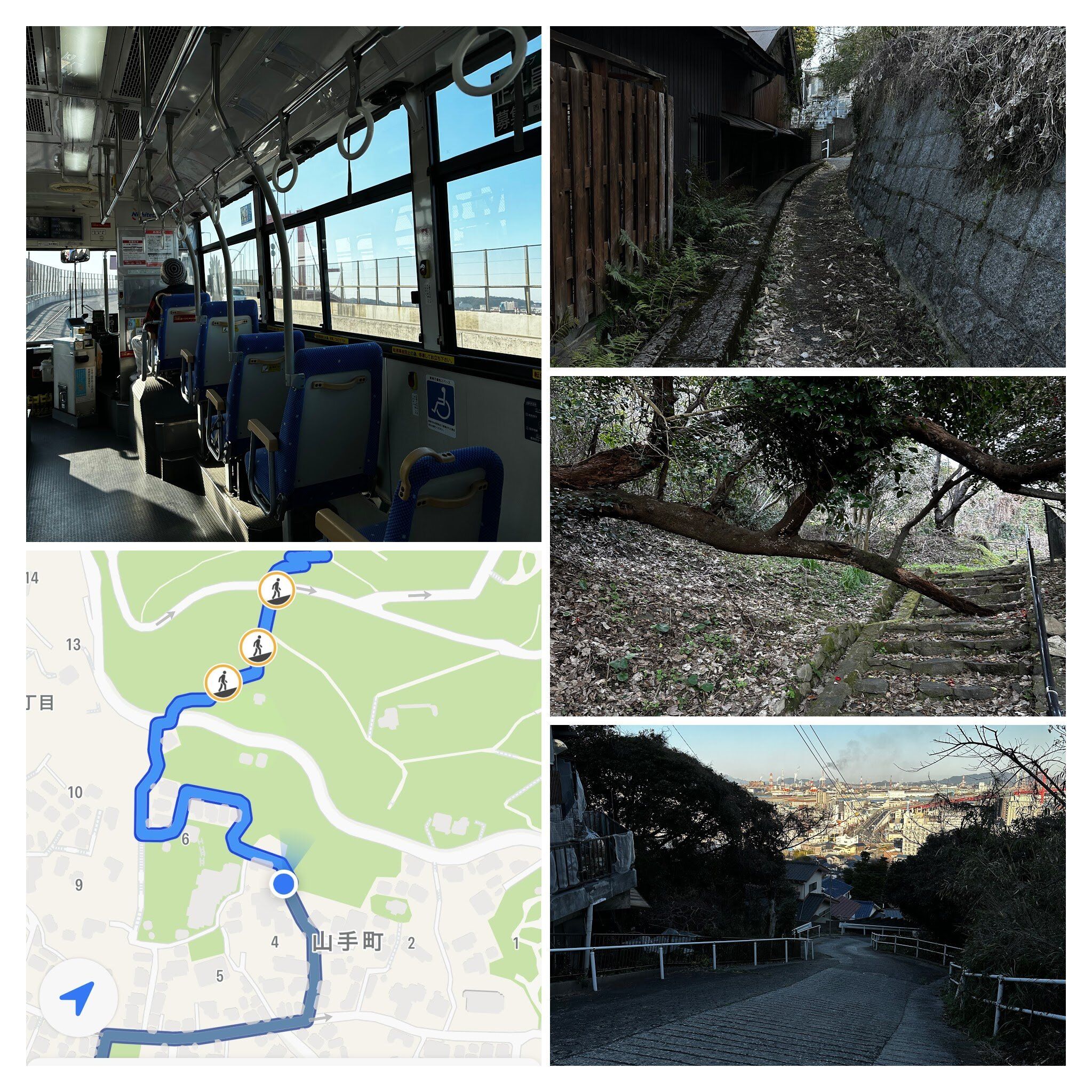 It's 23 minutes of walking from hell. Sure it's a 200 meters hill climb, but Maps doesn't tell me that I have to face 40 degrees uphill while I'm carrying heavy clothes in my backpack.
I'm partially dead after arriving at the observatory deck, but man this is the most well-deserved view ever in my life.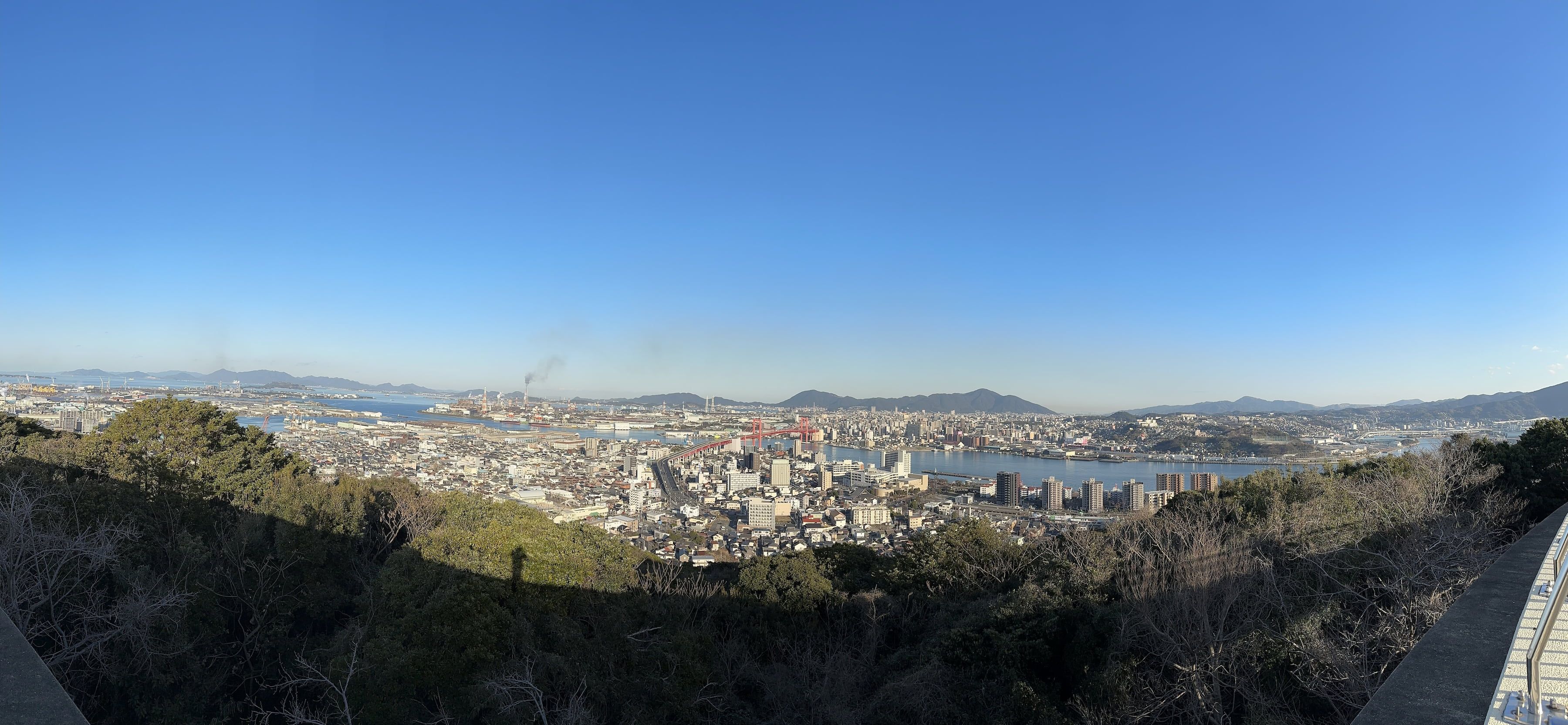 The beautiful scenery of Kitakyushu with the industrial complex on the left, the residential area on the right, and the Wakato bridge itself in the middle. I stayed there for another half an hour to enjoy the view that I deserved before quickly going back to Hakata (again) for a night's sleep.
Not much happened anymore for today other than exploring new experiences eating udon at standing stalls located inside a Kokura station, arriving at Hakata and going to Tetsunabe Gyoza for some gyoza and beer, playing some games, checking into a capsule hotel.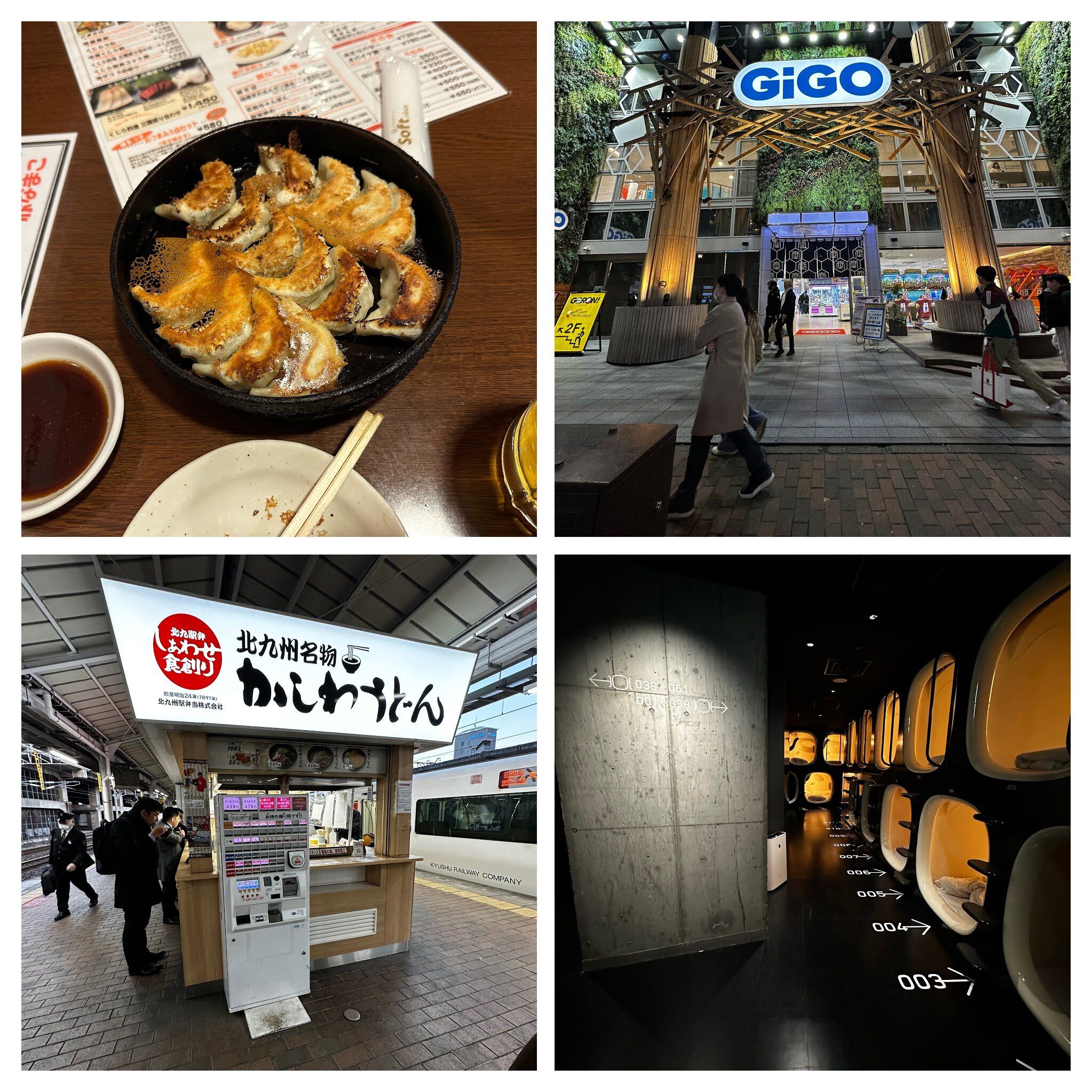 And that concluded with another busy day, and I spent a night for some sleep and planning for the biggest trip of the day.
Day 8:
Today's travel plan is simple, making a circle around Kyushu clockwise from Beppu, Oita, visiting a village at Yufuin, and resting at Kumamoto.
So I begin by traveling to Beppu, a city named for hot springs, by circling around via Kokura. Upon arrival at the station, you will know by ourself that this is a city of hot springs from icons on the train station to the welcoming board. I am also very lucky to find a luxury train, SEVEN STARS IN KYUSHU as well. To keep it short, it requires years of reservation and it costs from 600,000 yen per person to get on board.
Walking 6 minutes from the station, you will find a handcrafts shop called SELECT BEPPU which I recommend that you check it products that they have (they also have a life-size 3d cardboard cut of a cat, you can ask the clerk to buy one and she will take it out from storage for you). 2nd floor also has an area for a photo shoot of the traditional Japanese-style room.
After another 5 minutes of walking, you will reach Takegaware Onsen, a public onsen where you can wash (which is what I need when considering that I already slept in a capsule hotel for multiple nights).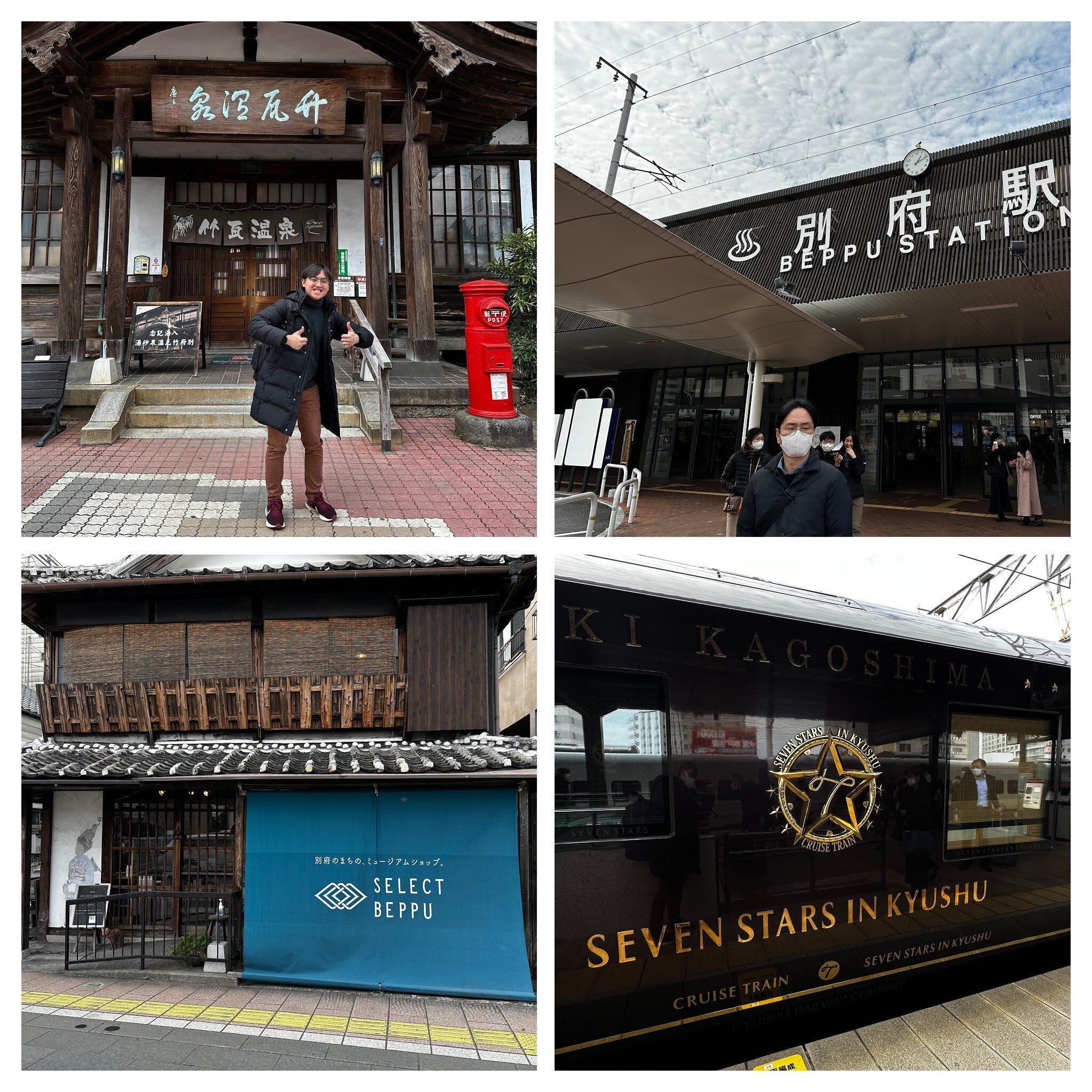 By noon, I do another 10-minute walk to Toyotsune Honten for my lunch. During my transit to Beppu, my Japanese friend who I met while drinking in a bar in Thailand, gave me a recommendation of local foods in Kyushu that I have to try since this is his hometown. So I have some meal of Tonkutsu and Seki saba (Mackrell). Then I do more walks to Beppu Tower, then continues to Matogahama Park for a brief rest by the beach before going back to the train station.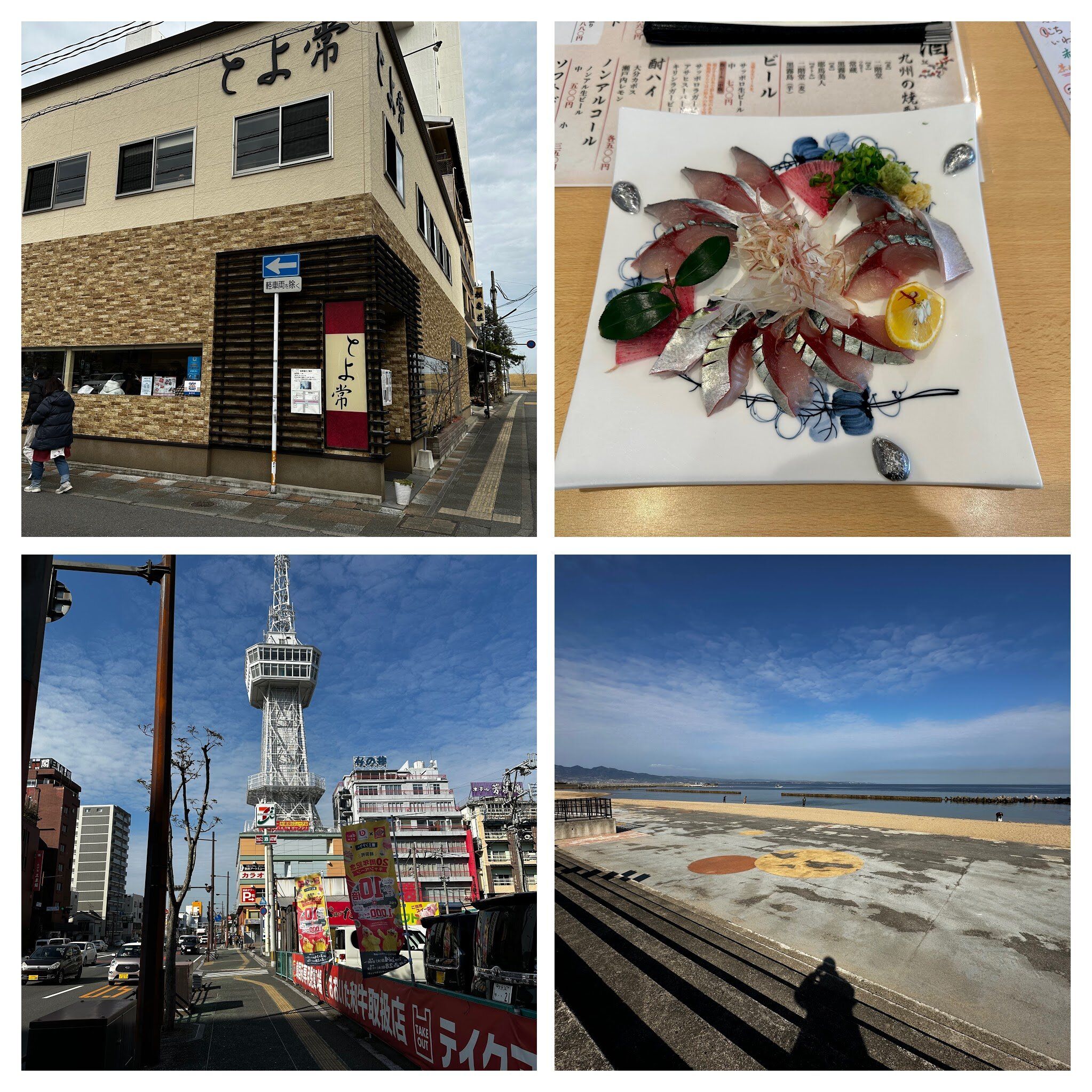 The next stop is Oita. Unfortunately, I have only a few hours here before I have to catch the next train somewhere else. But even this short of time, there is a shopping center located next to Oita station. On the rooftop of the shopping center, you will find a themed cafe, small train tracks which adults can so get a ride, a park for children, and a shrine!!! WHAT!?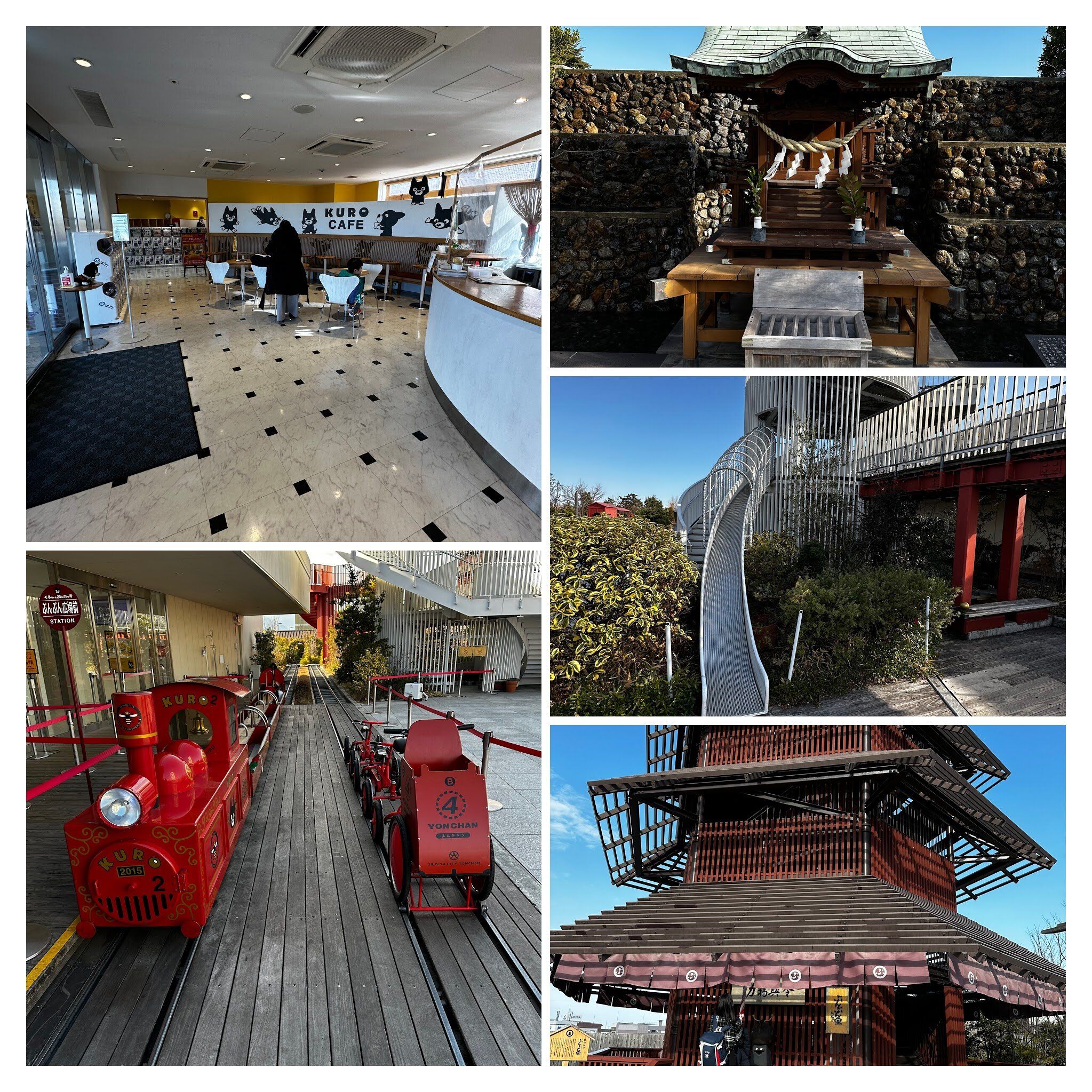 The next stop is Yufuin, a small town also known for its hot spring resort, shops, and cafes. It is located remotely over 400 meters height above the water level and is hard to access via a train as well. So I did not expect to find many tourists in the area but turns out that I just appeared to find an entire tour of Thai tourists, so it's kinda awkward to find people speaking Thai all over the place there.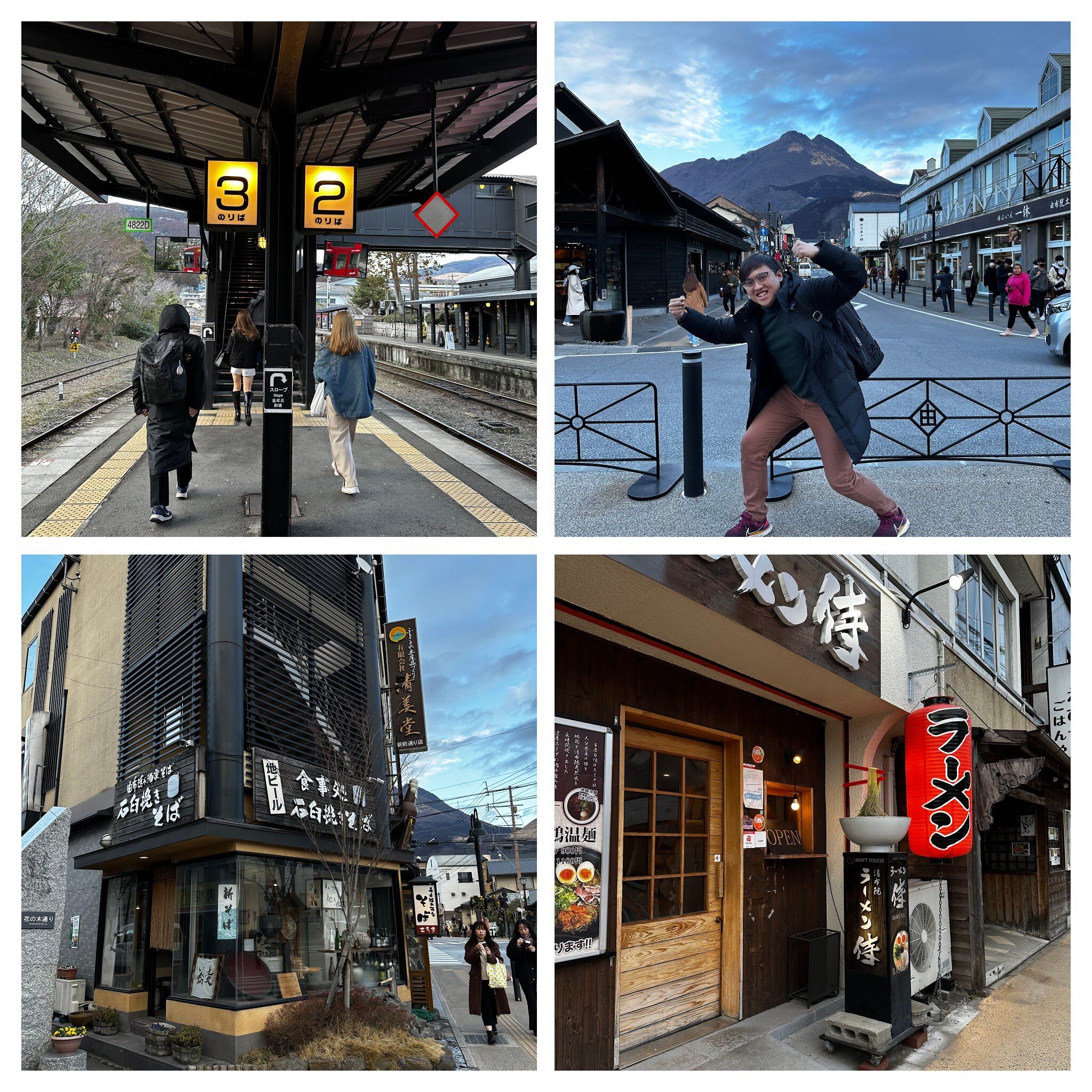 Again, I only have an hour to briefly explore the area around here because I really want to catch the next train back to the main city. If I missed this train, the next train departure time is 7pm when the sun already set and it could get cold very fast and I don't want to be stranded here.
Luckily that I made a good decision because unexpectedly got onto the very unique train Yufuin no mori that only has 3 trains in service. It is a variety of trains decorated with a modern wooden interior that makes you feel like you are at a resort. There is a train cart for food service where you can order some drinks and enjoy a nice view along the train tracks while standing in front of a giant window as well.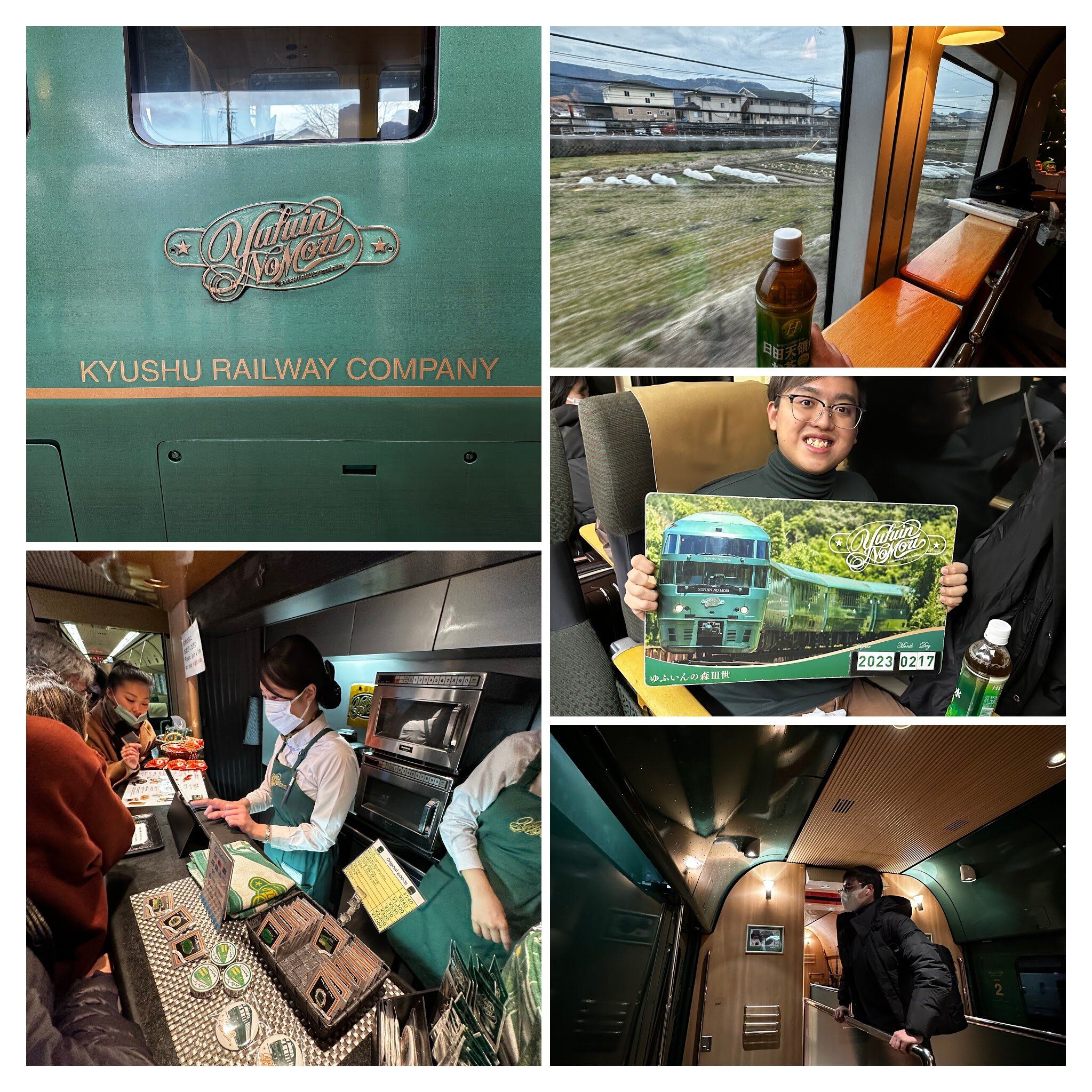 This train is running from Hakata to a stop at Yufuin and terminates at Beppu station. I am riding this train in the direction of Hakata, but I decided to get off at Kurume and get a Shinkansen ride down to Kumamoto for a night there instead. Simply because I don't want to stay another night at Hakata, it has a downside where every guest is required to pay a tax of 200 yen per person per night.
I also have some time left to explore the nightlife in Kumamoto as well before checking into a hotel for a nice sleep.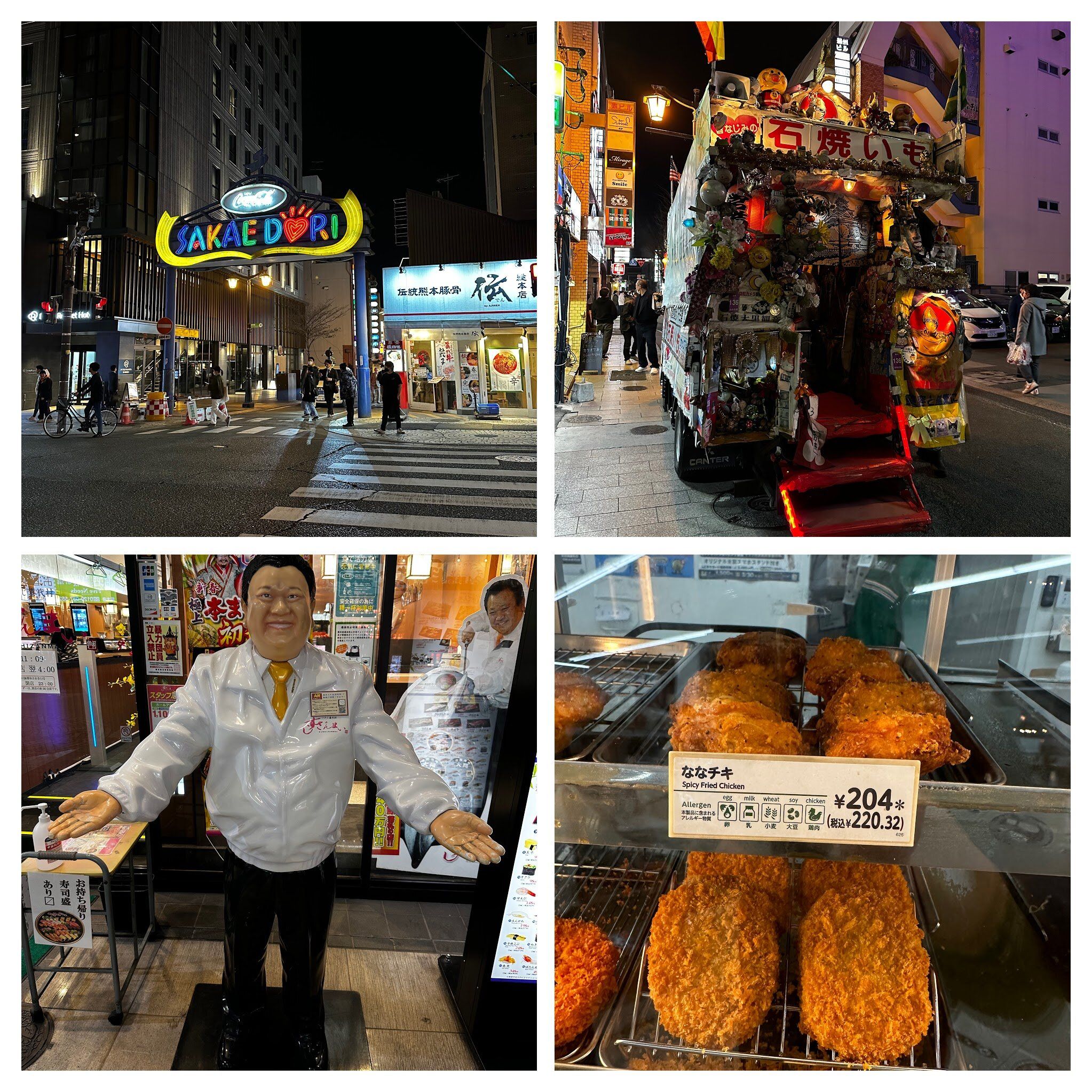 And that's a wrap for eighth-day boys.
Day 9:
Today, I planned to explore Kumamoto first before going back all the way to Tokyo. So, I begin by riding local trams to visit Kumamon Square to see Kumamon in real life and take some pictures there as well.
By then, I walked along the road to a nearby shrine, then enter Kumamoto Castle which was by far the best historical exhibition that I have ever seen so far. The exhibition tells the entire history of Kumamoto from the beginning of city planning to the engineering of the castle itself to withstand a frequent earthquakes and protect the emperor from danger.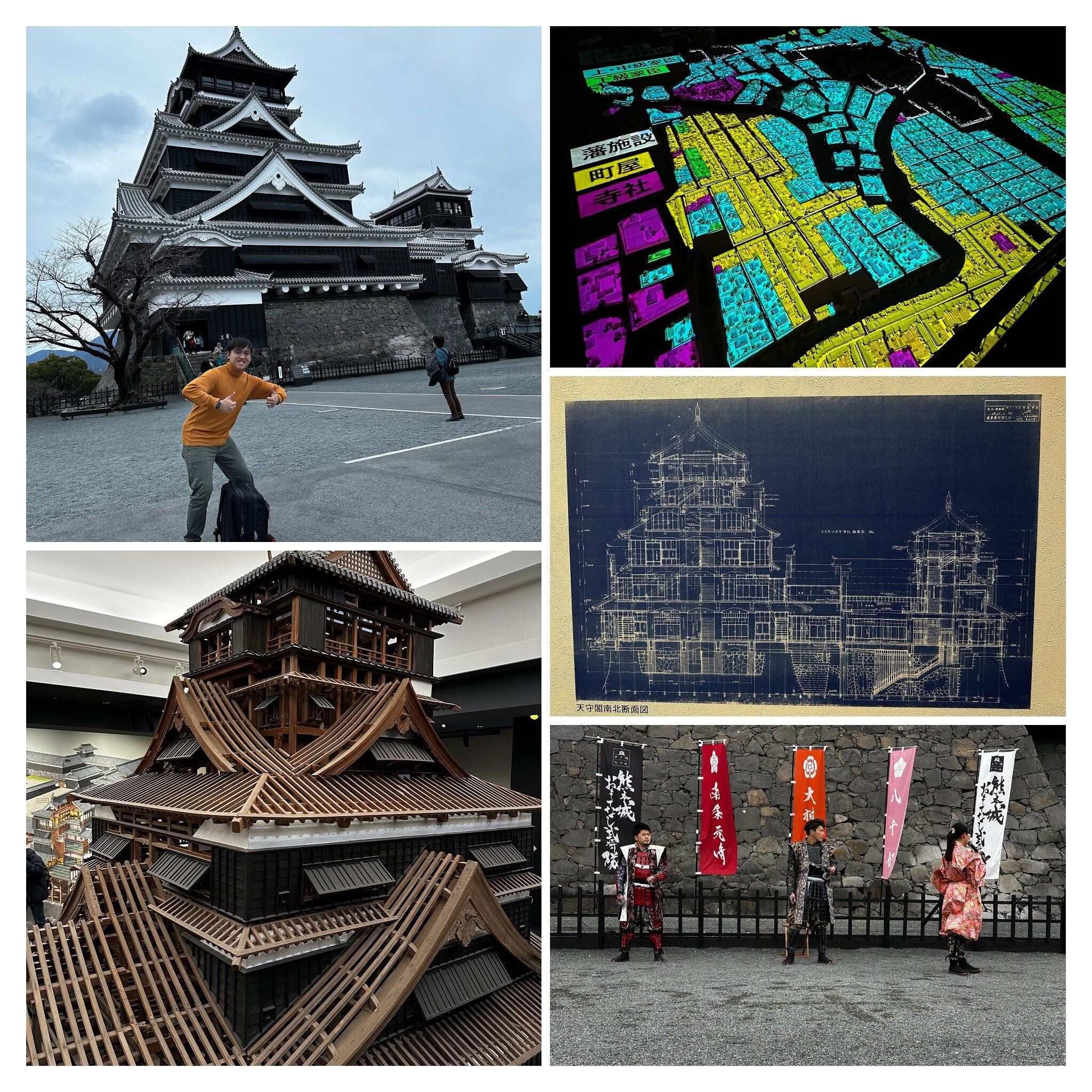 With all of that done, it is time to go back to Tokyo ... but there is a catch. If I ride Shinkansen all the way from Kumamoto to Tokyo all at once, it will take me 7 hours to complete the journey which is impossible for me to do. That's why I skipped Osaka on my first day of the travel, so I can have some rest during the long journey.
So, I arrived at Osaka around 7pm. I quickly used it all the time as efficiently as possible to get the most out of it. There was a light rain by the time I arrived as well. So, I quickly got a picture at the iconic Glico Sign, then quickly find restaurants for a dinner around Dotonbori before closing time.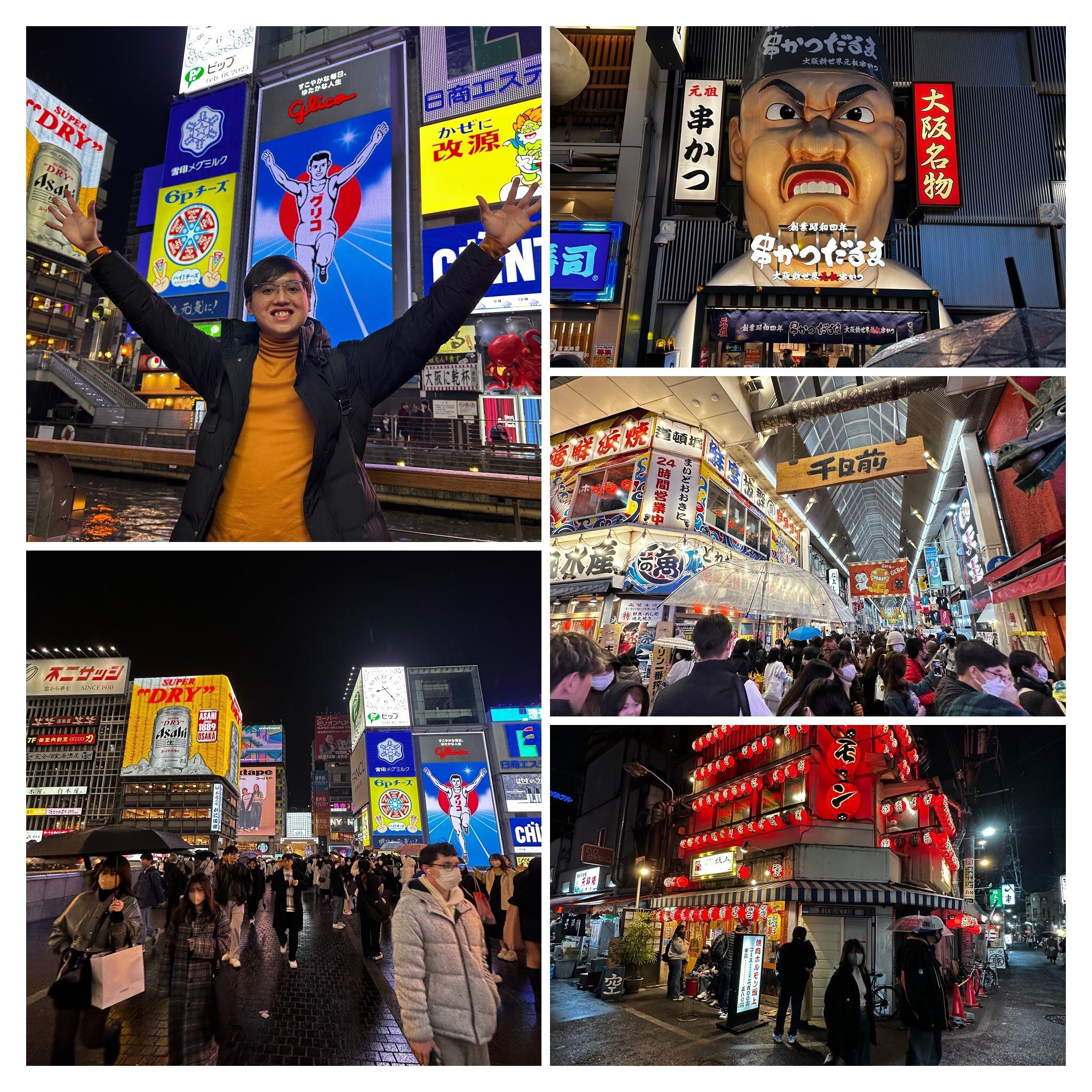 With all of that done, I checked into a hotel around Ebisunishi and concluded for the day.
Day 10
This morning, I planned to take some pictures around Shinsekai first, then go to Osaka Castle if possible. But unfortunately, it is raining all day and it is very hard to walk in the windy rain. So, I only got a chance to go to Shinsekai for breakfast and the Tsutenkaku observation deck nearby and skipped Osaka Castle entirely.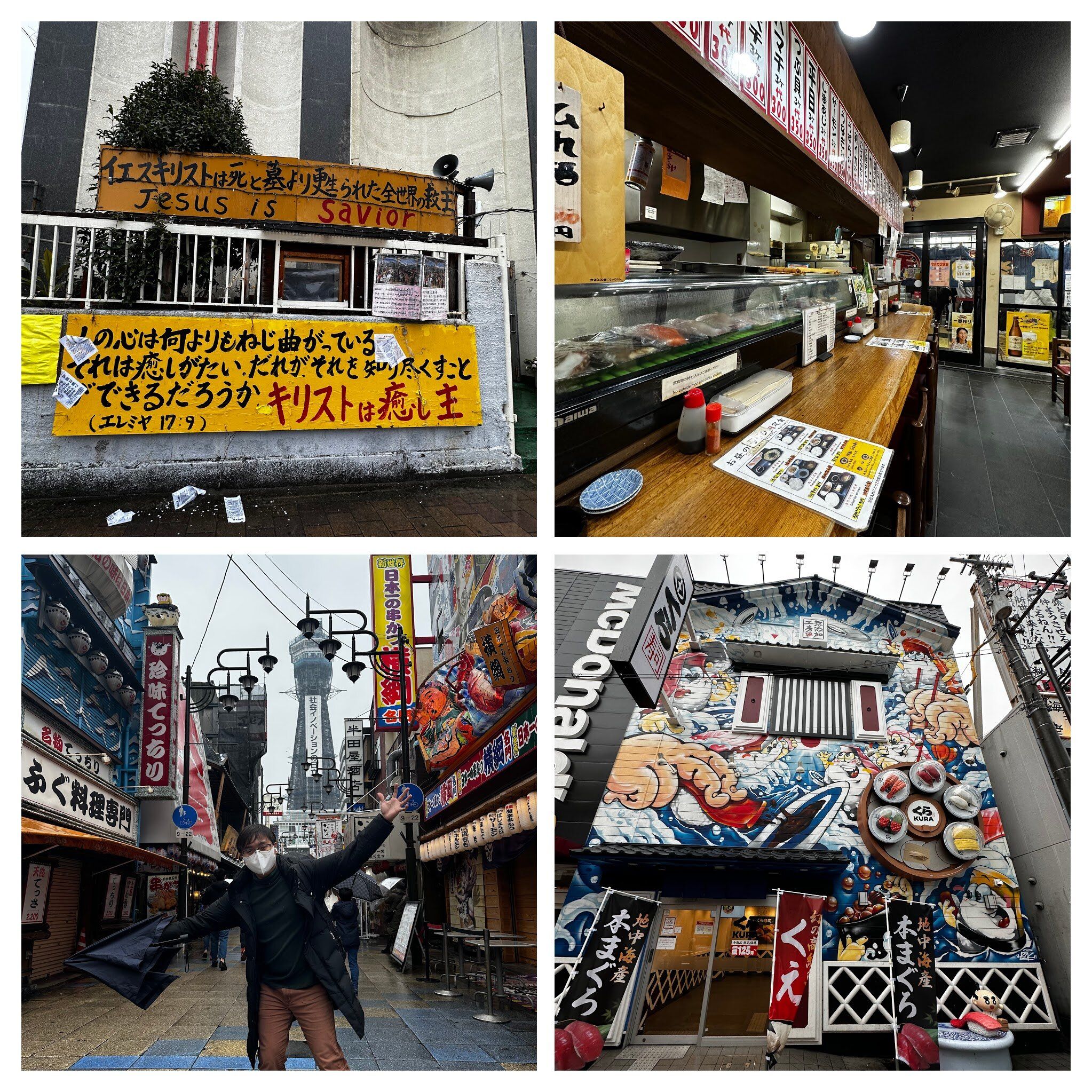 Nevertheless, I decided to make another stop at Yokohama. Mainly because of the news that GUNDAM Factory Yokohama will be closed by the end of March 2023. So, I have time to get on board NYK Hikawa Maru first then walk to nearby GUNDAM Factory Yokohama just in time for the show for life-size Gundam to move as well.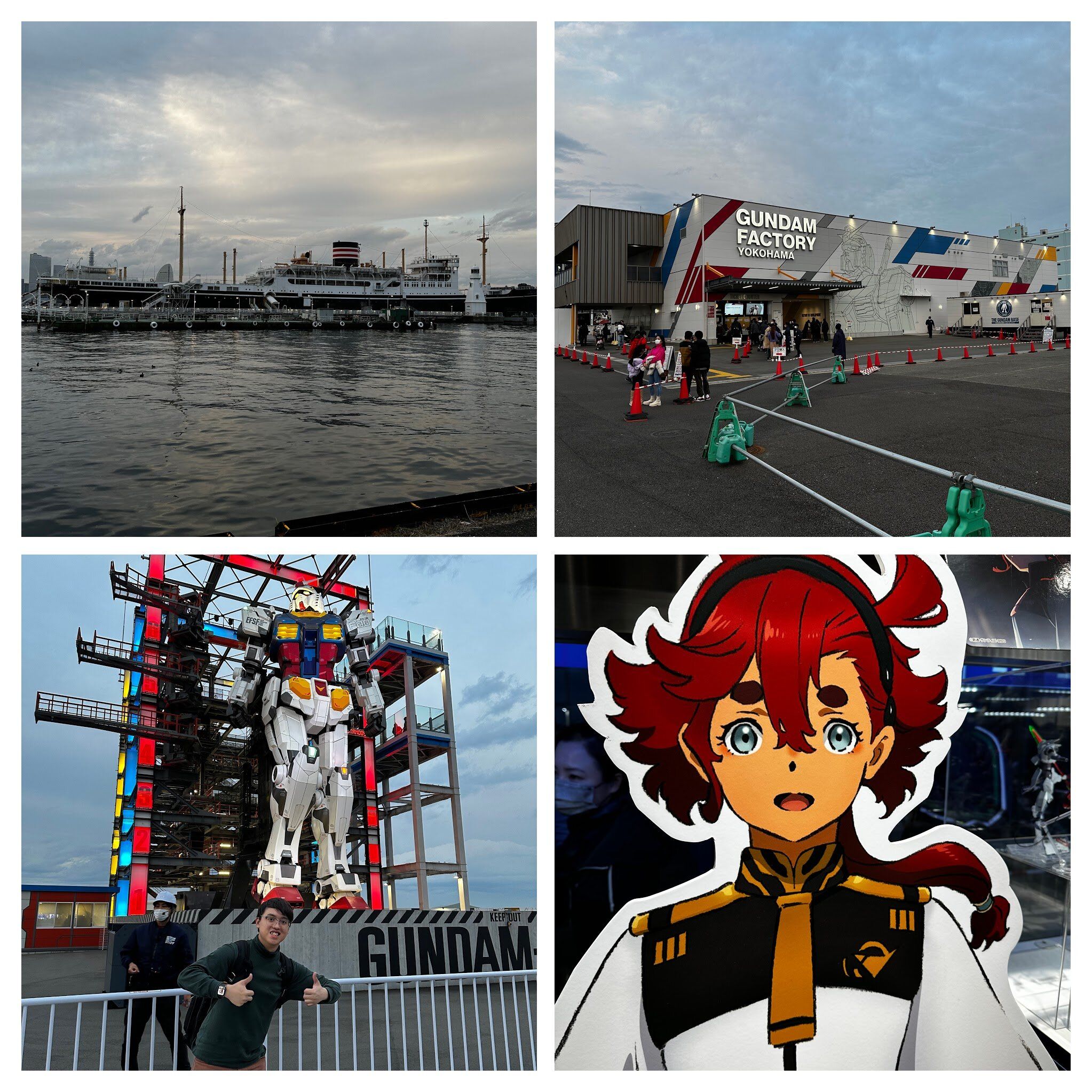 Coincidentally, this is Sunday as well. So...
Moreover, I also visited the Gundam museum after the show is finished as well. The exhibition itself shows the insane engineering behind the life-sized Gundam as well, from crafting the body of the Gundam itself to support heavy weight to instance reduction gear that amplifies power by 1000 times.
There were so many things to see that it was already dark outside by the time I finished in that area. So, I do another 20-minute walk to Chinatown to find some dinner before checking into a capsule hotel for the last time on the trip.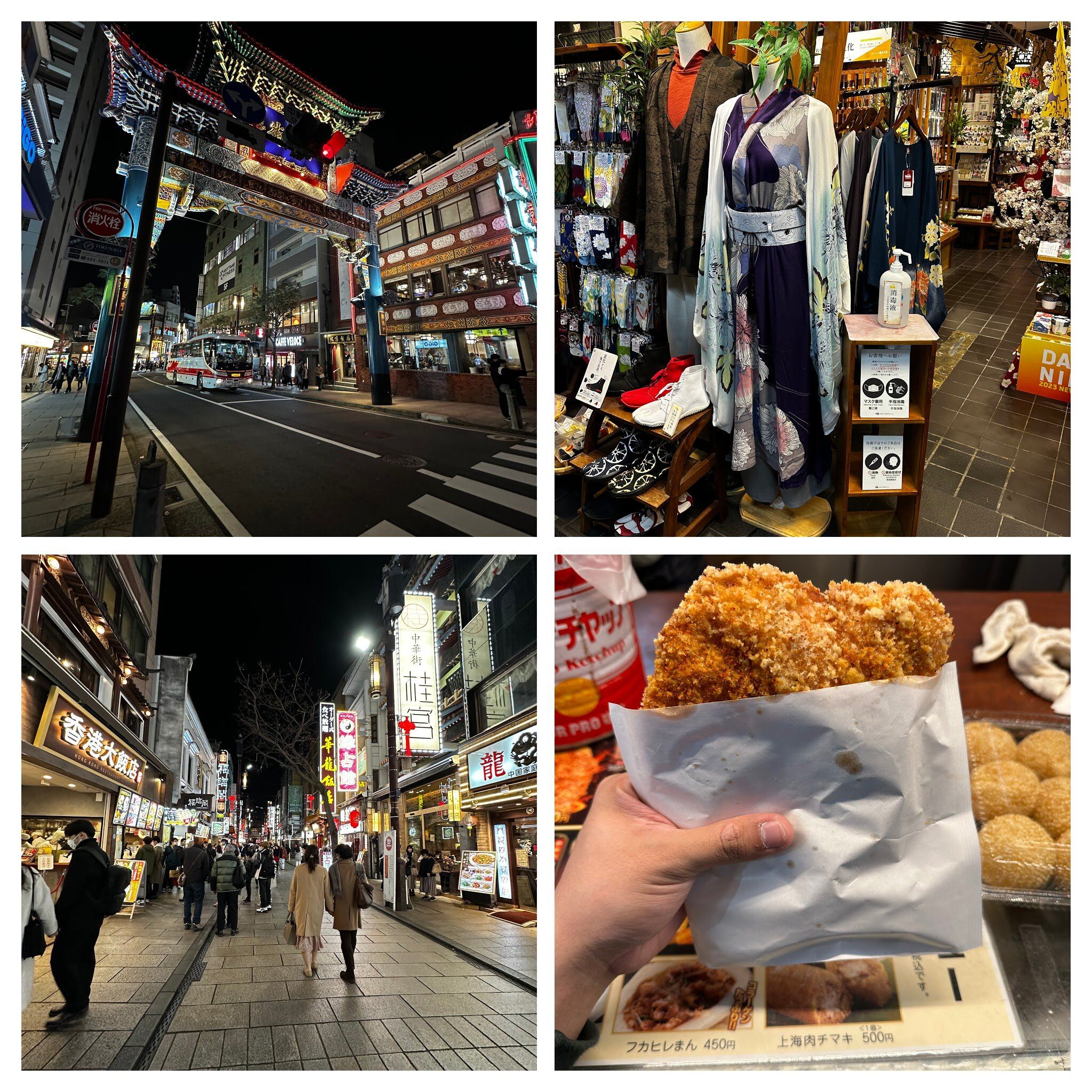 Day 11 - 14
The rest of these days, I just stay in Tokyo for some rest after a hardcore journey. But that doesn't mean I will not stop travel though.
In summary, I visited Tokyo Skytree for a nice view of the sky. Then, trying to become a person of interest by trying ramen at a Blue Archive-themed restaurant. After that, I also just in time for the IDOLM@STER-themed events around Akihabara as well. There's a promotion collaboration event for upcoming animation THE IDOLM@STER Cinderella Girls U149 at atre 1, and THE IDOLM@STER Million Live! x Gift SHOP event at Kotobukiya.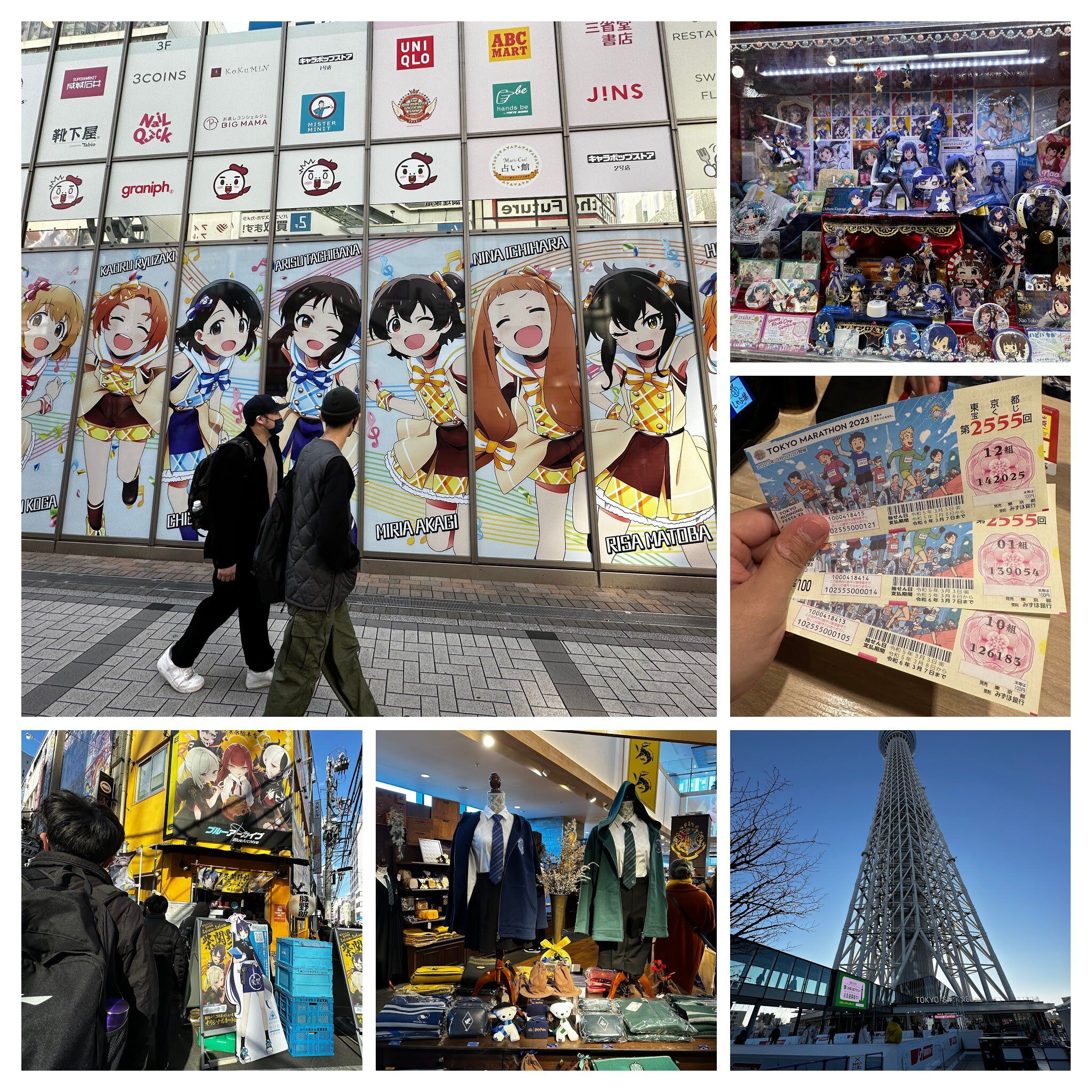 Moreover, I tried to become a millionaire by buying lottery and pre-ordering some games before it was time to go back home.
Wraps up
To be honest, this trip went very well since I learned a lot of lessons and solved many problems along the way from being learned not to carry too many clothes and limited backpack storage from my trip to Singapore to securing my items properly from last visit to Japan.
So this is it, the end of another hardcore traveling. Now there're only 3 regions of Japan left that are left unexplored, I hoped that I will finish exploring all the regions of Japan by the end of next year. Then I will adjust my travel style again from quickly exploring all the areas to deeply researching and exploring each specific area deeply to find an unusual place for more stories and visit all areas that I skipped as well.