This last quarter is a hell of a ride. 3 days to a developer event in Chiang Mai, rest for a week then have an adventure in Singapore. After that, rest for another week and a half and goes to Japan. I wonder how I managed to pull this off but it's a hell of a ride.
This trip is no different. This will be the second visit, but technically the first travel trip in Japan (the first one is more like a business trip which doesn't count).
The grand plan
To quickly summarize my plan, I planning to travel across all regions to Japan. This spreads into multiple trips, so this trip is from the Tohoku region...all the way to the Hokkaido region.
Traveling this fast means that I will miss many things but I will explain more about that later.
Day 1: Departure
My flight will take off at 8am, but I arrive at the airport in 4 hours only. This might be bad for many people since arriving this early means you have to wait hours for the departure gate to open but I have a secret agenda.
Well, you see, recently I just open Citi Royal Orchid Plus Preferred card which has a perk where you are able to access Royal Orchid Lounge right away if you have Thai or Thai Smile boarding pass.
So, I take this opportunity to flex my new power on the first trip of this card which is awesome. The lounge has nice accommodations from comfy chairs and a table to work, but more importantly a nice morning buffet to fill me up. The ground service of Thai Airways is always excellent as many have reviewed before.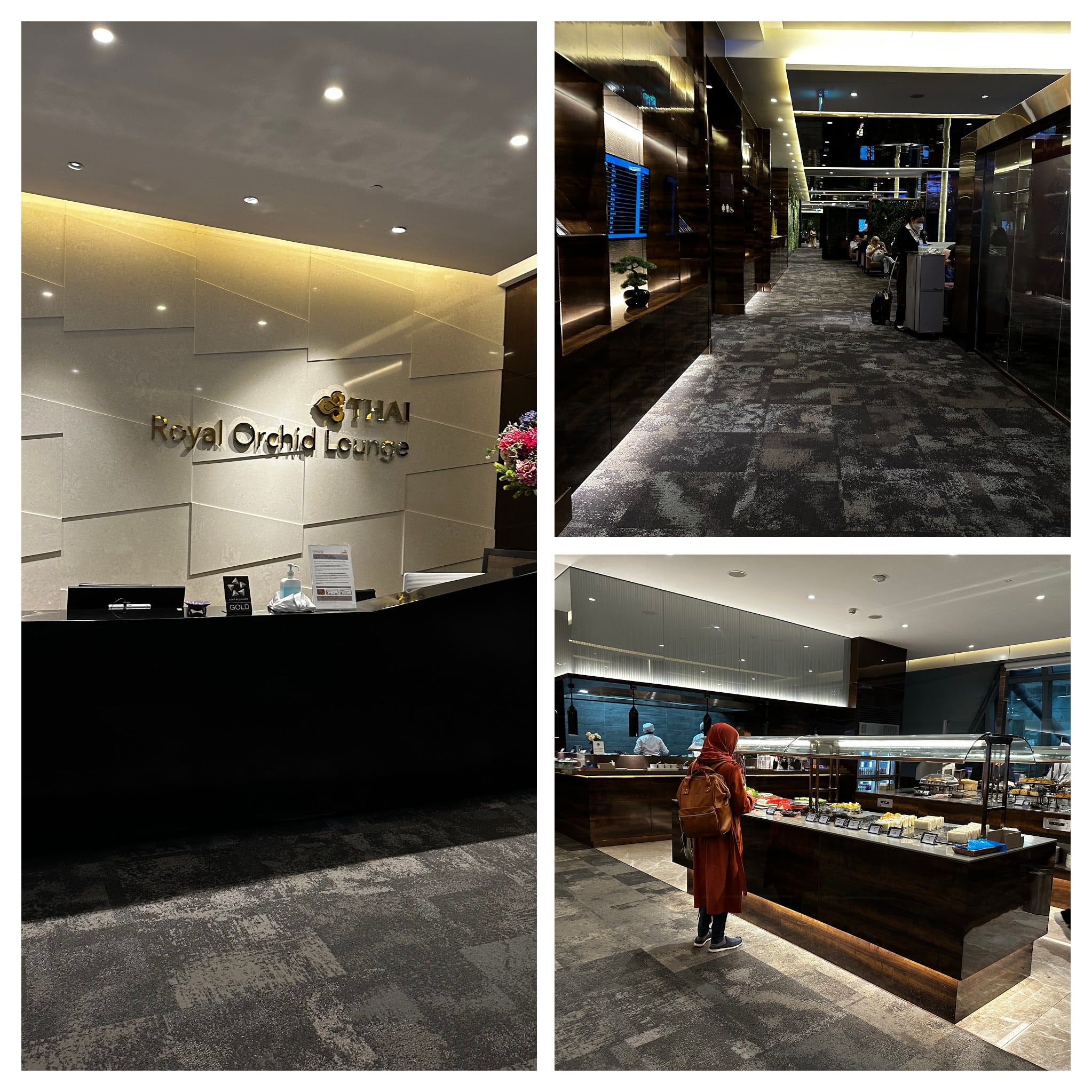 Then, I do a boarding to the plane then managed to sleep all the way to the point where the plane will soon begin to descend.
Not much when arriving, take half an hour to pass immigration and pack bags. Unfortunately, by the time I arrived, it had already gone dark so today I have to find someplace to rest first before real travel the next day.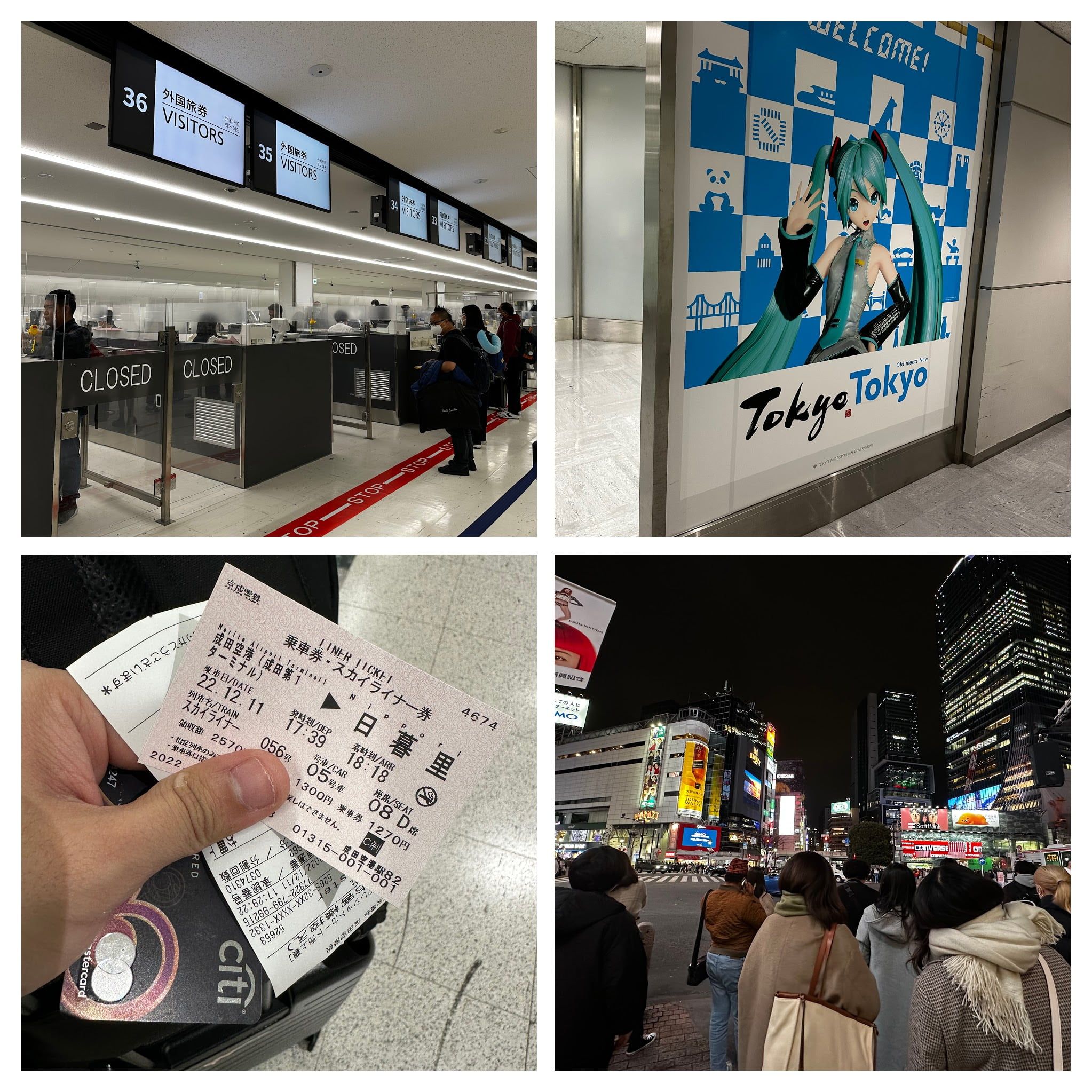 Also, I came all the way here empty-handed so I need to buy clothes and a jacket at Uniqlo, where I am able to get a 10% tax-free discount.
Stores that offer tax-free discount usually requires you to buy items with a total amount of more than 5500 yen.
Day 2: Eat, walk, repeat
On the second day, I quickly woke up in the morning at Tokyo station in order to store my huge luggage away while I travel for 7 days. So...the only bag that I carry around and travel for 7 days is just only my backpack (I will explain more in the last section).
After that, I quickly find ekiben to eat on the Shinkansen to the great prefecture of...Utsunomiya!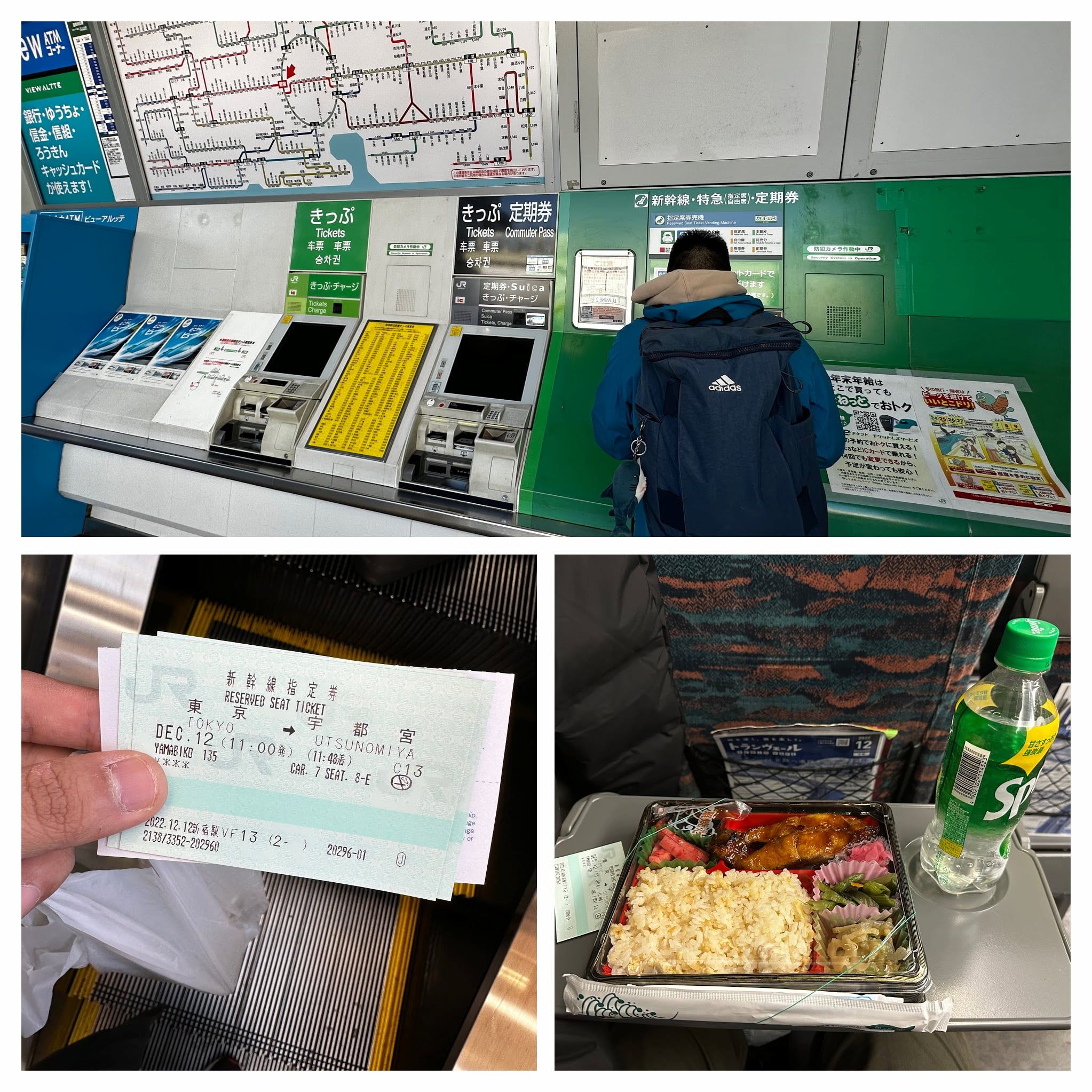 This will be the last prefecture before leaving for the Tohoku region. This town of Tochigi is famous for gyoza so I strategically plan this train to arrive at noon to have gyoza as lunch which is superb. You can easily find gyoza restaurants in the station but they also have other restaurants on the east exit as well.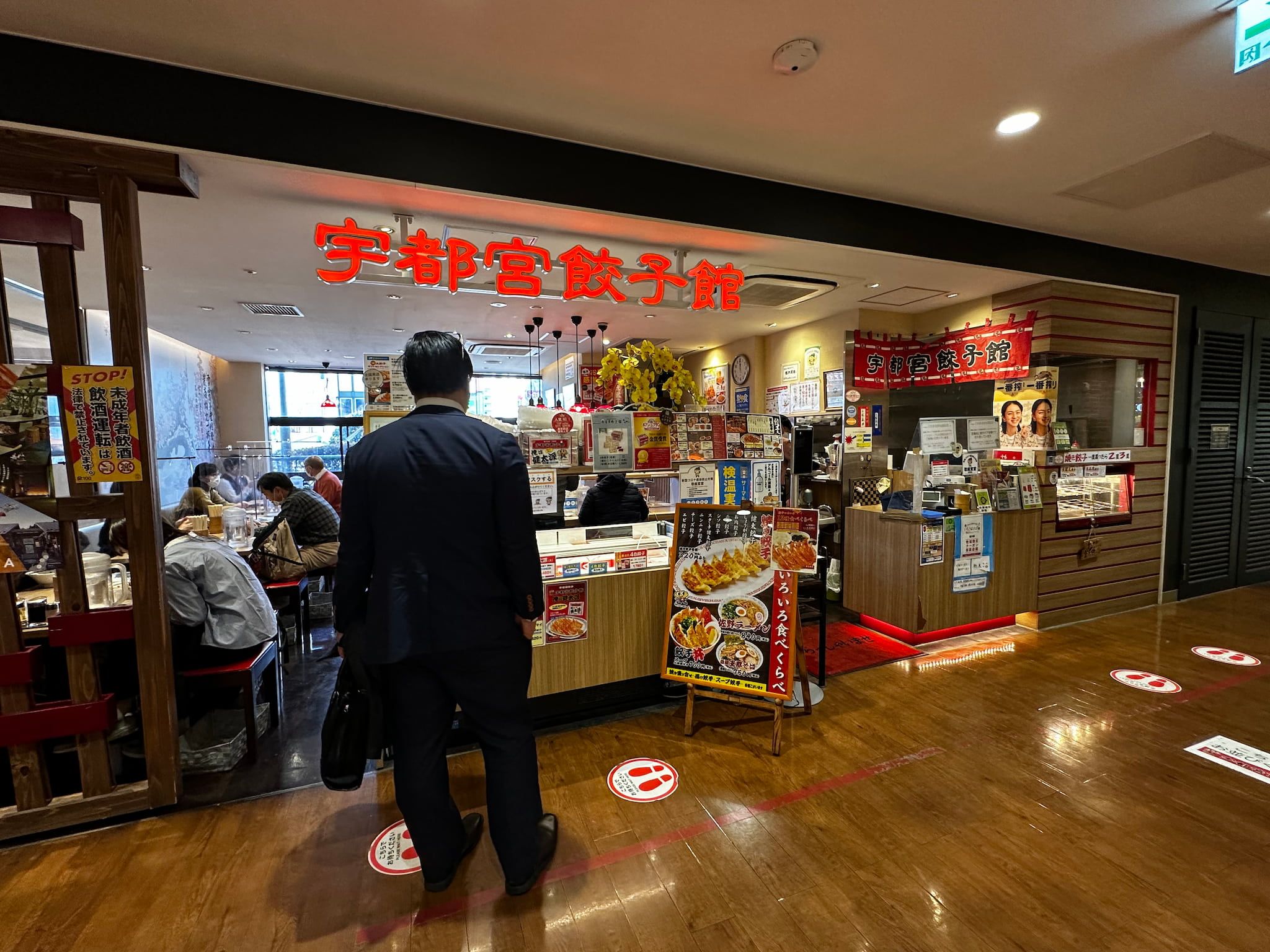 Then, I take a local train to Nikko to see Nikko's world heritage sites which is awesome, there're not many tourists here and the environment is so calm. So calm in fact that I managed to get invited to buy some hot crapes by locals, which is awesome and much needed while waiting half an hour for the next train departure back to Utsunomiya station. She is very kind though, asking me where I'm from and where I am going next.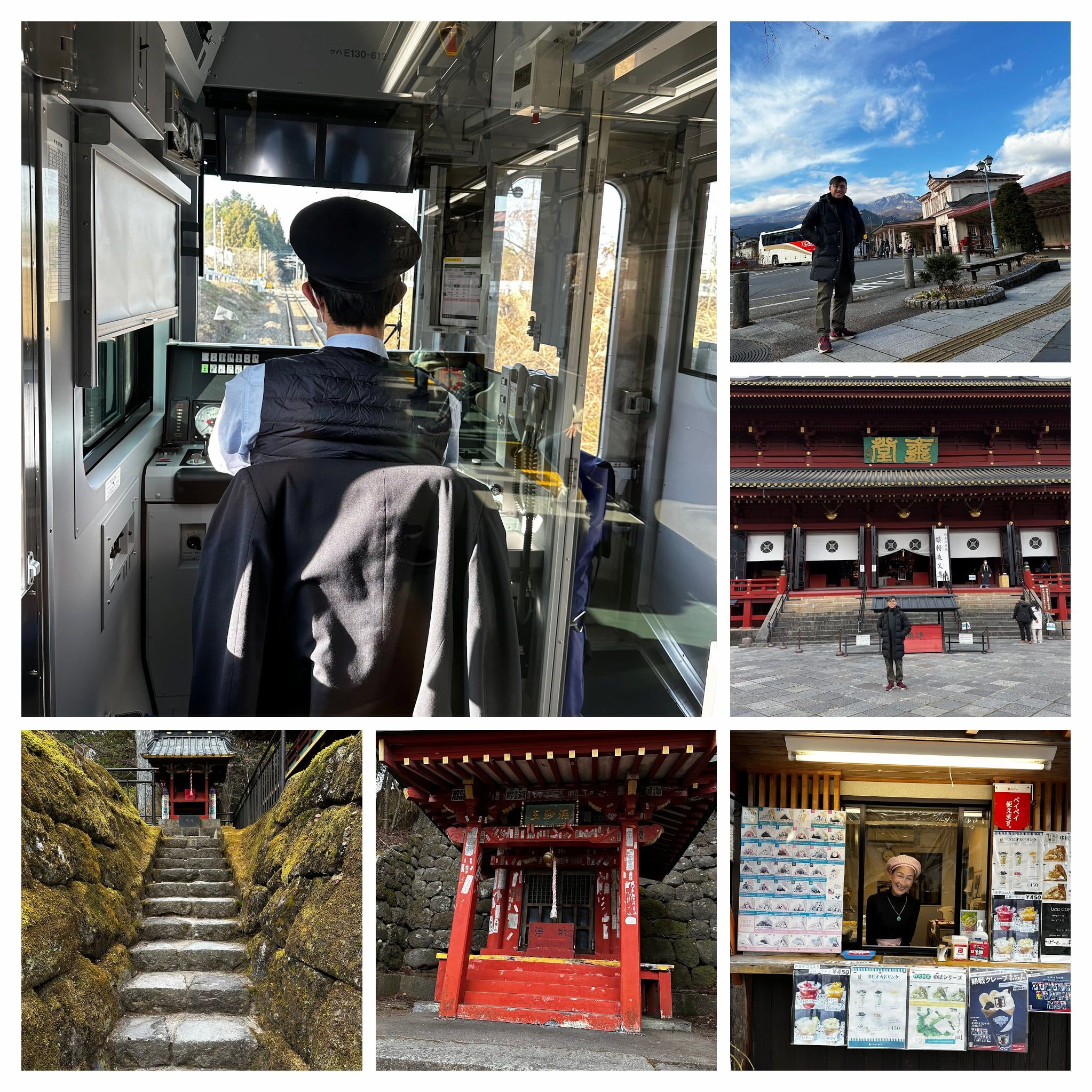 After that I take another train back to Utsunomiya to have a quick dinner before resting at Yamagata, I finished my meal and tried to pay. I found my credit card and.....
Choke #1: I dropped my credit card
I was panicking at this point (not about paying for food though I have cash in hand). I quickly go to the lost & found booth in the station, if you cannot speak Japanese at all then good luck. I tell them the situation but I ran out of time because by that point my train to Yamagata will be leaving in 15 minutes. So, they tell me to report the lost item at Yamagata station instead.
After arriving at Yamagata station, I quickly go to the station office to explain my situation, and turns out that my credit card was found at Nikko station, which is both good and bad. Good that it has been found and quickly reported to the JR East system but bad because I dropped it at the local station which means that I have to go back to Nikko to retrieve my credit card.
This quite becomes quite a problem for my 3rd day because I had already been issued a Shinkansen ticket from Yamagata to Fukushima then arrive at Sendai. But the station officer is quite nice, they help me plan a train schedule to retrieve my card back, cancel the existing reserved ticket, and issue new tickets for me.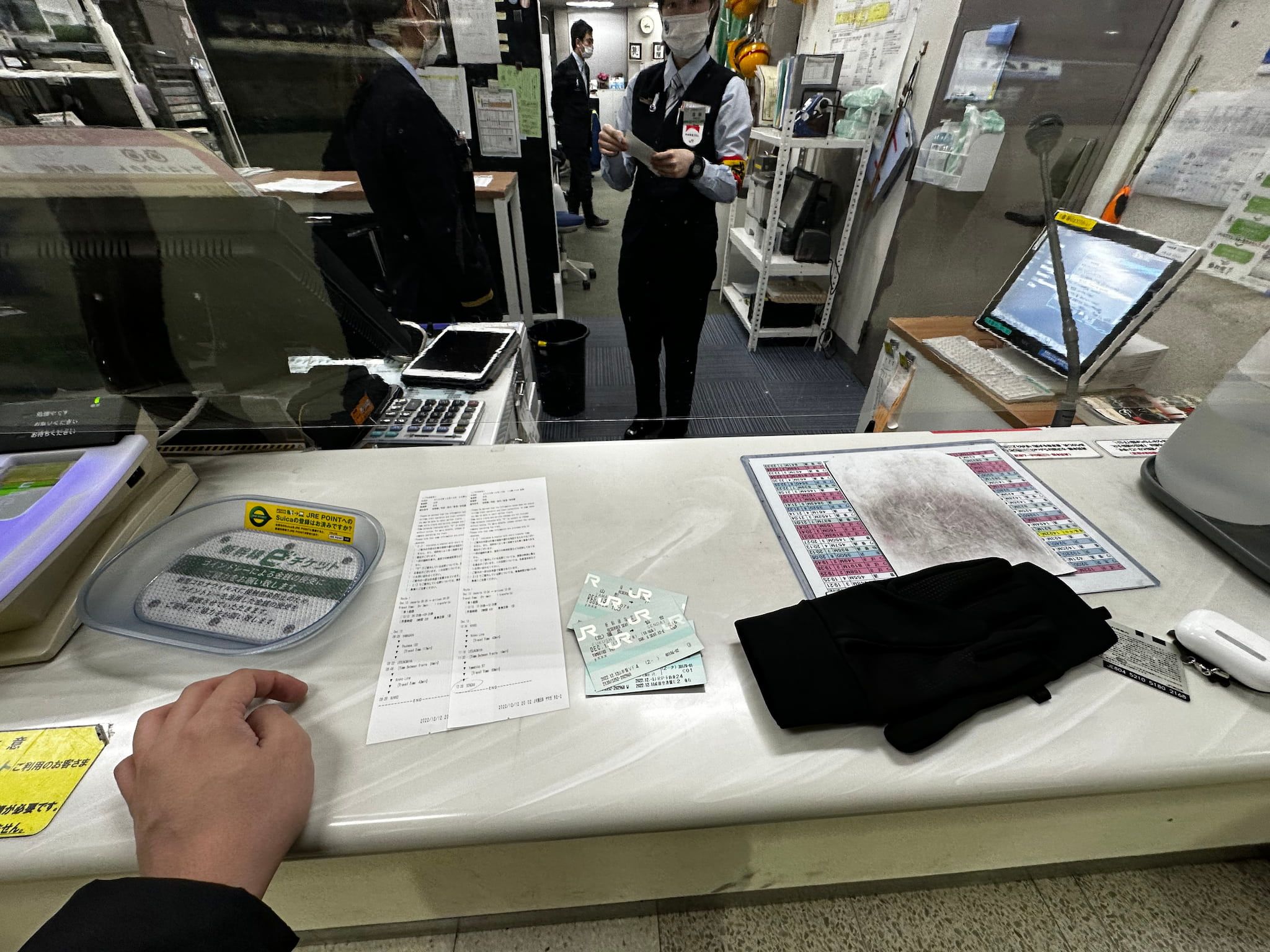 So my new train plan is to go back to Utsunomiya, take a local train to Nikko and back, then ride the train all the way to Sendai.
Nothing I can do about my choke anymore. So I quickly checked into the hotel, then ride a taxi out to play some games before I concludes the night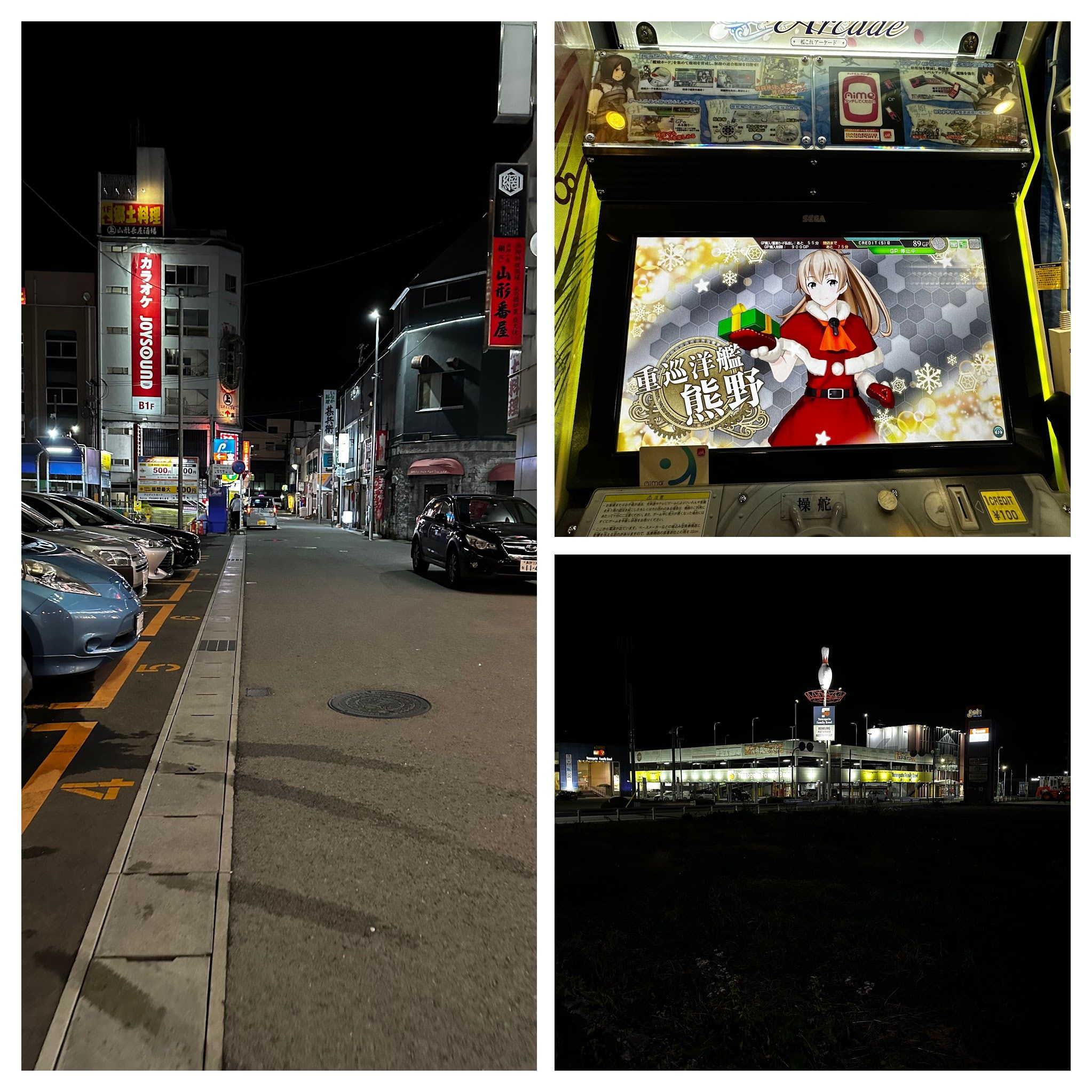 Day 3: Quite a waste of an afternoon
In the morning, I quickly have breakfast and then walk to visit the local spine, and Kajo Park, which is the ruins of the castle where the only remains is a stone wall. Quite a nice walk before picking up the pace back to Yamagata station.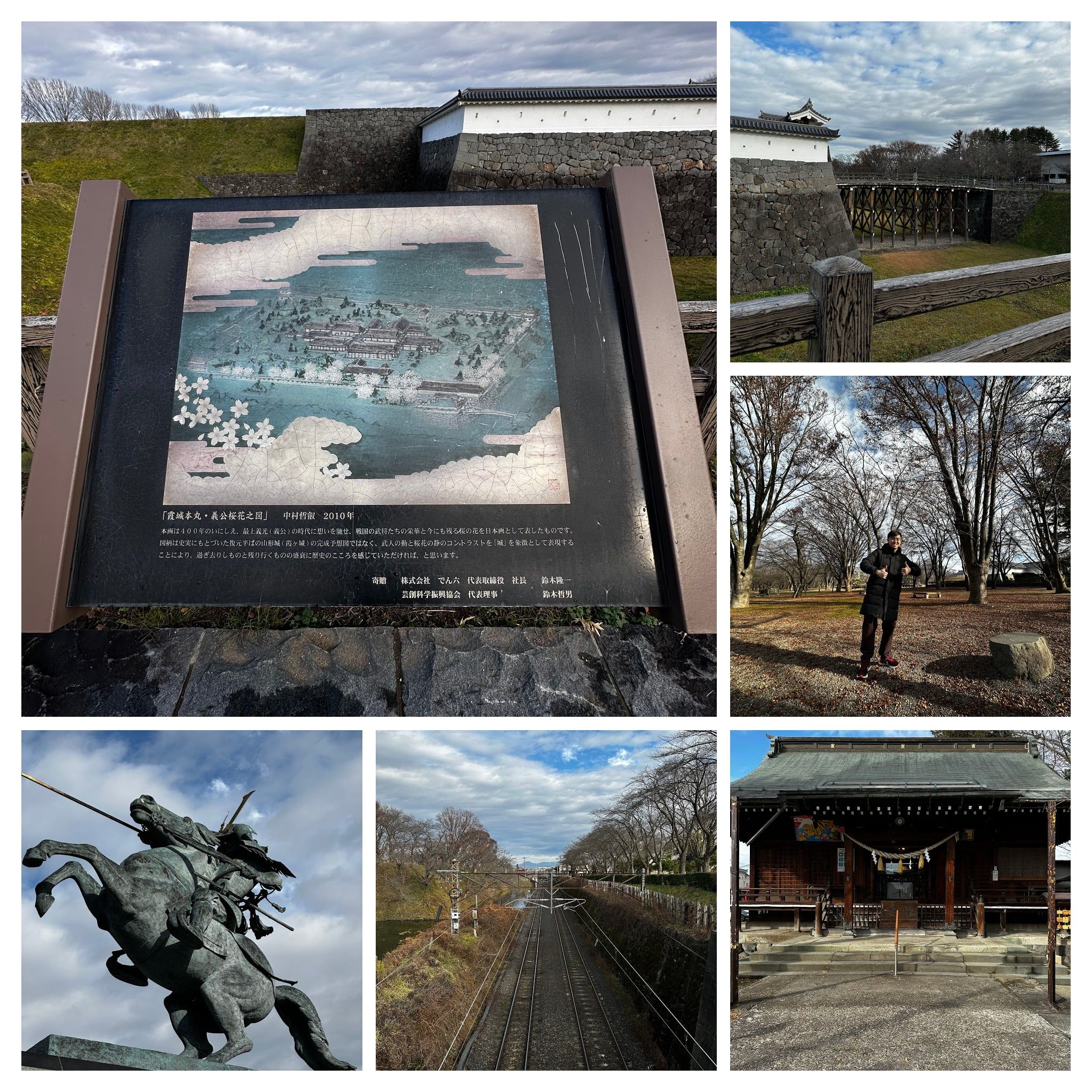 Originally I plan to climb up the mountain in the afternoon but that is not possible anymore since I choked yesterday. So I ended up wasting half a day to retrieve my credit card back then onwards to Sendai.
Before I arrived at Sendai I check my booking at Agoda again on where the hotel is and then...
Choke #2: I booked a hotel on the wrong date
I managed to book a room at Sendai for yesterday. So...with this quite low amount of time, I decided to stay at a capsule hotel.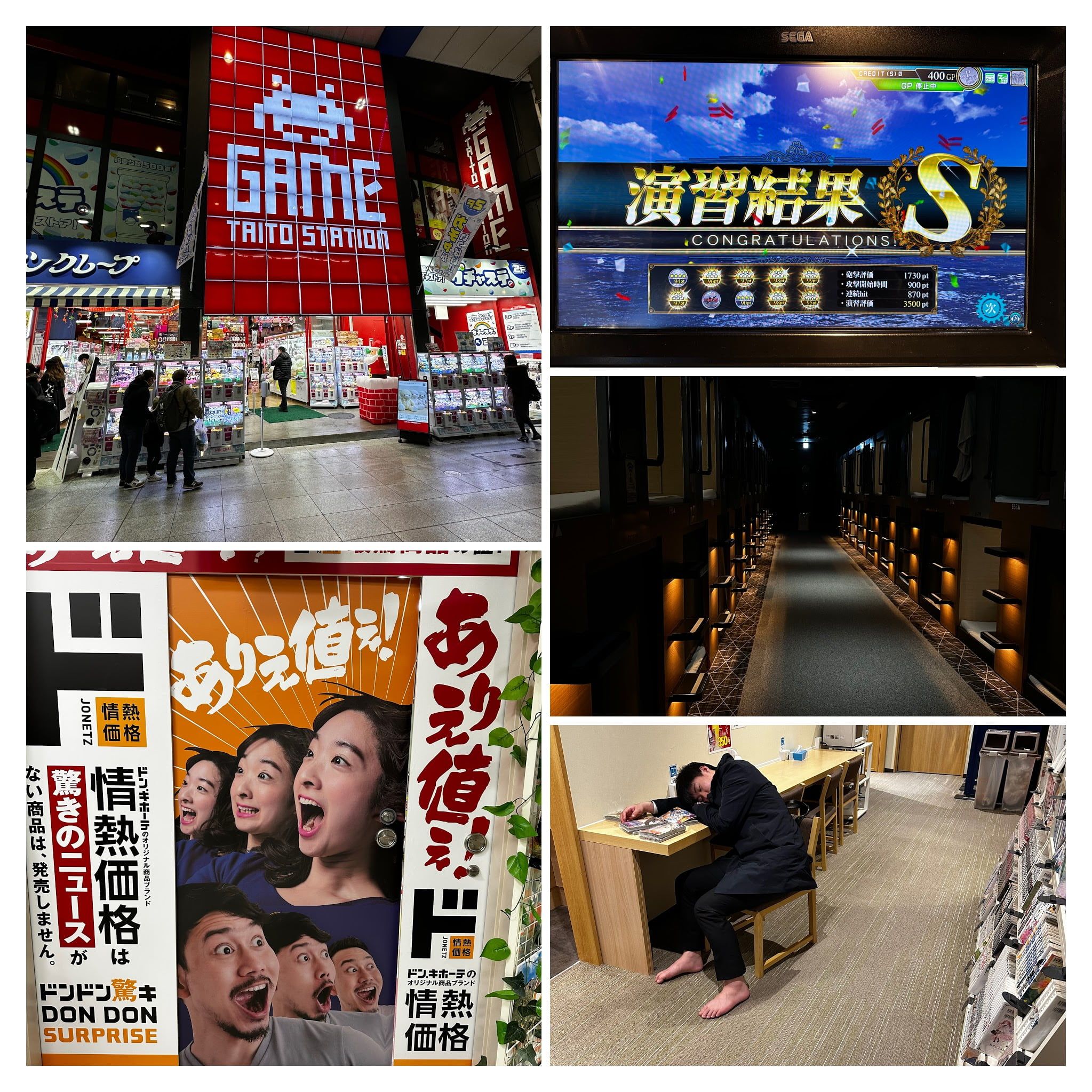 Overall with capsule hotel I stay in is not that bad, it's cheap, the bed is comfy, and they also have a gym, comic books, and a public bath that has onsen outdoors which is a very new experience to being naked in -1°C temperature. In fact, I feel quite relaxed while staying at a capsule hotel because all the personal items I have with me are just my backpack. So the room space is big for me.
Day 4: Loop bus Sendai tour
I reserved the entire day to explore the entire town of Sendai via Loople bus. But before that, I have to plan a trip for the next day.
It's very conditional so the plan for the next day is to travel around Morioka for an hour and a half, after that quickly taking a train to Hachinohe, then take a local train to arrive at Same station before sunset (you will see why in the Day 5 section). Finally, take a decision either continue to Sapporo or go back to Sendai.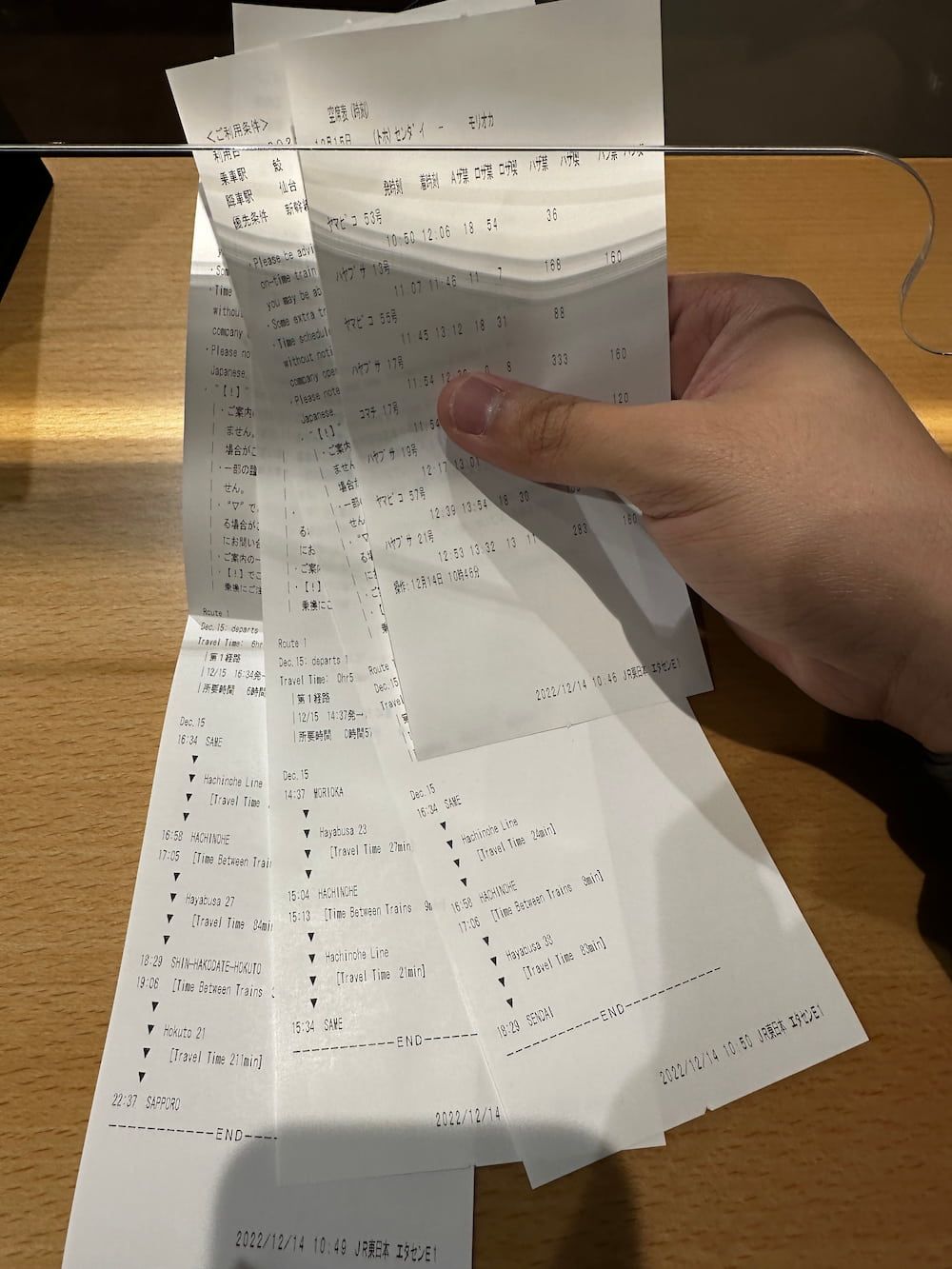 This is a very complex plan but no worries, JR East can help you. So I tell the staff about my plan for the next day with those conditions, and they key all the conditions from when to depart to arrive at Same before 4pm, then planned the way back as well.
With all the train agenda planned, I go to the bus terminal to buy a Loople bus ticket to explore Sendai, the historical town for the Date family, a shrine, museums, and a castle.
Nice joke with police btw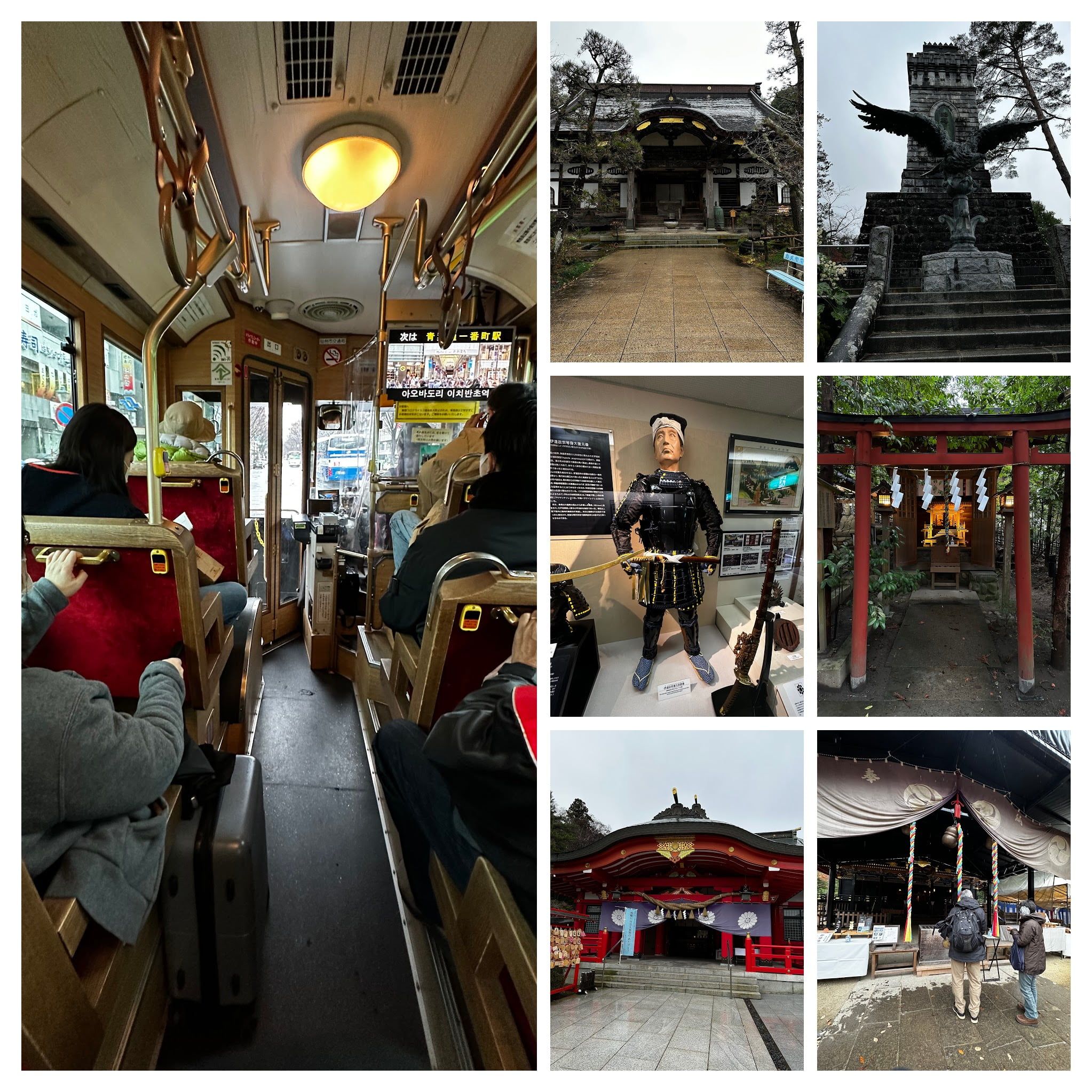 By the night, I took a bus back to Sendai station and then explored a lot of shopping malls had to offer from fashion, trading cards, food, and music, all the way to gambling.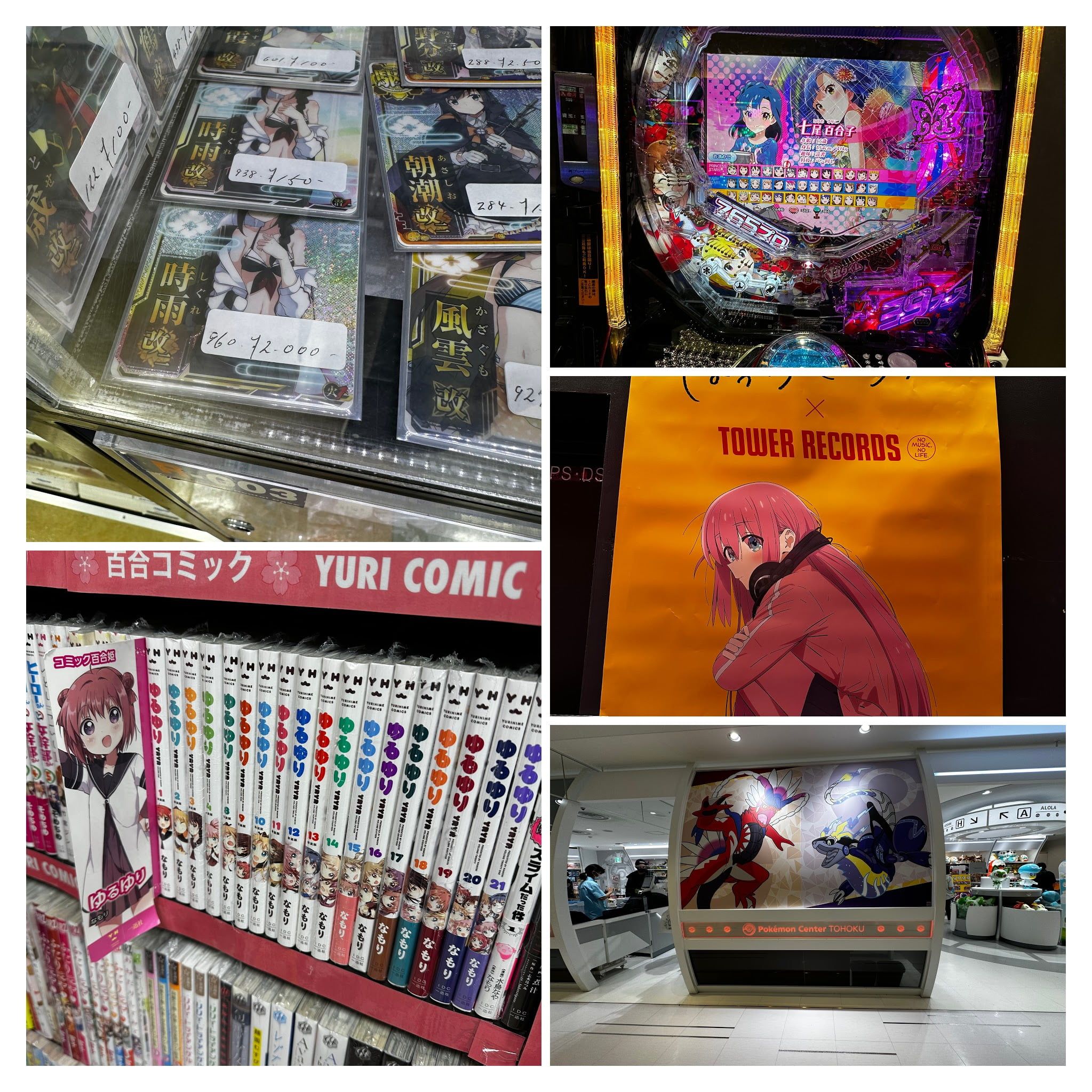 And... that concludes the day
Day 5: Speed-running Tohoku region any%
Today is nothing more than executing a plan that was made yesterday. So I first arrived at Morioka to explore the area around the town from bank building architecture, Iwate park, and city hall.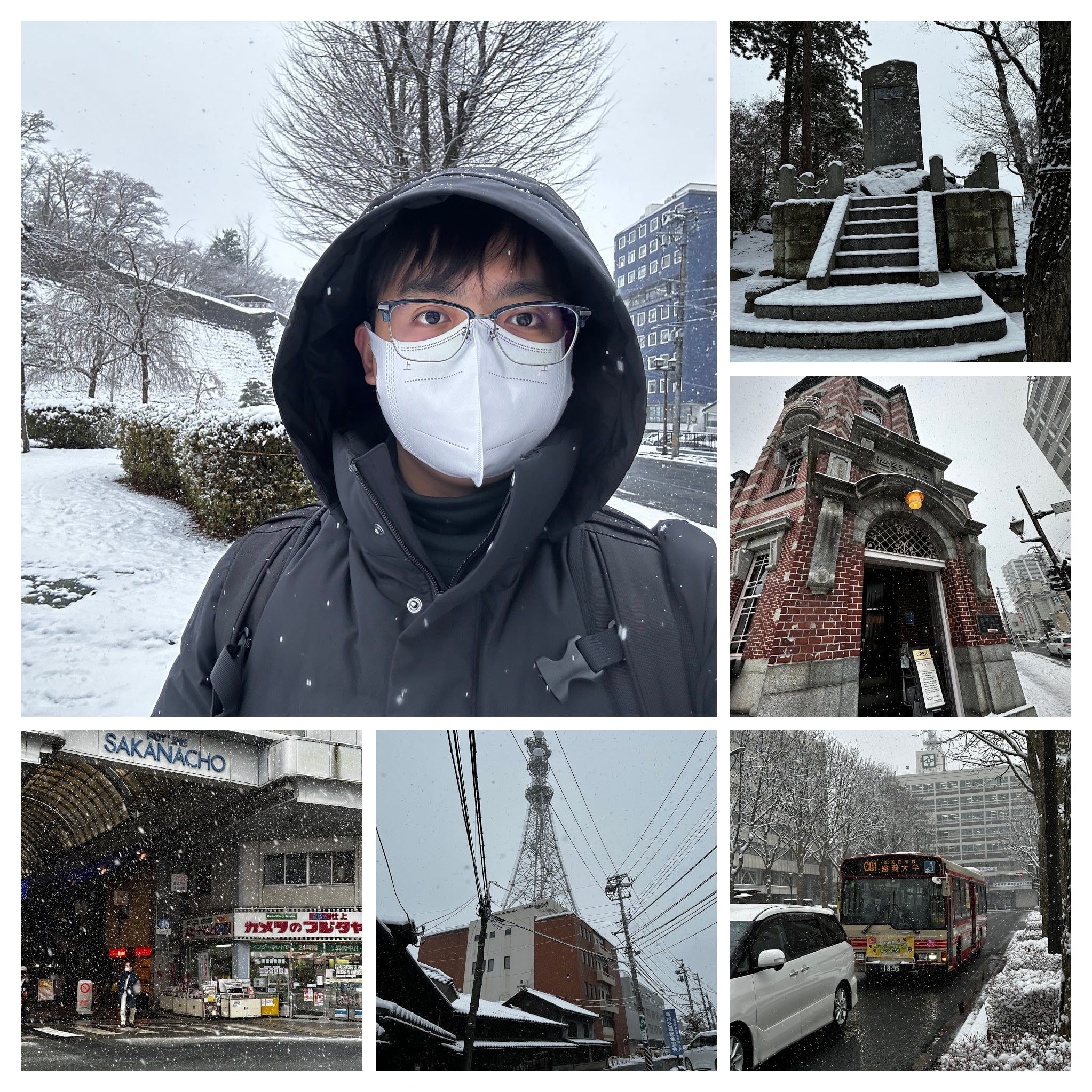 Then quickly take a bus back to the station to catch Shinkansen to Hachinohe and then took another local train to Same station. This time visit the Kabushima shrine which locates next to the coast of northern Japan. It takes another 15 minutes of walking so there are no tourists at all at this place but man, the scenery, the temple, and the view from here are amazing!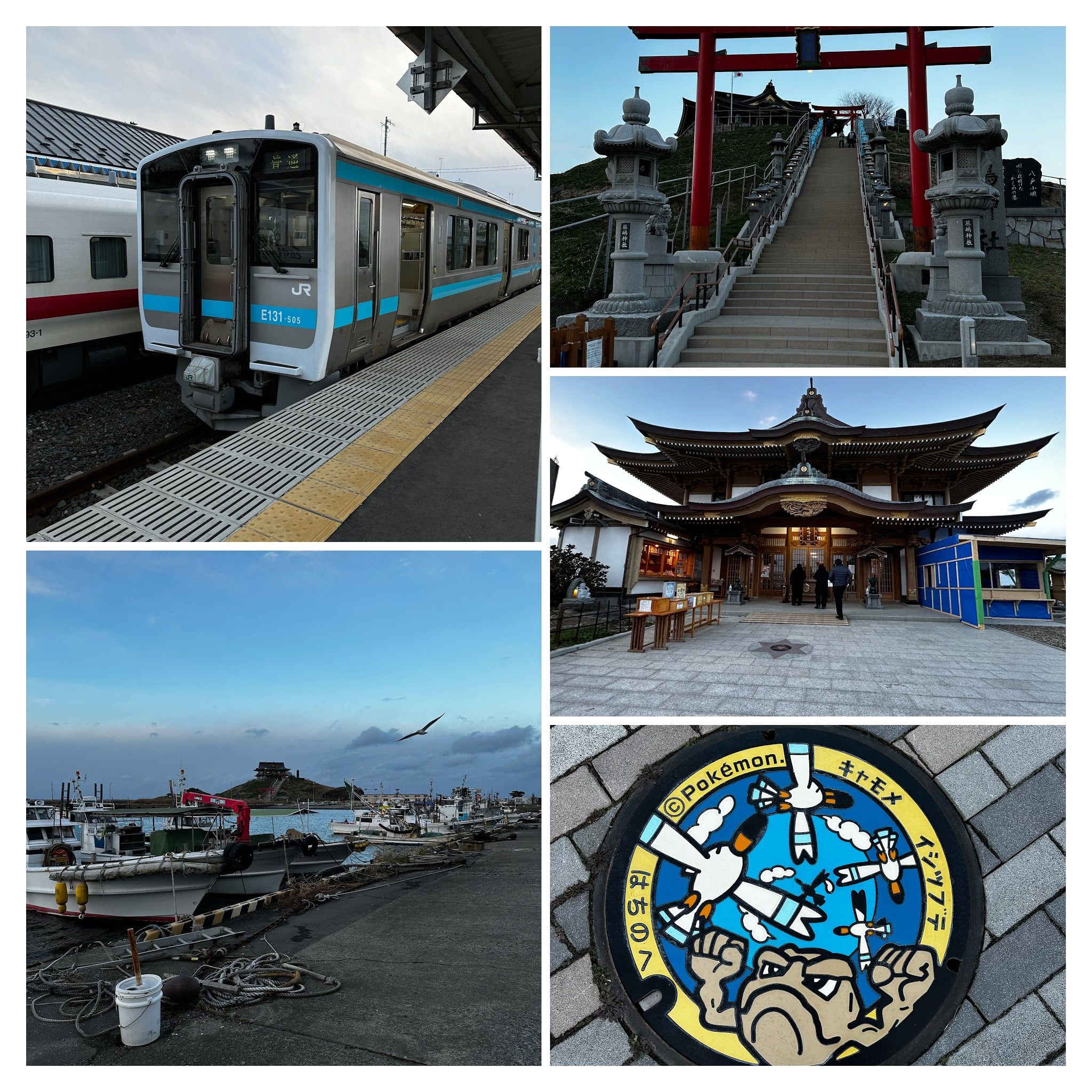 Now for the way back to rest, as I planned yesterday turns out that if I want to continue all the way to Sapporo I will arrive at midnight so that's bad. So I have to take a train to rest at Sendai once again.
Day 6: Hello, Hokkaido
It's now time to leave the Tohoku region. So, I take a Shinkansen to Hakodate and then take another limited express train to Sapporo.
The longest leg of this journey is on the express train since it has to venture across the mountain at dark, so it takes 4 hours to arrive at Sapporo. But the night after a long train ride, I eat a quick dinner, and explore Bic Camera. And ride a train back to Chitose for a night of sleep at the hotel.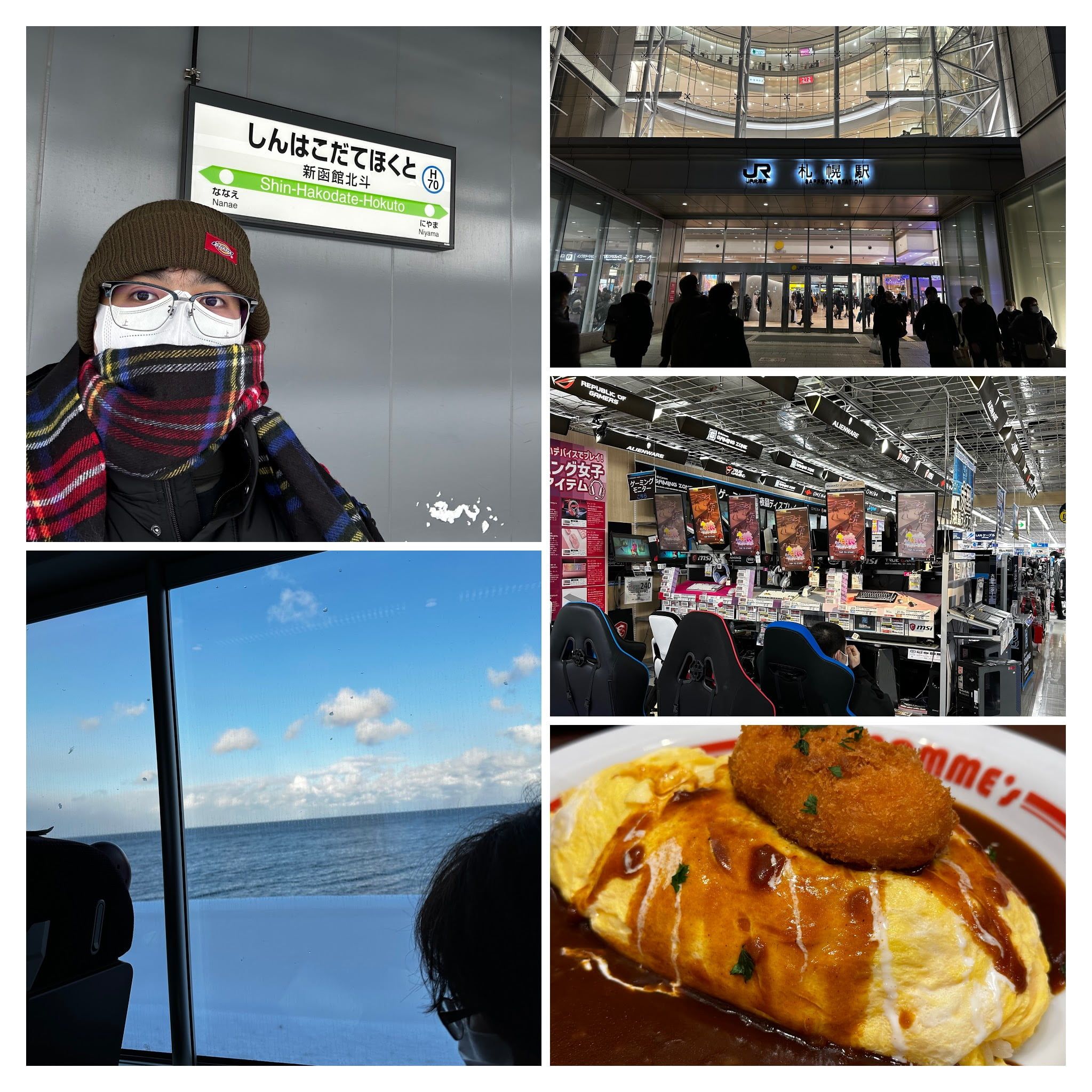 But before checking in, I found a DVD rental store that has a lot of anime to watch, ~~but more importantly, they also have an adult DVD available for rent and sale as well~~
Day 7: Skiiii
Because I decided to sleep outside of Sapporo, I have to catch the train early to Sapporo station to catch a bus to Kokusai Ski Resort in the morning because they have limited rounds of a bus to the ski resort.
Over there I paid 5800 yen for a round-trip bus ride and ski elevator use, and another 10000 yen for full ski equipment renting.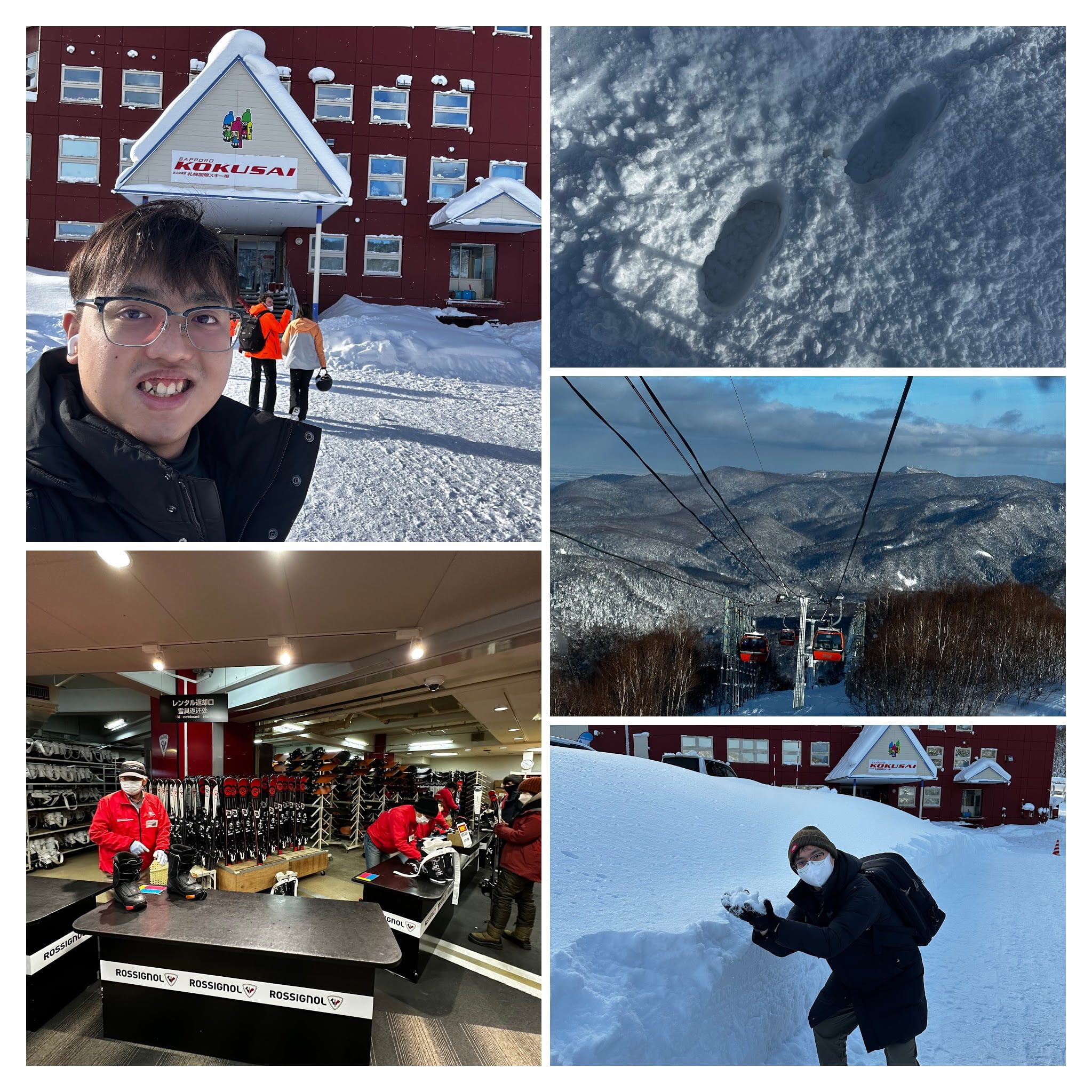 From the perspective who never ski before in my life, I would say this place has a very interesting course yet I managed to choke all the way to the bottom.
Choke #3: I start at the wrong spot.
So there're 2 elevators to ride up from the ground. I didn't look carefully and I just follow children who waiting in line to go up...turns out that is a huge mistake because this elevator takes you to the top of the mountain instead of the beginner course.
But it's fine I can deal with this height. So I started from the beginner course which is already very steep and then...
Choke #4: I accidentally joined the intermediate course
I have to remind you again that I never skied before in my life and I just figured out everything by myself on the mountain. So I didn't look where I go and just randomly joined into an intermediate course which is scary steep...I ended up falling down a couple of times.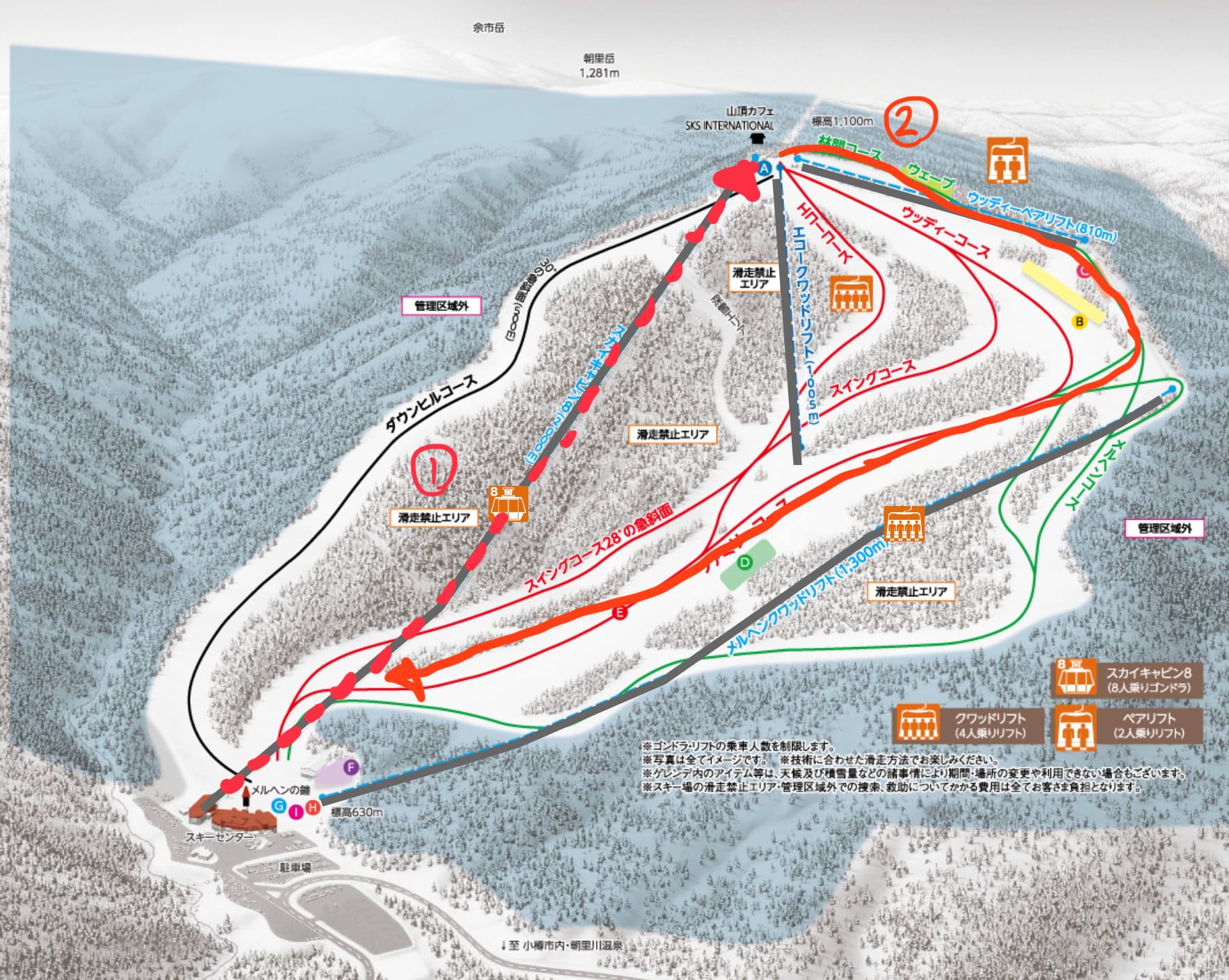 After surviving that, I return all rental equipment to catch the bus back to Sapporo station. During the wait, I want to listen to some music so I pull out my pocket and then...
Choke #5: My AirPods are gone
Yeah, this is really bad. I believe that I dropped my AirPods Pro when I fell down during a ski. And finding white case AirPod in white deep powdered snow is just impossible. So, a waste of money there at Bic Camera to buy AirPods again.
Then, I spent a night in Sapporo again by checking the Melonbooks store nearby and having some dinner before back to Chitose. But what surprised me is how long the underground tunnel is, there's no need for the subway at all if you have time to burn because from Sapporo station you can walk all the way to the end of the tunnel (where Melonbooks is) for 30 minutes, and they also have lots of malls, cafes, and restaurants underground as well. Now I understand how locals live during freezing cold winter.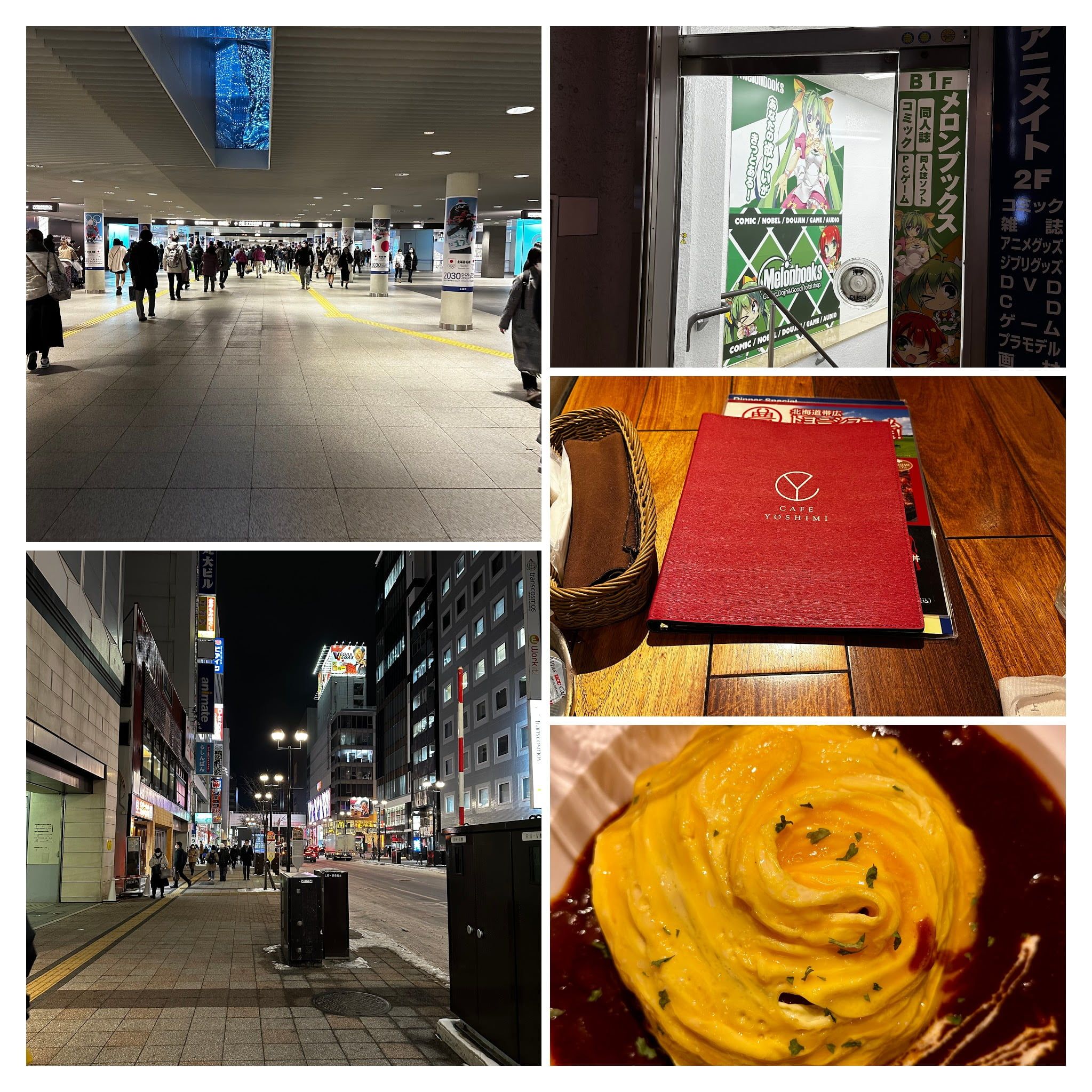 Day 8: All the way back
Today is the last day for my Japan Rail Pass. So I would like to quickly travel back from Sapporo to Tokyo before my ticket expire.
But first, I have to make a brief stop at Sendai first to buy some items for my friends back in Thailand.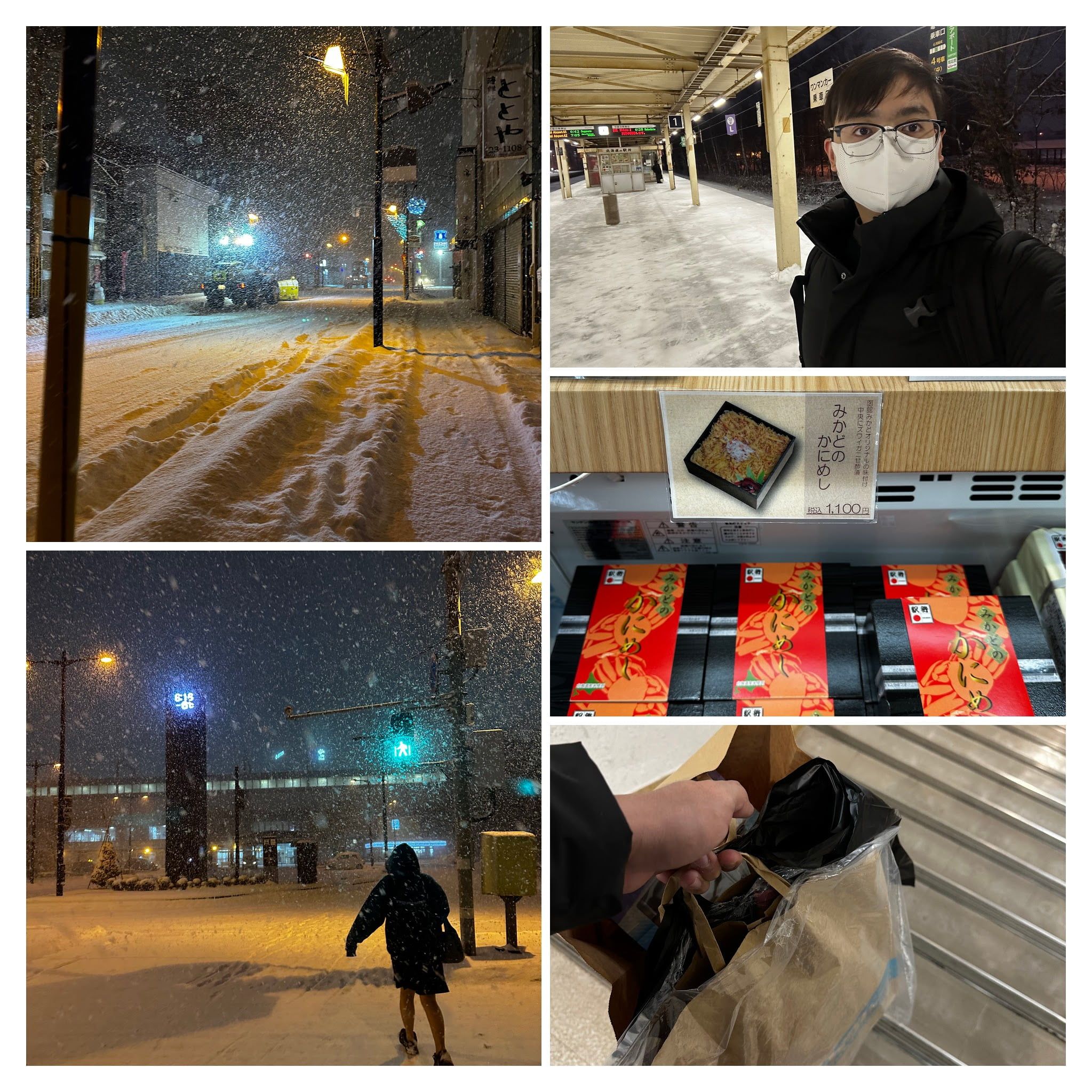 Before that, I have to get off the hotel very early to catch the limited express train to Hakodate at 9am, then arrive at Sendai at 11am. But during the walk to Chitose station, I got caught in the snow storm which led to
Choke #6: Never walk in the snow with sneakers
I only have Nike sneakers with me and buying new boots is not that easy because I have no space left for my backpack.
But nonetheless, a journey must go on.
Then, continuing all the way to Tokyo retrieve the backpack and checking-in at the last hotel to stay at Akihabara.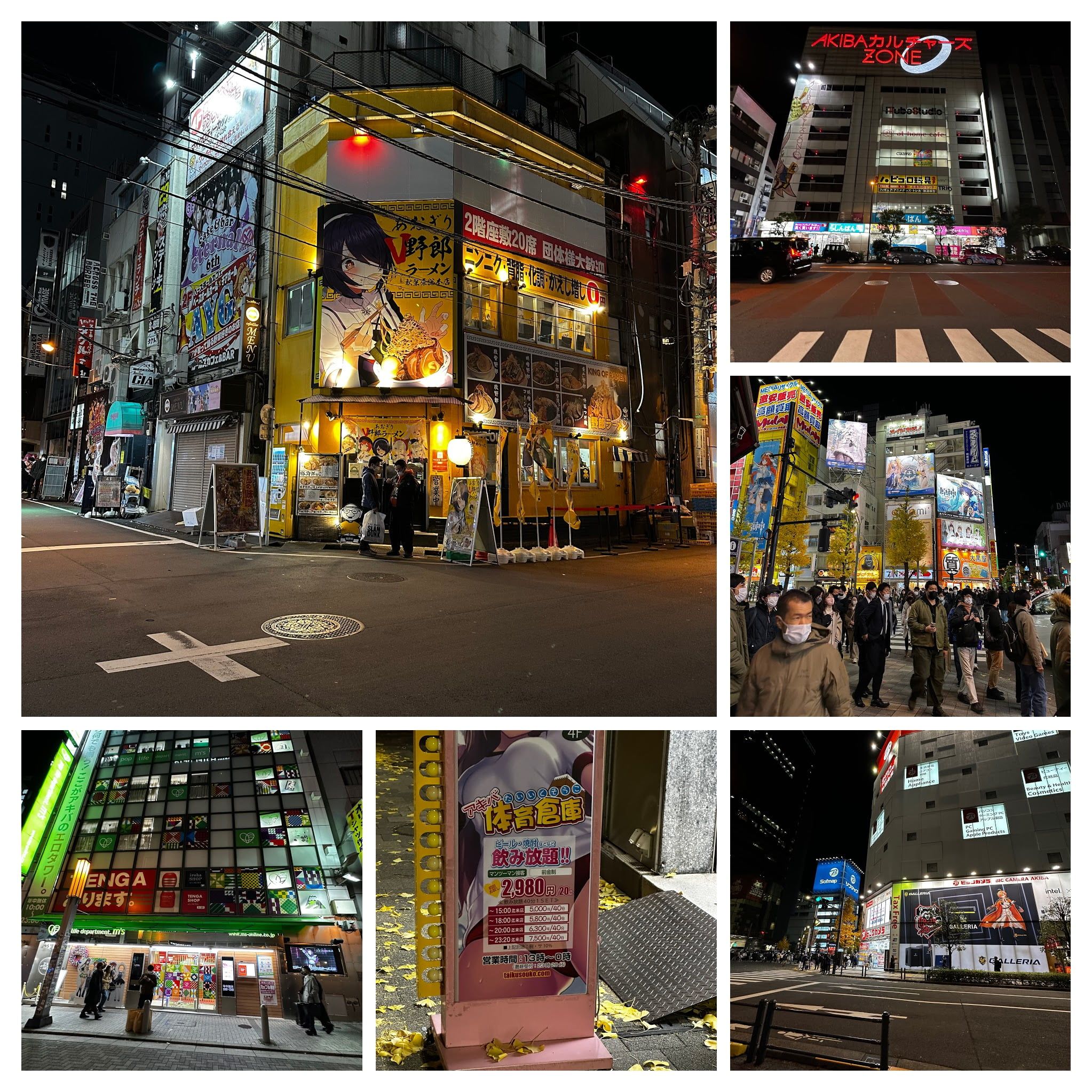 I accidentally choose the perfect spot though since it is in between Mandarake, and Traders shop but more about that later. But I have a little chance to do a quick visit to some store for an hour before everything closed for the day.
To close the day, all I need is 10 hours of sleep after 7-days of non-stop traveling.
Day 9: Time for some ramen
Do you think after Japan Rail Pass expired and the trip was over?? Hell no!
This time we take a short 1-hour ride away from Tokyo to Yokohama, such a nice place for a walk and cycling.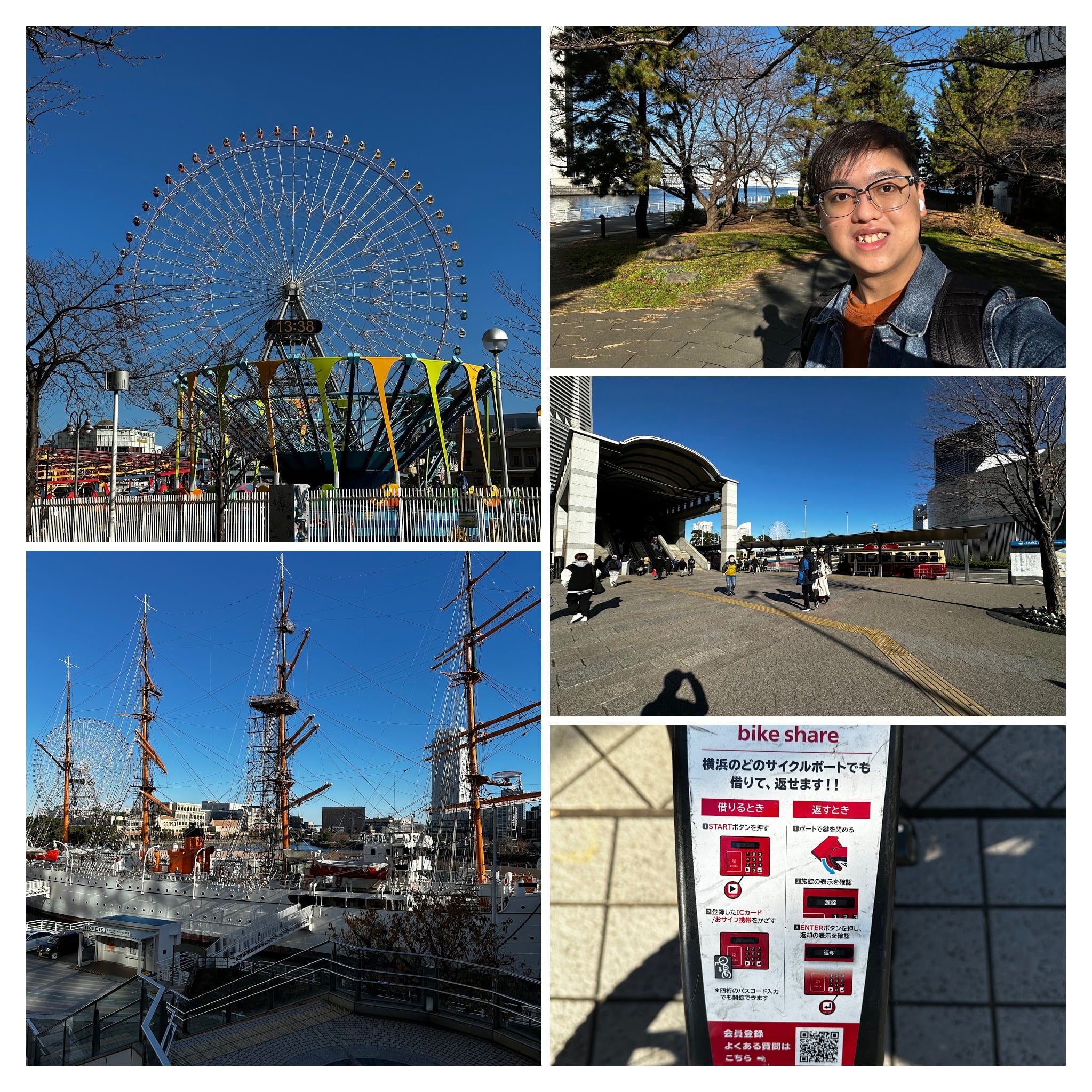 It is much better than paying 1000 yen for a short 5-minute sky elevator to cross the bay. All of this effort is to visit CUPNOODLE MUSEUM. I have waited for this for a while since I see that you can make your own cup noodles.
Entry for the museum is 500 yen, and a reservation to make your own cup noodles for another 500 yen. But I really love this museum they encouraged me to look at each exhibit in a different way as a part of creative thinking.
Also, space ramen is real.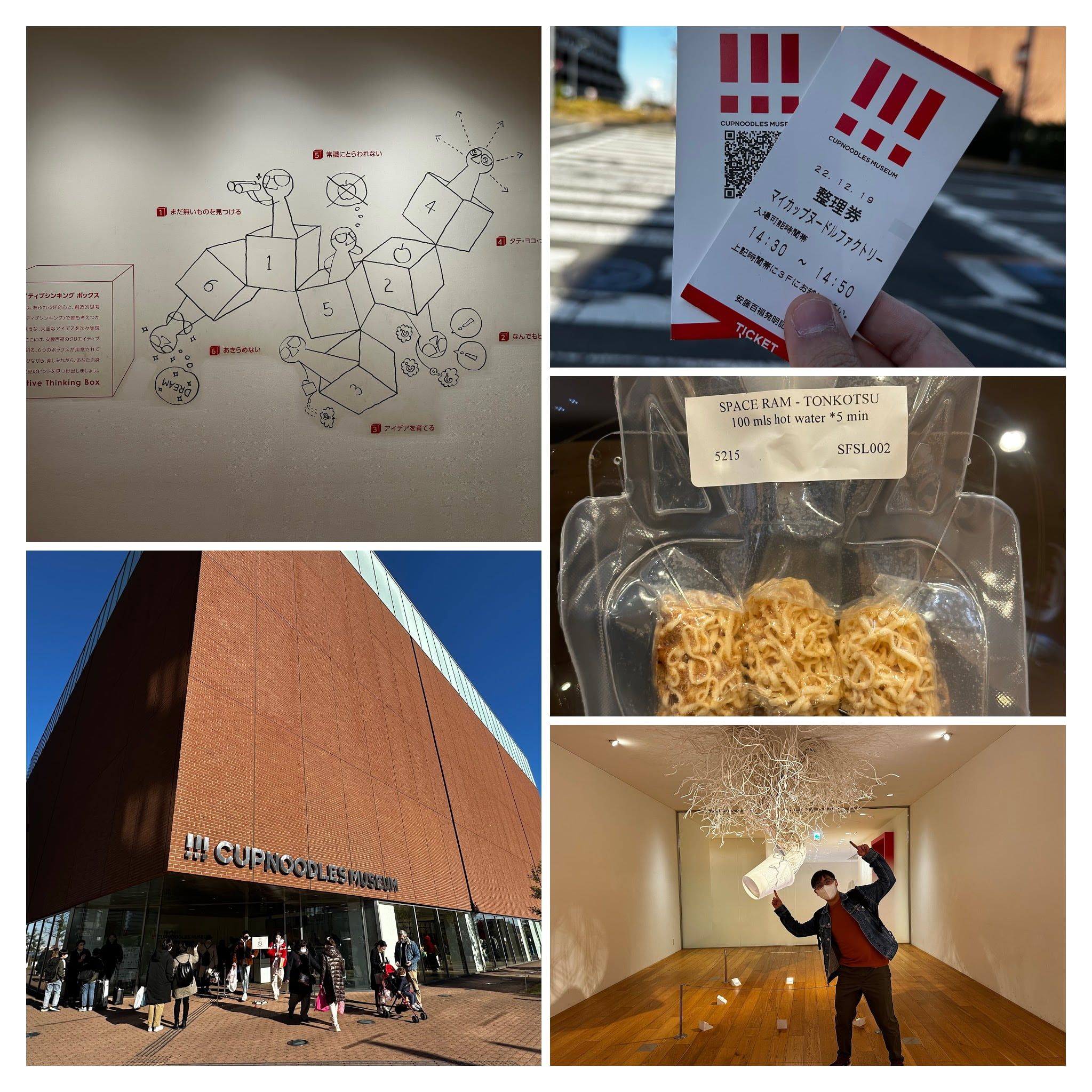 When the time for my reservation arrived, I get my own empty cup to get creative with my own noodle cup, then go into the factory to fill it with e v e r y t h i n g.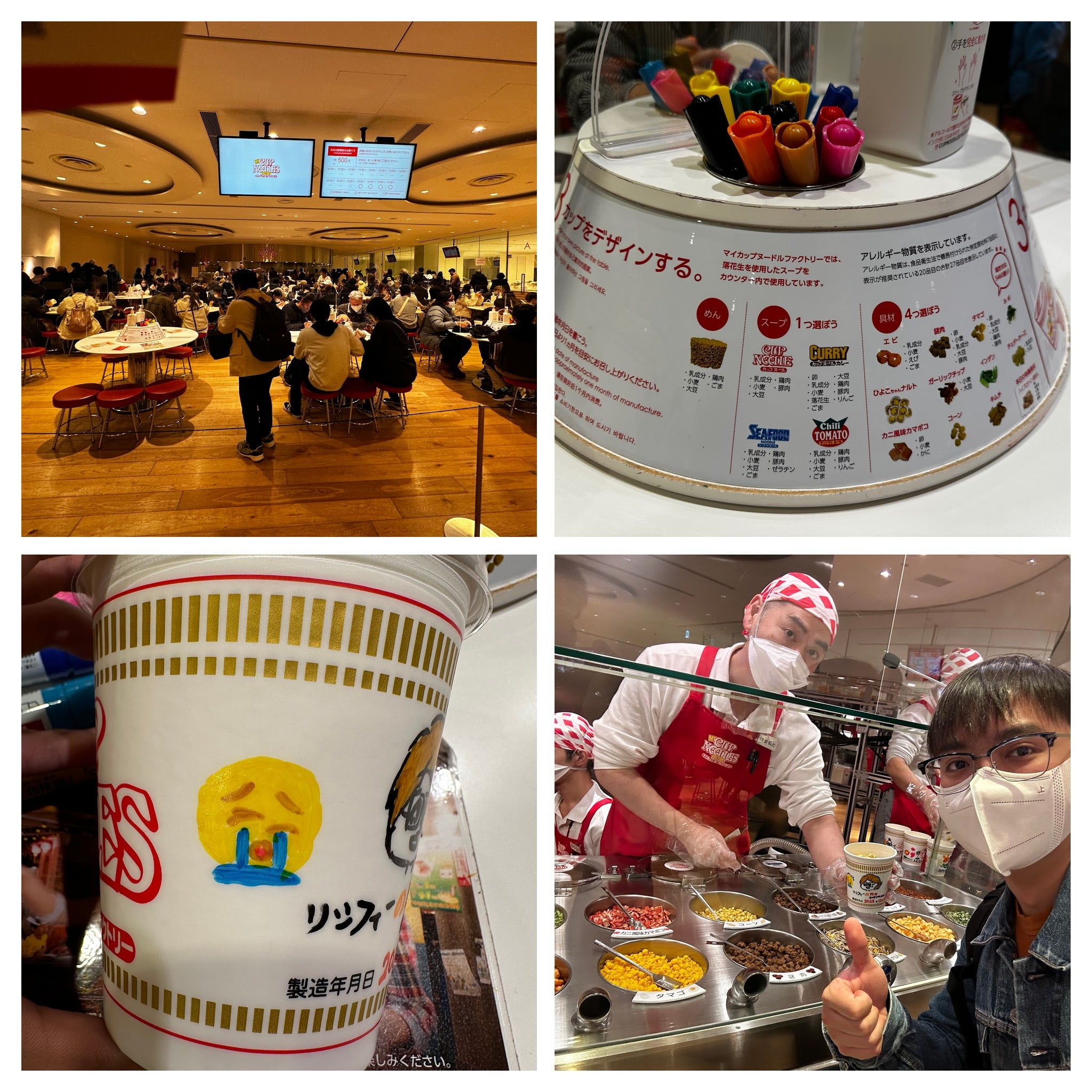 By that night, I have my friend for a local guide in Nakano to buy some figures back to my home...lost 17000 yen there. Nonetheless, we venture to the other side of Tokyo to visit Sensoji at night. Almost everything is already closed by this time but that's the good nature of it since it also means that this area is not crowded at all.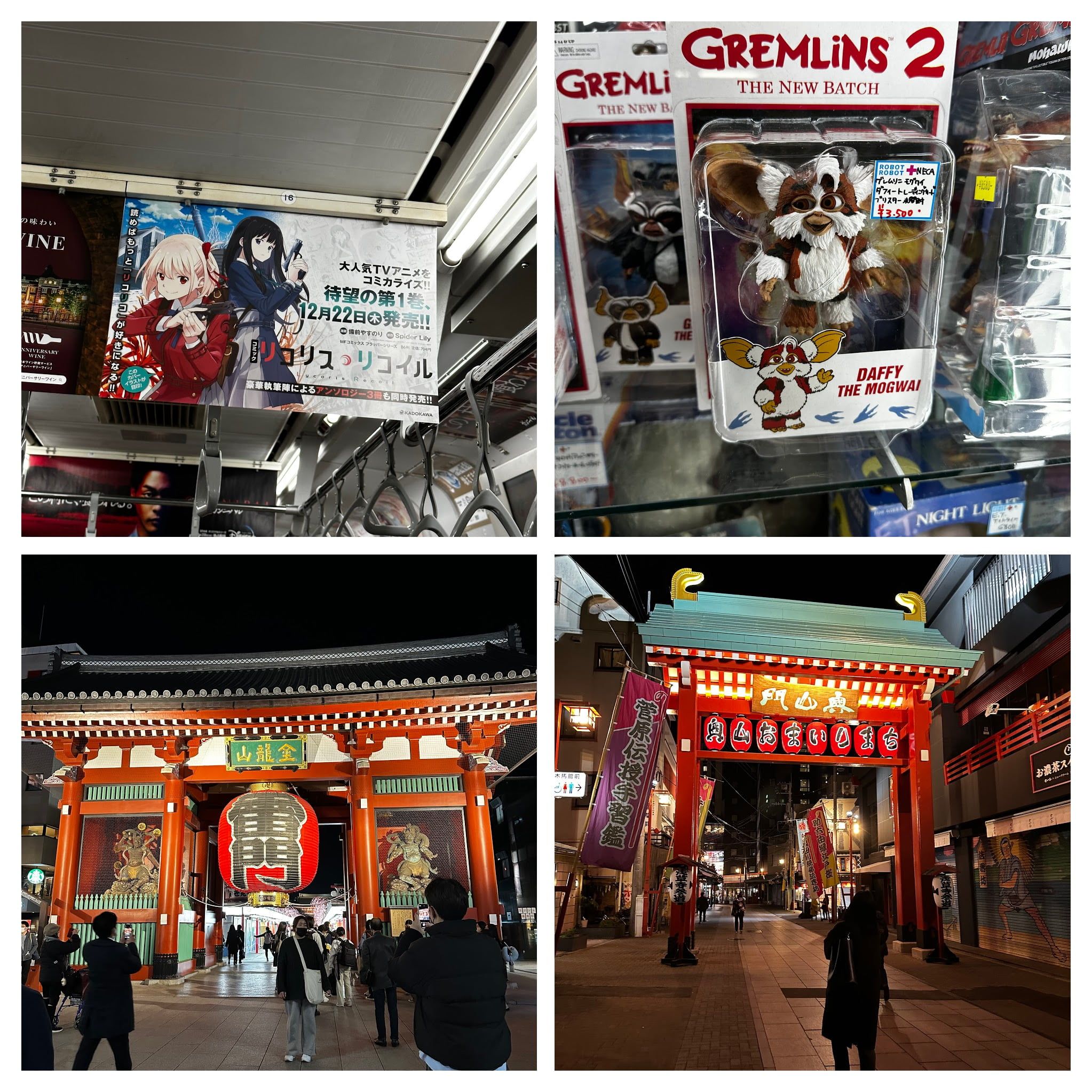 And before signing off for today. I go to play some games, wash some clothes and get some beer for a good sleep in a hotel.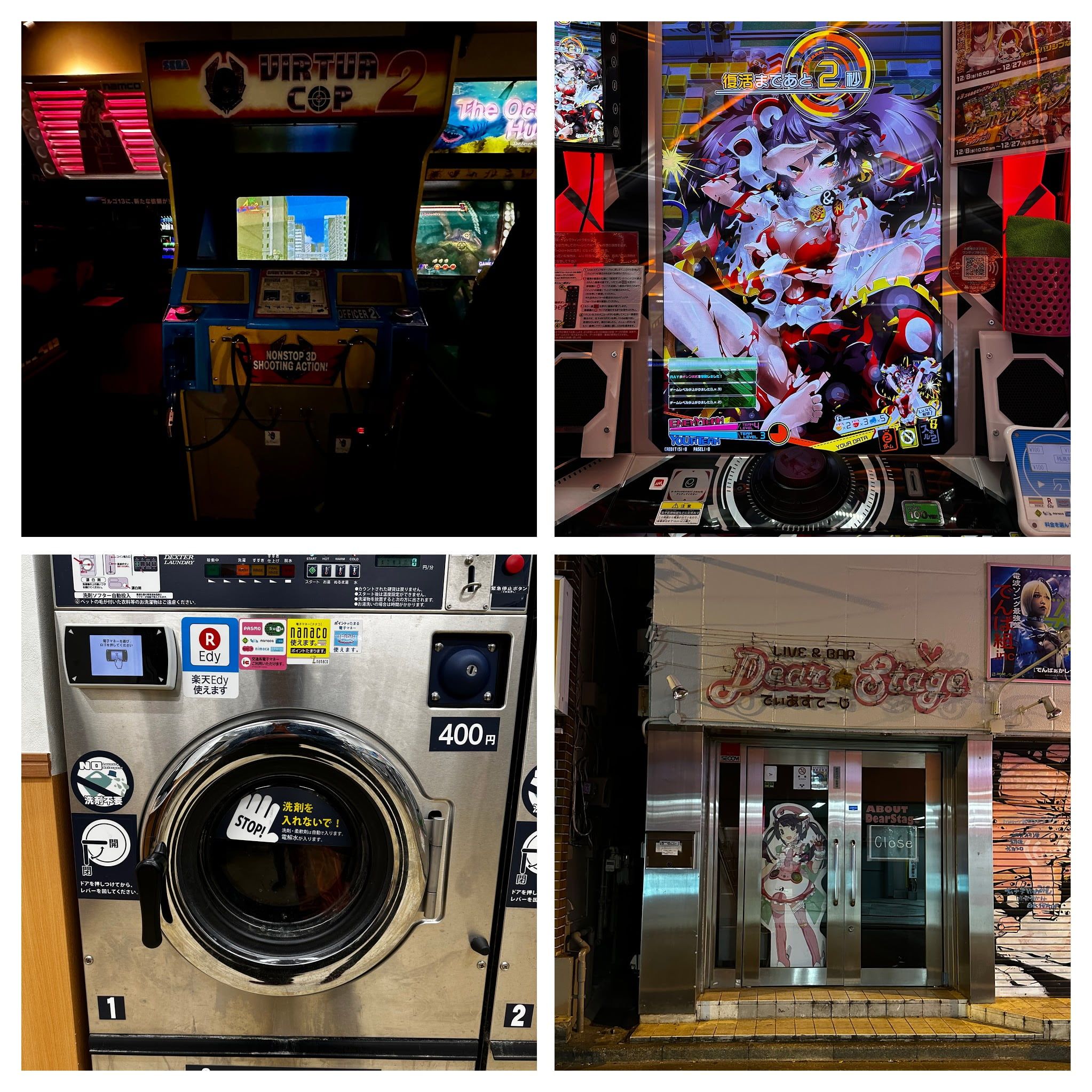 Day 10: Last full day of enjoyment
It's the last full day of this choke trip, so I quickly buy some beauty cosmetics and a cold eyedropper for my mom and my brother at Bic Camera, have a quick look at second-handed goods at Mandarake get some doujins on hand, then waiting for my friend to arrive at the bookstore.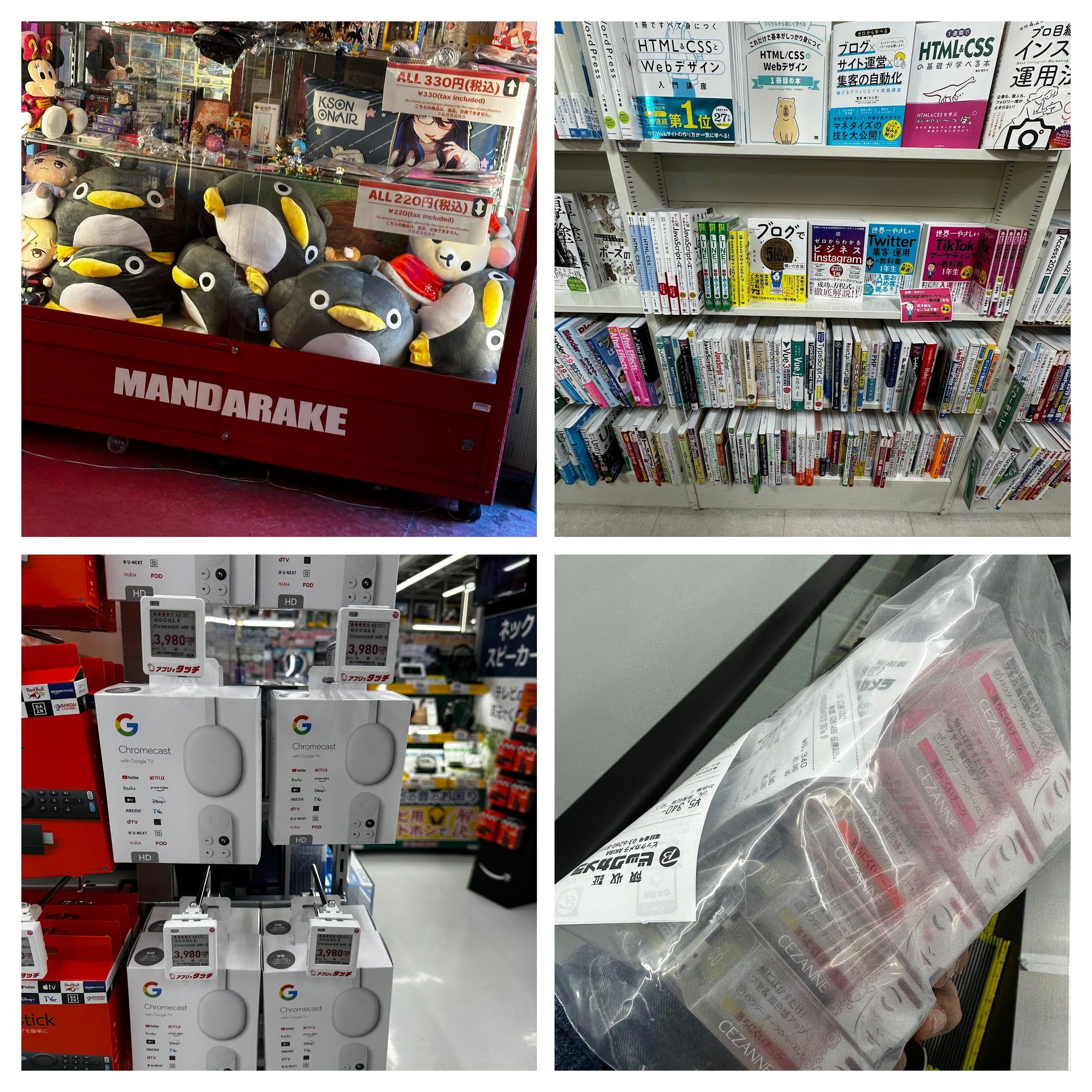 I took some reading in the PC section and man, there's a guidebook about Docker and Kubernetes and it's very informative and very easy to read and understand. I wonder why I have never seen Thai books like this but we getting off-topic now.
When my friend arrived, we continue our intended plan in Akihabara roughly exploring Akiba Zone, the Radio Kaikan building...but mainly to venture into the eroge store Traders.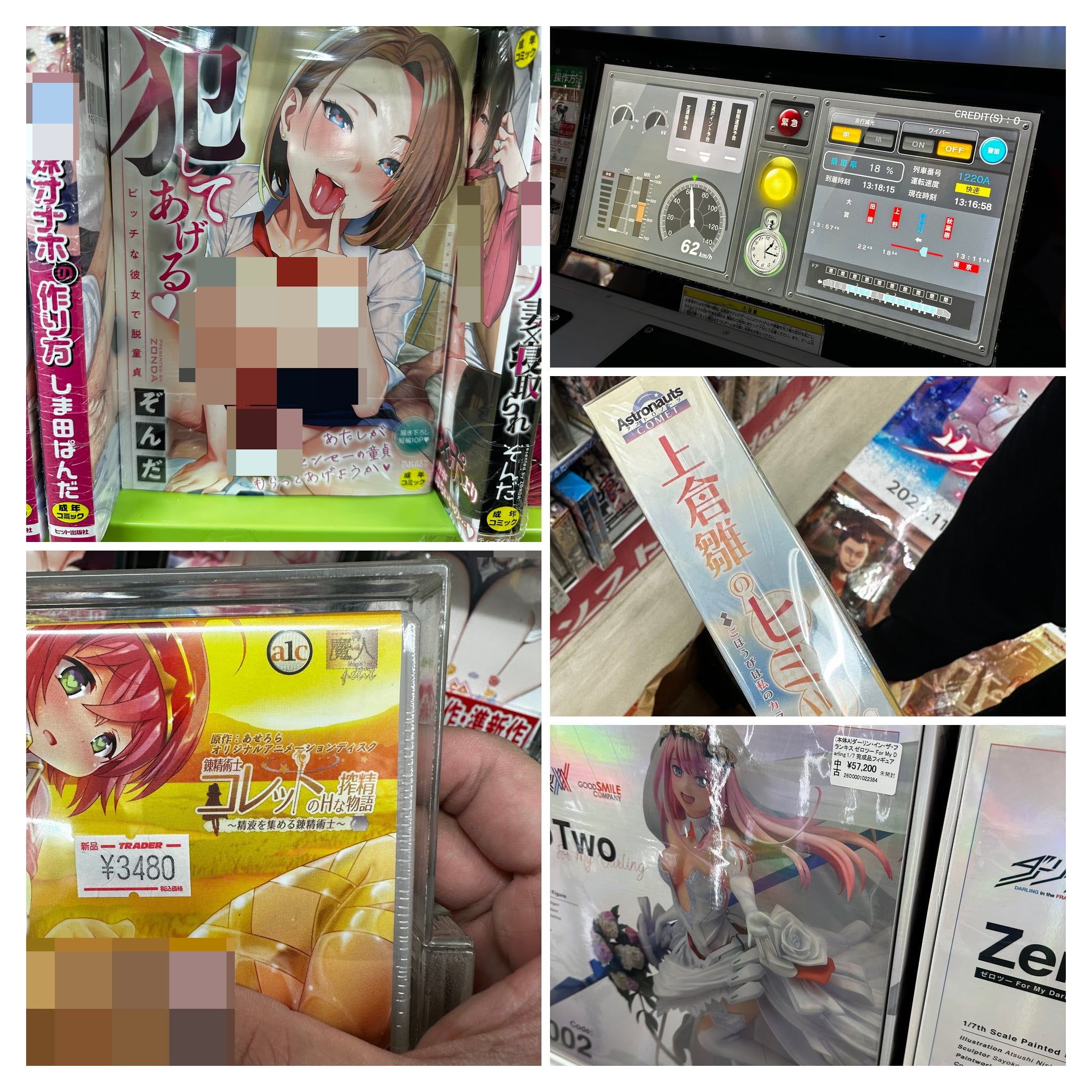 By evening, my friend already booked a table for an izakaya buffet which cost just only 2500 yen per person. You might see that it is expensive but not at all because this price already included drinks and beer.
The entire session I drank 4 glasses of beer which already cover the cost of izakaya itself so this store is great if you're a drinker. Sadly, I enjoyed eating and drinking so much that I forgot to take a photo of the store 😥. But what I can tell is this restaurant is located near Ikebukuro station.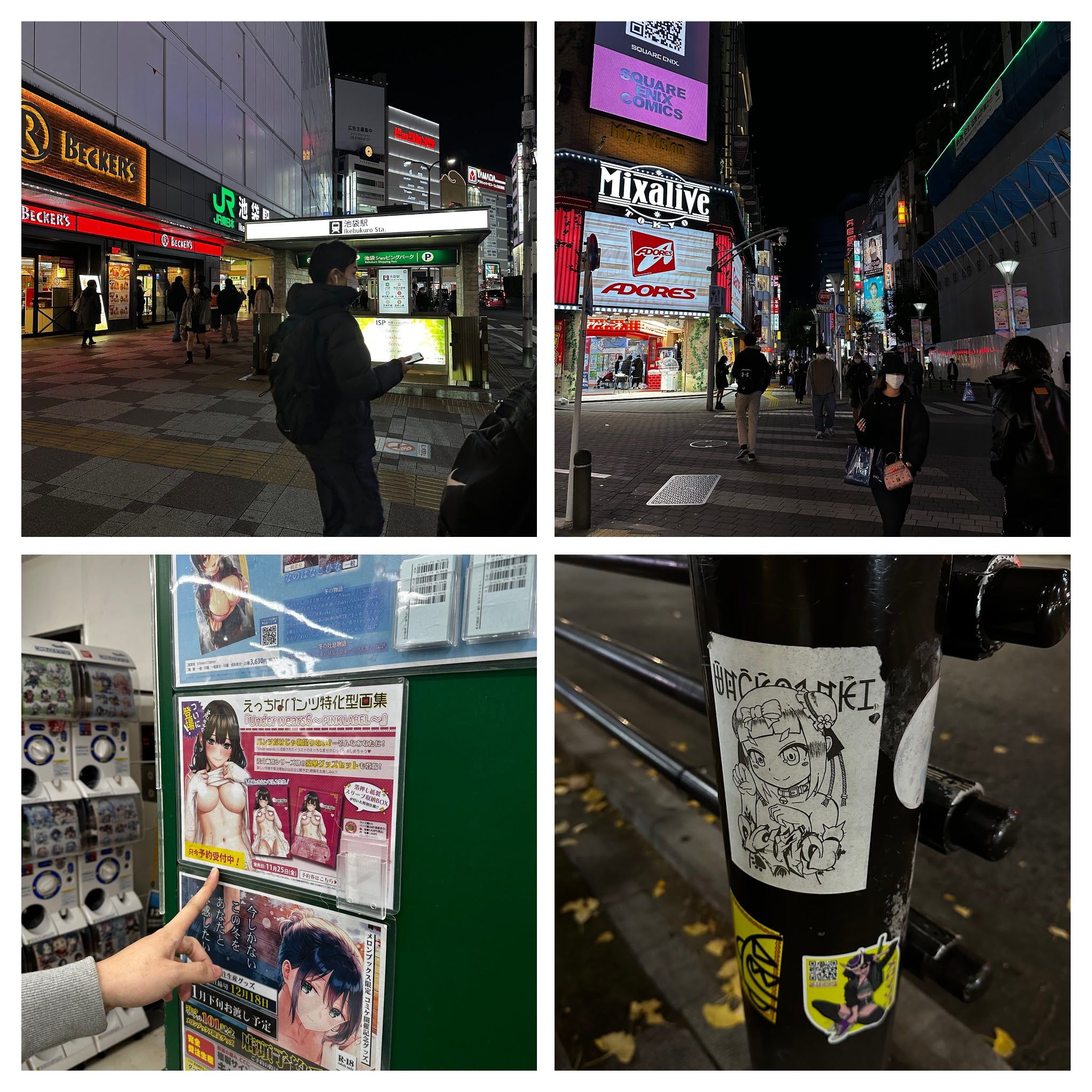 Day 11: On the way back
Last day there nothing much for me to do since my flight departs at 11am, so I have to check in early for my flight. Sadly even though I already do self-checkin and have an e-boarding pass on my phone, Narita airport does not open the self-checkin process for passengers who have luggage to check-in. So, the queue is so long that even if I arrived at the airport 2 hours early, checking in my luggage already takes an entire hour to do so.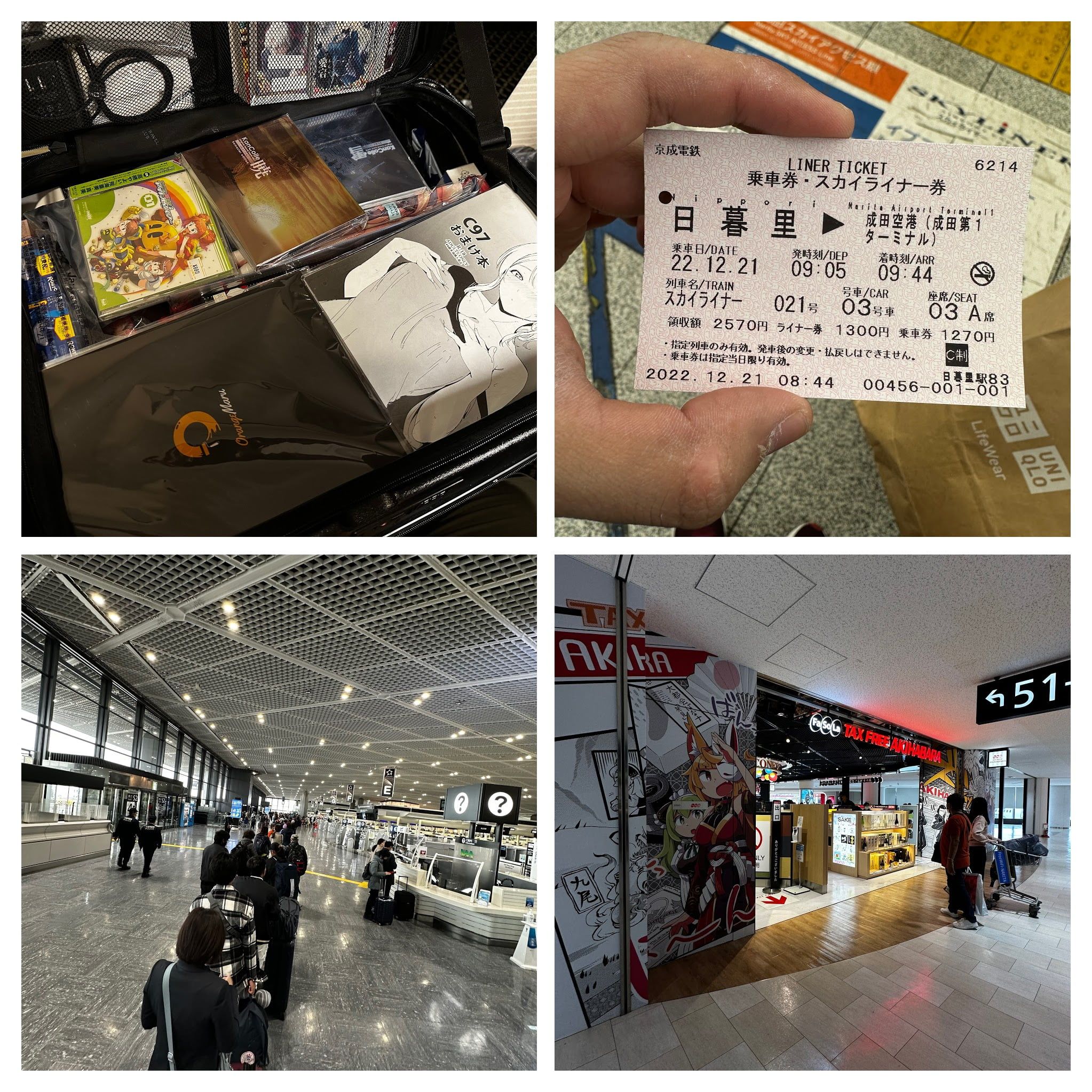 With less than an hour remaining, I ran to tax-free shops to buy some snacks back to eat at home with my family with 10 minutes to spare for me to catch my breath and buy some quick breakfast for myself.
During the flight back to Bangkok I cannot sleep anyway. Partly because it is a daytime flight, but mainly because the baby in the cabin always crying every 30 minutes. The in-flight entertainment screen is not responsive at all, so I invented my own entertainment system.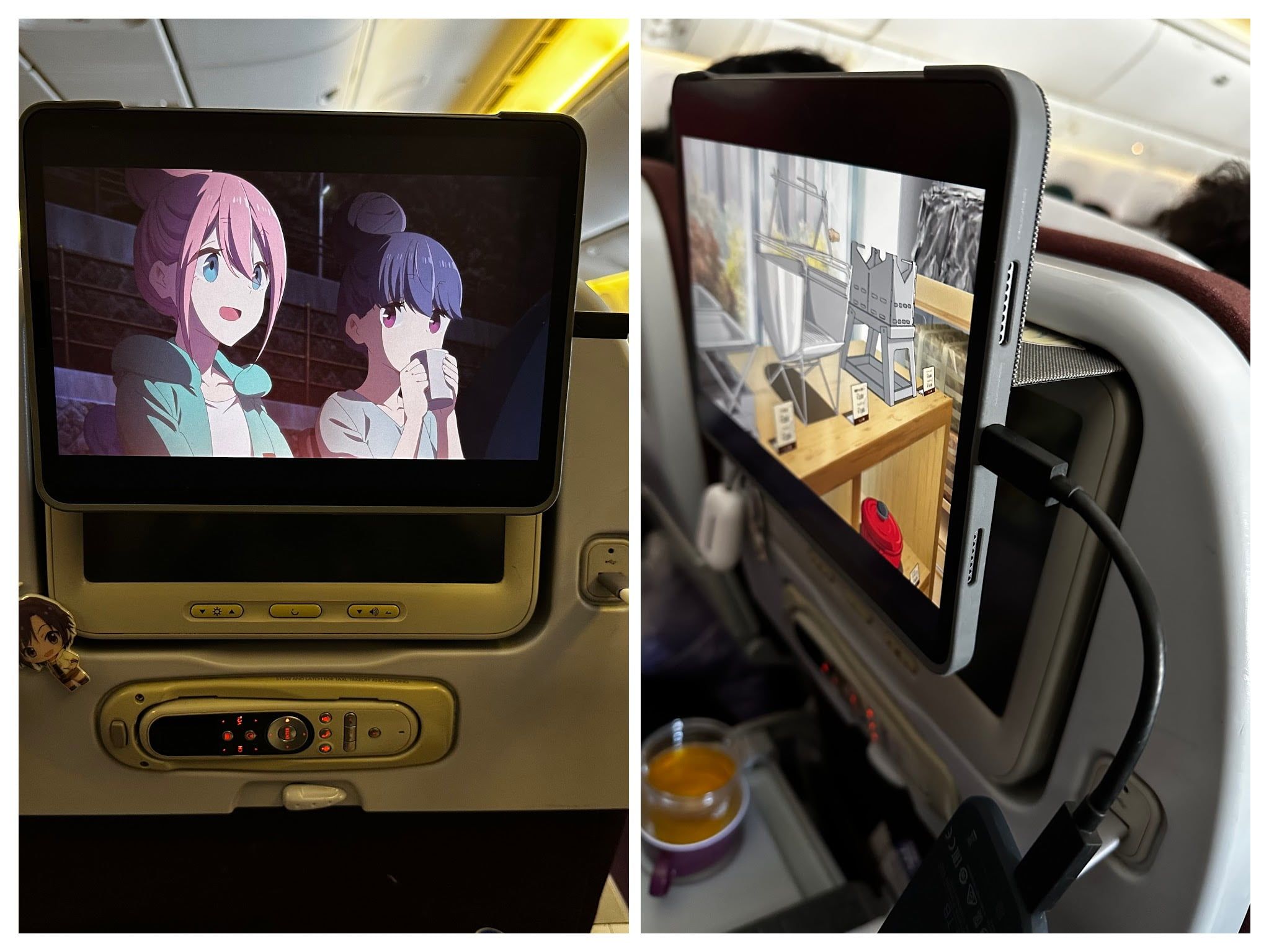 After arriving at the airport, it is only just a quick 8 minutes to finish the immigration process since there's no queue on the automated lane at all, Then go to pick up my luggage and...
Choke #7: I dropped my AirPods (again) on the plane
I quickly ran to the Thai baggage service, but it very little I can do because I already passed the security gate. So, I filled out forms and have to come back to the airport again the next day to pick up my AirPods.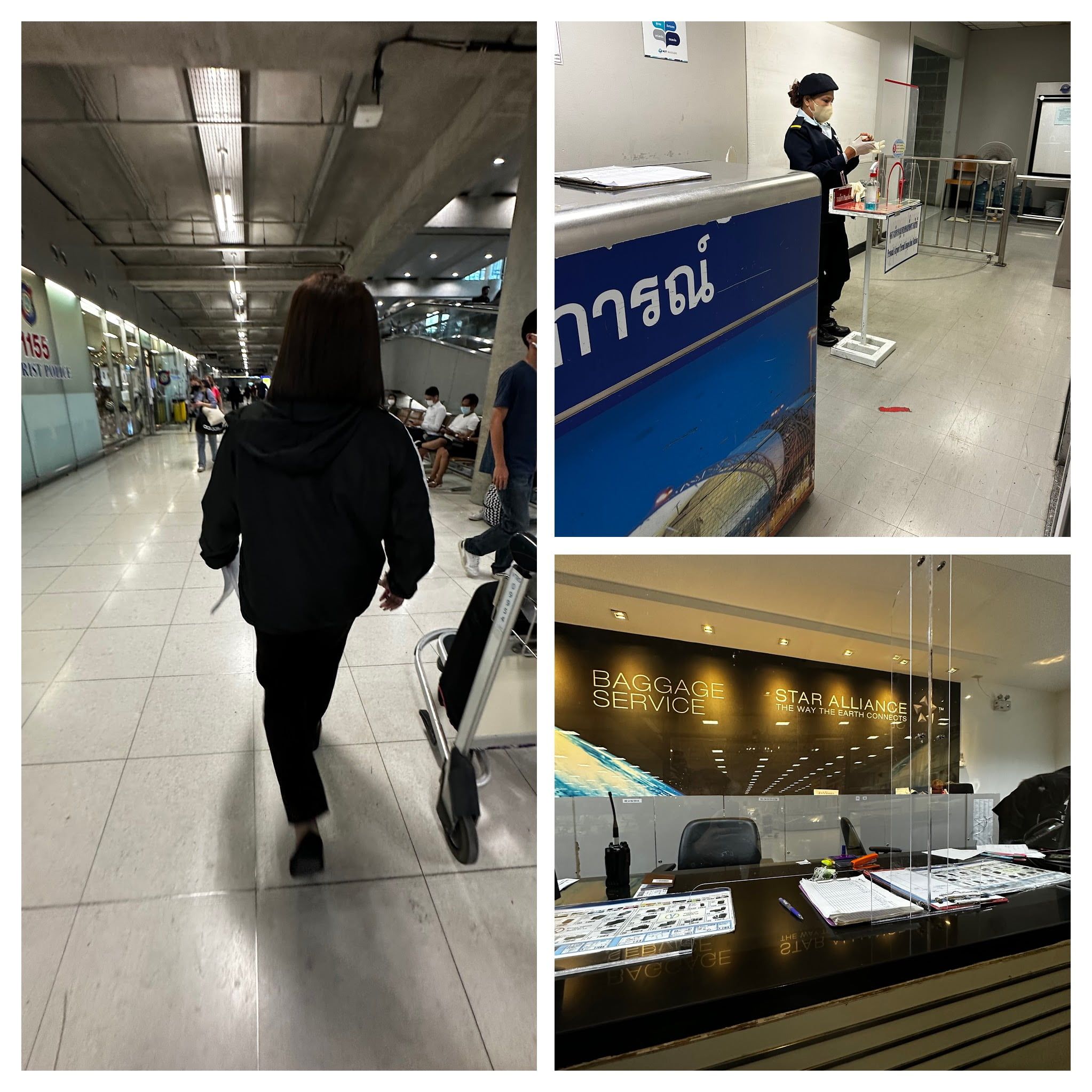 Now, that's all my 11-day trip to Japan. Let's debrief on my packing strategy, what did I miss, and what I learned.
Packing strategy
You see, before I begin my 7-day sprint from Tohoku to Hokkaido I already left my luggage at the storage service. So, the entire trip depends on how I pack my stuff in my backpack.
I cannot stuff everything because of
Limited space in the backpack.
Limited weight for mobility.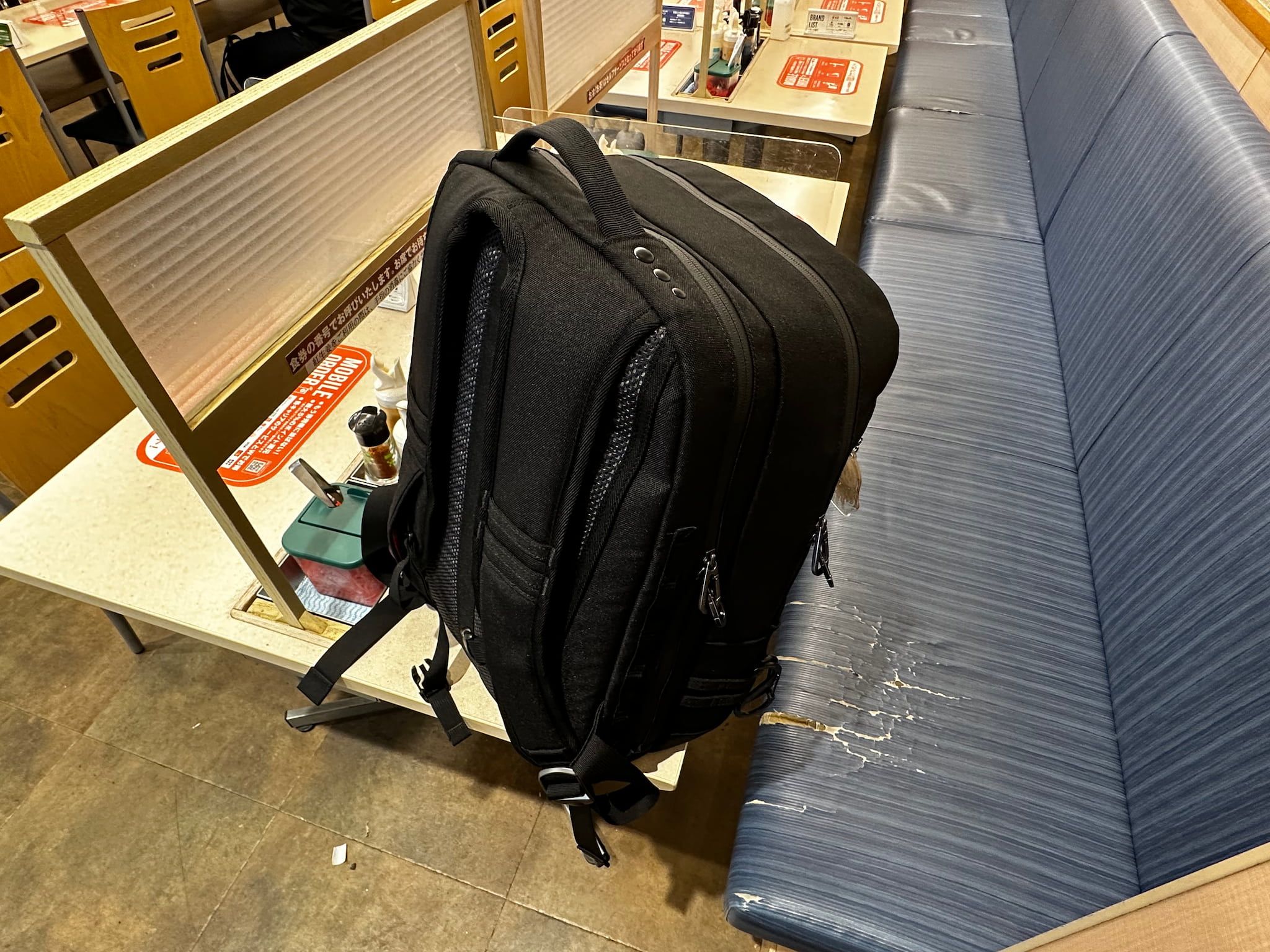 So things that I carry on my trip are...
iPad Pro (M1): Great replacement for a 14-inch MacBook Pro when on the go with a limited weight to carry.
3-day of underwear and socks
2-day of clothes
1 UNIQLO heattech (just in case)
Umbrella
Toothbrush, and toothpaste
Most amenities can commonly be found in the hotel anyway so there's no reason to carry body wash and shampoo with me.
Moreover, almost every hotel I rest in during my trip always has a coin washing machine and dryer to use. So make sure to reserve at least 1 hour for every other day at night to wash your clothes and you will be fine.
What did I miss?
Of course, traveling this far with limited time means that I have to miss a lot of things that I originally planned.
Fukushima: Because I choked myself on the second day.
Akita: Great place for hot springs, but I have to skip it due to time constraints and expensive hotel costs.
Niigata: Originally, I planned my way back to Tokyo by taking a ferry from Otaru to Niigata and playing skiing there. But I never got replies back from the ferry service.
Ginzan Onsen, Yamagata: Partly because I run out of time, but mainly because I am nearly inaccessible via public transport.
Cape Soya, Wakkanai: The most northern point of Japan. It's 33km from Wakkanai station, the local train there will take 5 hours to arrive, and bike rental is unavailable during winter.
What did I learn from this trip?
NEVER LOSE YOUR ITEMS AT A LOCAL TRAIN STATION
Japan Rail Pass ticket is very fragile, handle them with extreme care.
Booking a window seat from Hokkaido all the way to Tokyo is basically impossible. It's better to make a brief stop at the station where Shinkansen from the other line will take about 5-8 minutes to merge (i.e. Fukushima, Sendai).
To conclude this trip, as I said it is just an overview of Japan for myself then I will take time to deeply research each prefecture later on in the next year. But that doesn't mean that I will stop going to Japan this upcoming year though. For me, Japan is just in front of the alley. I will keep posted in my blog on where I go next.